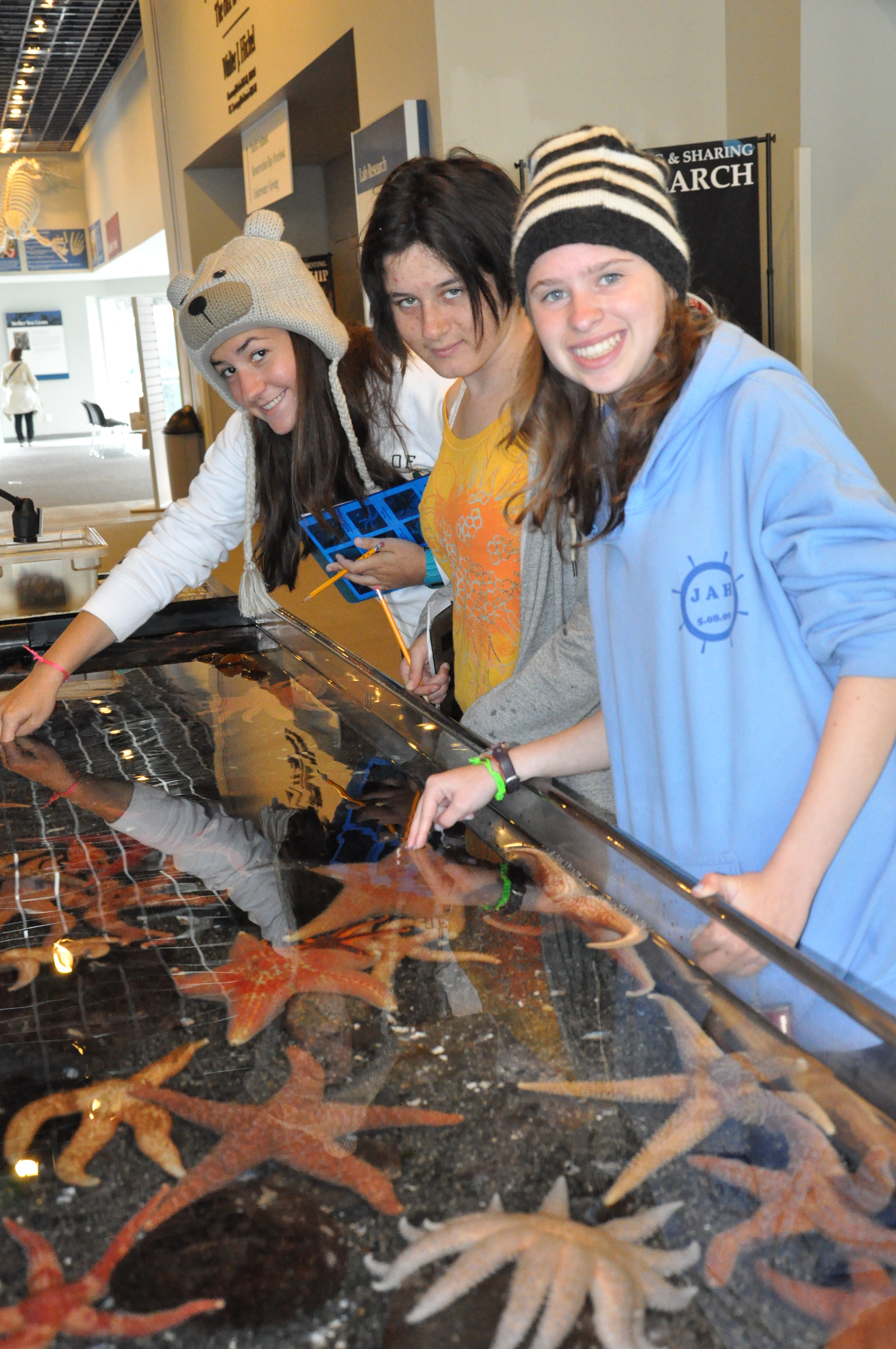 Hey there!
As one of the songs on our morning playlist says, we have been seriously "California Dreamin'" during our days in Los Angeles.
We started off with a bang and went straight to Universal Studios. We started off with a studio tour, hosted by none other than Jimmy Fallon. We saw the original set of Jurassic Park (which we found out was filmed in the parking lot!), got splashed by a fake tsunami, got scared by Jaws and saw cars from The Fast and the Furious and Back to the Future. After the studio tour, we split off into groups to test out the rides. Almost everyone rode the Mummy, Jurassic Park, Transformers, Indiana Jones and the Minions ride. Just because we love you, we're going to let you in on a little secret; each ride has a secret password and if you figure it out you get to go to the front of the line. Jeremy figured out the word for Jurassic Park (rainbow sparkles) and we all skipped the line! Jason's crew is rumored to have done the ride 5 times. That evening, we had dinner at the Hard Rock Café, and Dave was spotted jamming to some Beatles classics. We walked along City Walk afterwards, breathing in the beautiful California air and shopping around.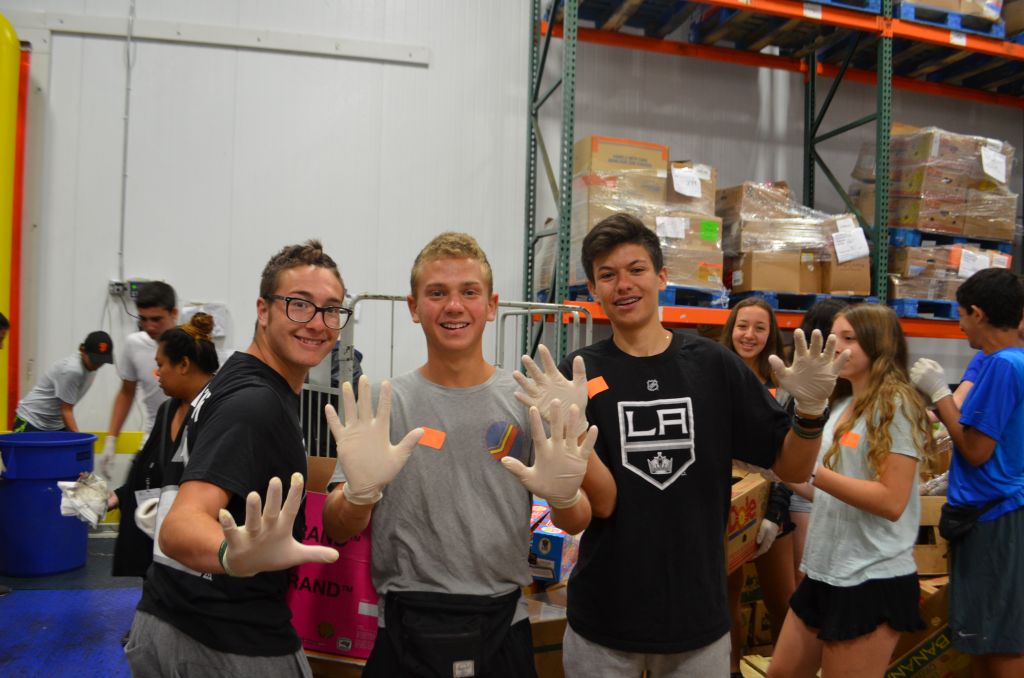 The following day, we started off on the right 'food' by spending our morning at the LA food bank. We worked our butts off there and felt so good about it. Alyssa and Sebastian sorted all the fruit, while Maya C organized all the boxes. We ended up sorting enough food to feed over 9,000 meals. Afterwards, we continued our feel good day by heading to the most magical place in the world – Disneyland! We practically skipped in, we were so excited. Matthew, Jer, Zach and Andrew were brave enough to go on Space Mountain. Josh, on the other hand claims "It's A Small World" was the highlight of his day (although he was also brave enough to go on Space Mountain). Although Jill L was the one on the lookout for celebrities, a bunch of the guys, including Tyler, Max, Max, Dylan and Derek spotted Joique Bell, a college football star and Frankie Grande, reality TV store. They, of course, snapped some selfies. We were so lucky that we got to be in Disneyland on their 60th anniversary because we got to see a special electric version of the already spectacular parade. Zach's eyes light up the entire show, while Andrew cheered on all his favorite characters, his favorite float was Wizard Mickey.
The next day, we got a real taste of LA, which Kerri Goldberg (our token California lover) was thrilled about. We spent the morning on Venice Beach, watching street performers and taking in the amazing street art. Kerri and Jill L proved that they are true Cali girls by getting matching "California" necklaces, while others tried the famous barbeque hot dogs at Big Daddy's. In the afternoon, we went to Rodeo drive. Some of the boys, including Max E., went to the incredible Niketown and window-shopped. We all snapped some pictures at the famous Beverly Hills sign.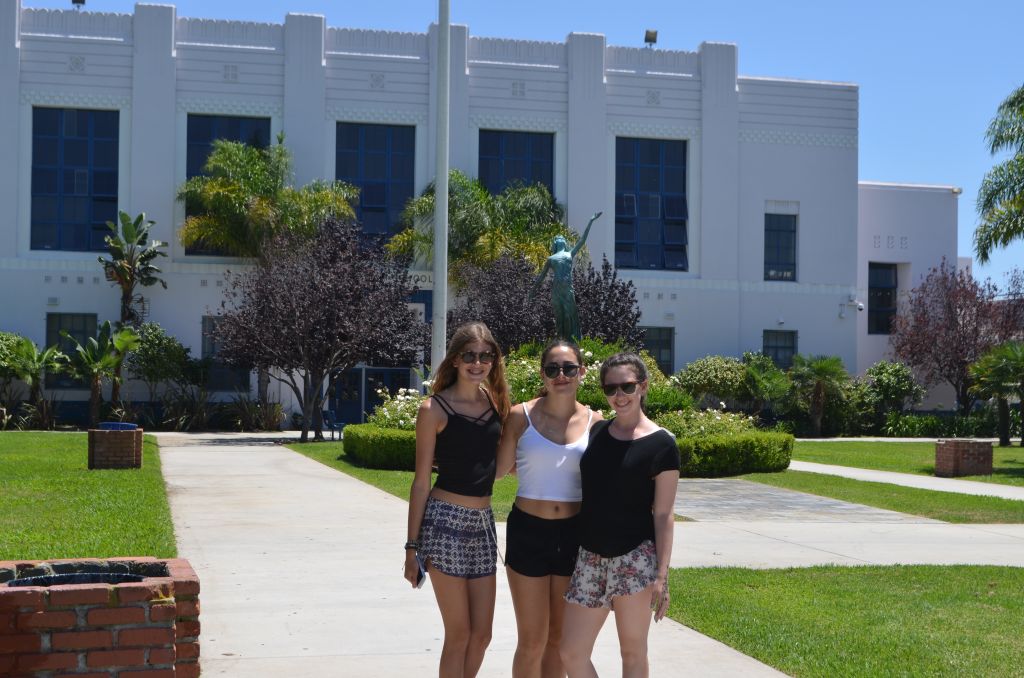 On our last day in LA, which was starting to feel like home, we went to The Grove/ Farmer's Market. Some of us tasted the delicious, local and organic food, while others, including Bailey and Jamie, were spotted in Dylan's Candy Bar. That afternoon, we went to the UCLA bookstore and got decked out in the school gear. Since then, we have been asked repeatedly if we are a college group of UCLA kids (Don't tell anyone, but sometimes we say yes!). Dylan and Dave bought matching sweaters, and Jenna looks amazing in her spirited blue zip up!
Up next is San Diego, and we are super excited to keep living our California dream. We can't decide if we're more excited to see the famous pandas at La Jolla beach, or to surf the waves.
The Westcoast Blogger