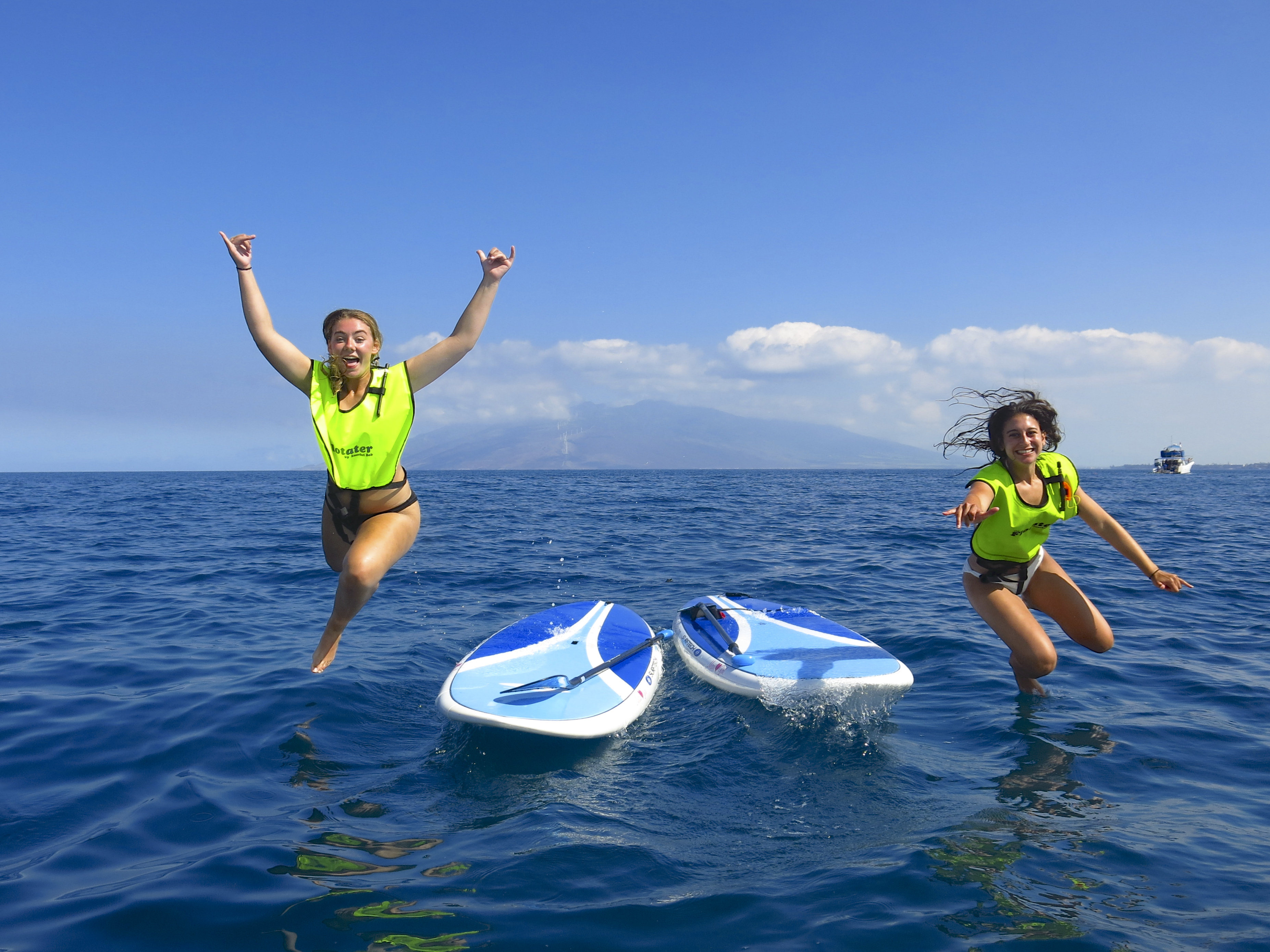 Aloha! We are checking in from beautiful Maui!  We have spent the past week living the Aloha life.  We began our Hawaiian adventure with a delicious meal at the Lava Lava Beach Club, complete with food inside a pineapple.  One of our activities included hiking Diamondhead to get a panoramic view of Honolulu.  It was pretty exciting getting to the top!  When returning to the to bottom we sipped on fruity drinks and enjoyed the Hawaiian treasure of Shave Ice. We all enjoyed some time together at the beach in Waikiki that afternoon.  Our trip members never pass up a chance to hang out together.  We all had fun burying Victor in the sand, playing catch on the shore, and playing Taps, which has become a favorite of ours.

Our community service involved the Boys and Girls Clun in Kailua.  The group completely blew us away with their leaderships skills and ability to take initiative.  Harrison was even complimented by the B&G staff.  All of our Trip members were interacting with the kids as role models and we couldn't be more proud of them.  They set high community service expectations for themselves in the beginning of the trip and they continue to exceed them.  During our two days they planned and led activities in the facility, as well as spending a day at the beautiful Kailua Beach Park.  With white sand and turquoise water as our setting, the trip members led rounds of beach games that they planned themselves.  Our time with the Boys and Girls Club was a huge success and it was difficult to say goodbye to this group of kids.

Guess what else we did in Hawaii!  We went…ice-skating!  Mya was smiling ear to ear the night we got a chance to skate!  She was in her element for sure.  It was pretty amazing to see so many trip members encourage one another, hold hands, teach, and help each other overcome fears on the ice.  There were many proud Trip Leader moments that night!  Just to give you an idea of the closeness of our group…when given the opportunity to go to a festival or have a family movie night, our trip members decided to get into their pajamas and spend time together watching Kung Fu Panda.  Parents, this is not a joke!

 Our last day in Kauai was VERY Hawaiian.  Our much anticipated surfing lessons did not disappoint!  We had the best time surfing the waves of the north shore.  Rachel looked like a pro out there, and some trip members asked to stay out on the water for an extra hour!  It was an awesome morning, and the afternoon kept it up!  When your child returns home, please ask them to show you the ancient hula we learned from Auntie.  A true Hawaiian named Daphne came to us to teach us the story of Oh Poi. We danced barefoot in the grass while Daphne showed us how to honor the ancient tradition of hula story telling. All of these cultural experiences happened on Justin's birthday!!!  What a great day!  By the way we celebrated in true Westcoast fashion.  He was woken up with balloons and decorations outside his hotel room and he enjoyed plenty of dessert to celebrate his 15th birthday. And just like that we were off to our last stop: Maui!  We barely put our suitcases down before we hopped into the infinity pool looking over the ocean and mountains.  We recently spent some time paddle boarding, and Fiona had a pretty awesome day overcoming her fear and kicking butt on that paddle board!  Some lucky paddlers got to see sea turtles and multiple pods of dolphins up close!  In the meantime the rest of us were boogie boarding, swimming, or just relaxing in the sun.  We are really feeling the island vibes.  Our Luau was a fun night with great entertainment.  Anne even got on stage to show us (and about 200 strangers) her hula moves!

We can't believe we just have a few more days together before returning to reality.  We look forward to our time with EcoMaui and a few other exciting events.  However, we are not looking forward to parting ways with this special group of people.  We will be sure to soak in every moment together and carry these memories with us as we board those planes and get back to our families.