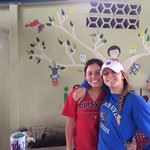 Our first full day in beautiful Rincon de la Vieja commenced with some awesome zip-lining in Guanacaste. There were 7 different lines plus some rock-climbing along the way. Later in the day we had the pleasure of experiencing the mud baths. We started the process with a sauna followed by an application of mud from the volcano. We let the mud dry before slipping into a pool to wash it off. Everyone noticed how smooth the mud made their skin feel, especially. Later, after dinner, we had a super funny scavenger hunt that included items like a video of your team re-enacting Costa Rica's World Cup goal and a selfie with the receptionist. This scavenger hunt was actually the first event in our color competition. Team Black, which includes Nikki, Cassidy, Sam, Rachel, and Emily narrowly won the event, but Team Purple, which includes Val, Katie, Jon, Isabelle, and Lara, is determined to win the next event. The final winner will be announced at our banquet the final night.
July 11th was not only our first day of service at Los Pinos, but also Jon's 17th Birthday!!! We spent the day beautifying the school before playing an awesome game of soccer. Nikki was an excellent goalie while Isabelle resumed her spot as a defender. That night we went out to celebrate Jon's big day – a delicious meal was followed by an enormous chocolate cake!!!
Our second day at Los Pinos was all about classrooms! The school administrators had a surprise for the kindergarten teachers: We were cleaning and re-arranging the classroom so that on Monday, they'd come in and it'd look brand new. Val was an excellent mopper while Lara, Sam, and Katie preferred window duty. It felt great knowing how happy these teachers will be on Monday with their refreshed classrooms. We finished our day of work with dance lessons! That night, We learned Bachata, Meringue, and Salsa! It was so much fun!
Our last day at Los Pinos was all about painting. Val sketched a beautiful tree with animals holding fruit. Cassidy was in charge of the grapes while Nikki painted beautiful red birds. Katie was challenged to create a brown color for the trunk and her colour creation totally made the trunk pop! At the end, one of the workers suggested we add our handprints and then we wrote our trip name beside them. It came out extremely beautifully, and we can't wait for the kids to see it when they return to school. Dinner was prepared by top of the line chefs this night: the trip members and our staff team! We prepared delicious vegetables, chicken and rice. Later that night we wrapped-up our three days at Los Pinos by discussing what some of the hardest parts were and what we can take with us to help us at our next project. With a job well done, everyone finished the day looking forward to a relaxing day and visit to the nearby coffee plantation Café Britt.
It's so hard to believe that we only have a few days left in our Costa Rican adventure! We're looking forward to our final days of service and adventure!
Hasta luego,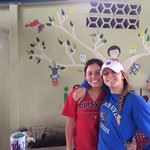 The Westcoast Blogger