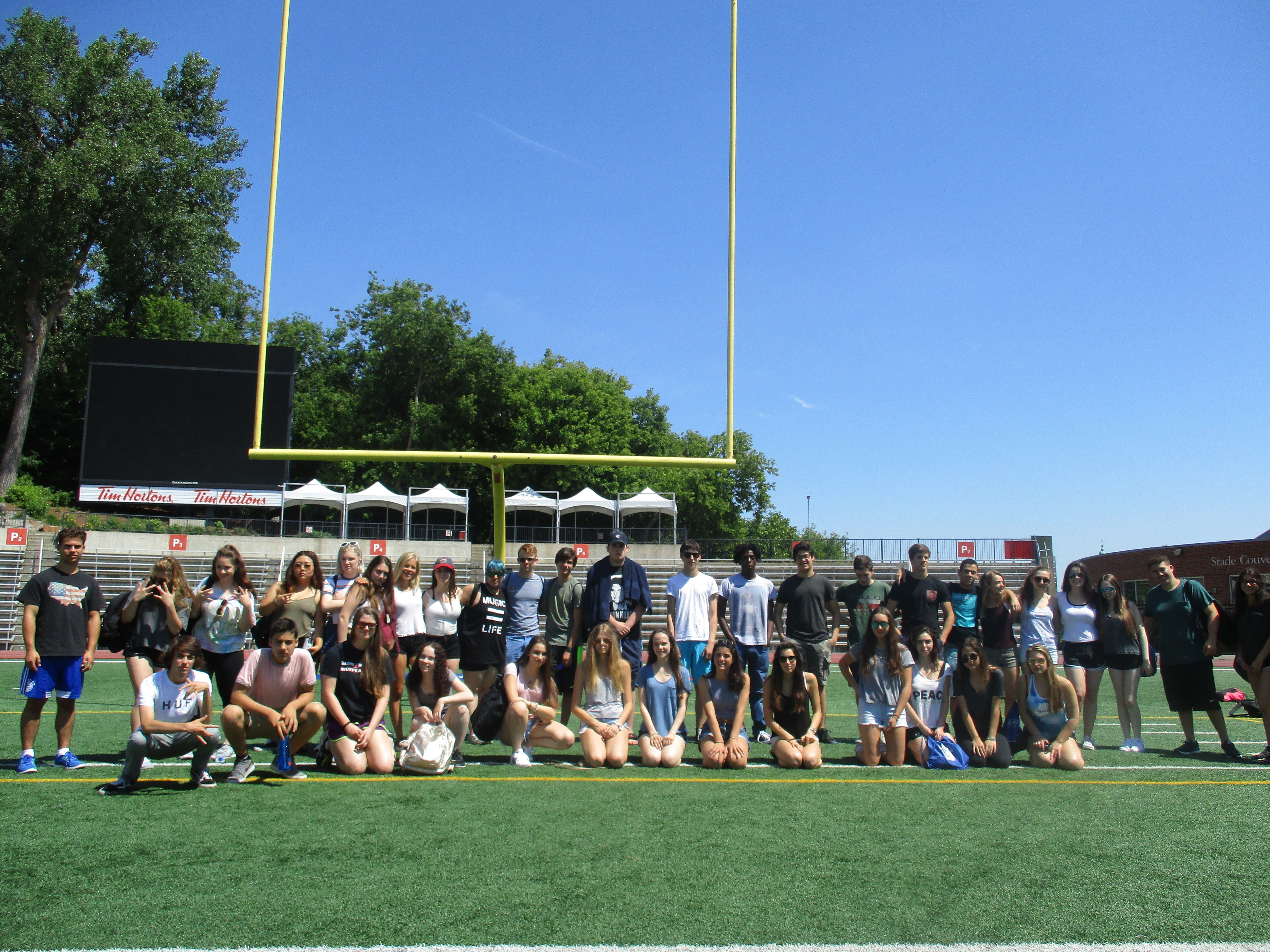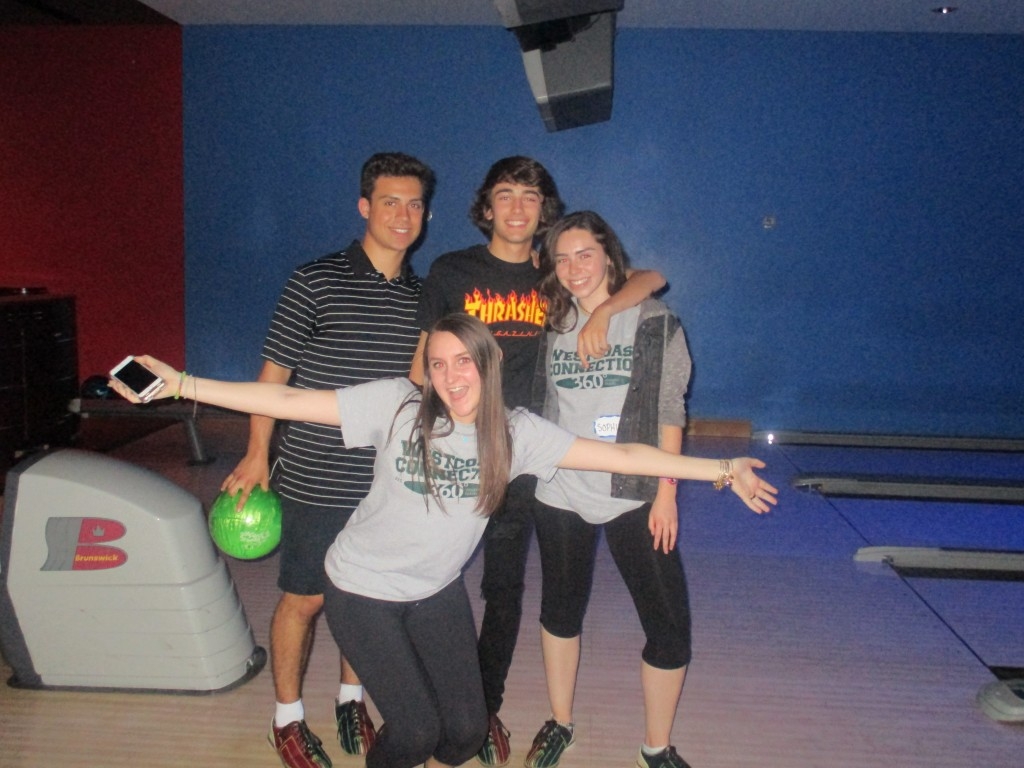 Our group arrived with much anticipation and excitement at La Citadelle, our new home for the next three weeks. After names were exchanged, the eager students made their first trek through the Montreal streets to L'Universel Grill for dinner. After a delicious spread of choices including Santa Fe chicken, grilled salmon and an assortment of other dishes, we ventured by Metro together to the Forum for an evening of bowling. The Forum, the former home of the Montreal Canadiens, served as a stunning backdrop for many selfies and official trip photos. After learning about the history of the building, championships won, and legendary players, the group took the opportunity to explore its newfound purpose as an entertainment hub.
During our riveting game of bowling, Morgan surprised herself by getting a strike on her first try! All students put up a valiant effort and a special shout out to Samuel who accurately predicted his strikes time and time again before releasing the ball.
The next day we found ourselves perusing the beautiful, historic and European-esque streets of Old Montreal before capping off the evening with a jet boat ride. It was an exhilarating experience with everyone getting soaked and giggling like toddlers, staff included!
Morning classes began and it was off to the races – some to class to delve into Psychology, Emotional Intelligence, French, 3D Animation and TOEFL. For others, it was straight to Cooking School or the Boys and Girls Club for Community Service. Our afternoon electives, the students enjoyed their introductory classes to Web Design, Social Media Marketing, SAT Prep, Digital Photography and Montreal Culture. From food presentation to HTML coding, the first few classes have given us a brief taste of what is shaping up to be an amazing three weeks of interactive and experiential learning.
We had the opportunity to visit the International Jazz Festival, the biggest in the world, where the group got the chance to not only take in the music and energy of the outdoor performances but also to play a game of Trade Up. The rules are simple – you start with an item, in this case a pen, and then you attempt to trade for a superior item. At the end we see who was able to trade up to the most valuable item. One of our staff Yimo was able to trade his way up from a pen to a back stage pass, to drum sticks from a performing act and a scarf from a kind passer-by! In very close second was the team of Ludovica, Claudia, Chloe and Skylar who traded their way to an H&M bowtie and $20.
The remainder of the week proved to be as exciting as the beginning. During ice skating, Elliot kindly used his skills to take other trip members on rides around the rink as well as holding up his ice-challenged staff Delisha who had never skated before. We visited the BioDome, went swimming and celebrated our current home on Canada Day by watching the parade. On Sunday we were serenaded by the drums at Tam Tams on Mont Royale and watched with glee as Logan and Sophie made their way into the circle for a dance!
It's hard to believe it's only been a week! We look forward to getting you all caught up on the courses and the fun again soon!
Does this adventure sound like fun? Take french pre-college workshops in Montreal with our 21-day and 28-day tour options.
The Westcoast Blogger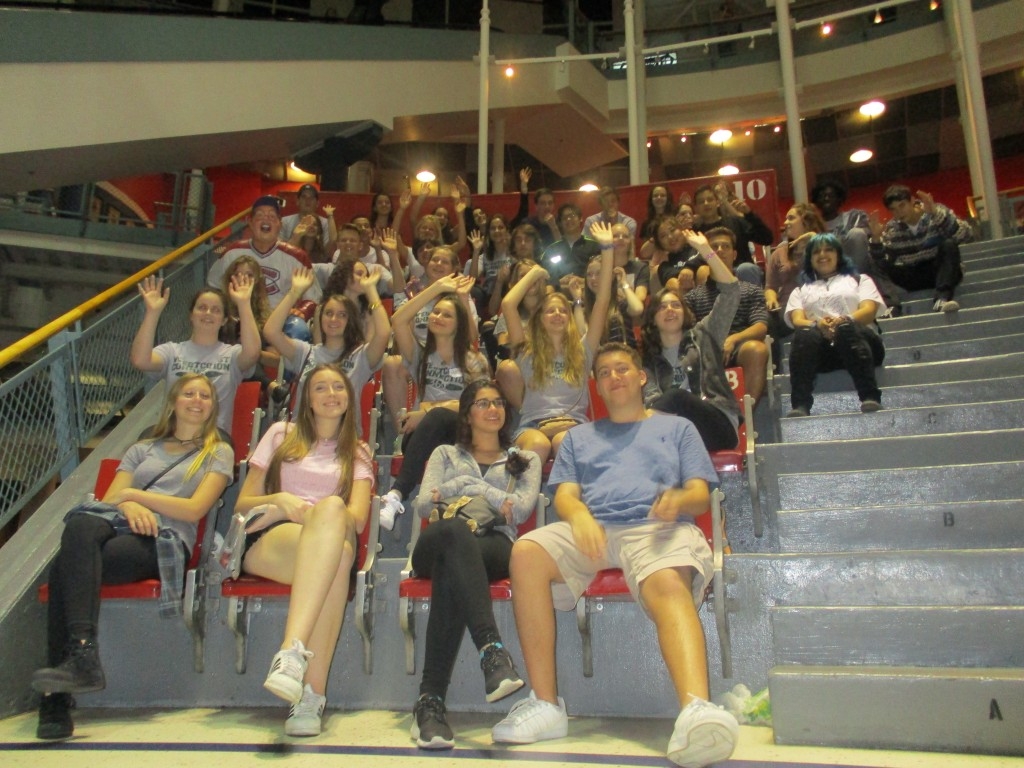 Save
Be part of this pre college enrichment summer program: experience an academic life with the course of your choice in our 21-day trip to Montreal or extend it to a 28-day tour that includes Boston.