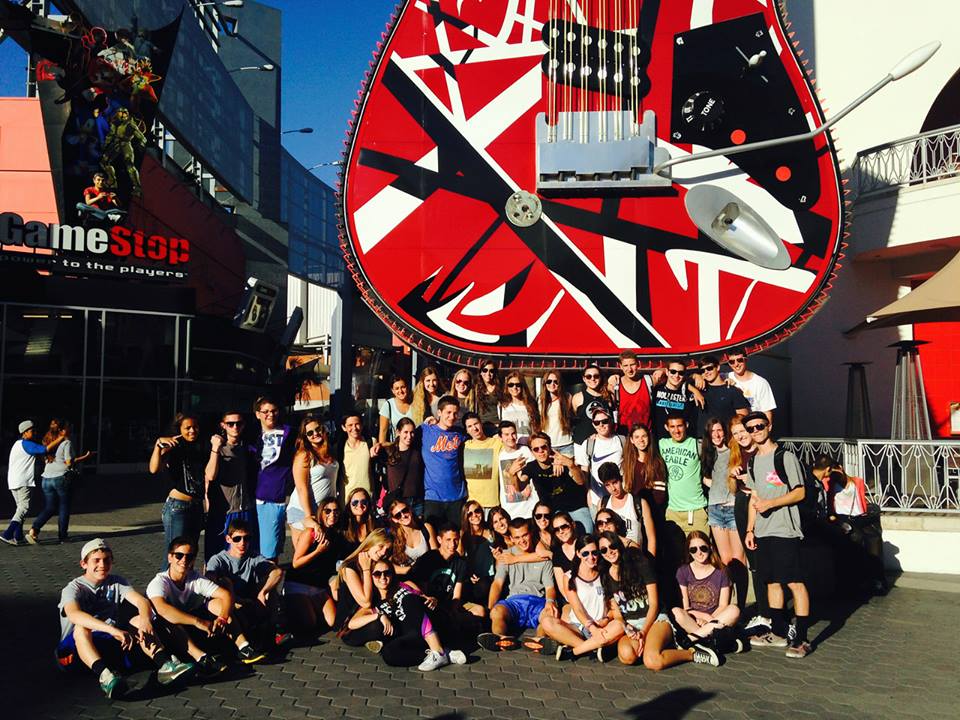 Hi Parents!
Our adventure continued when we finally made it to the city of angels! As we drove to the UCLA dorms the bus was filled with excitement and anticipation! This is the destination that so many of the Trip Members were awaiting.
Our time in LA began with dinner and exploring Hollywood Blvd. There were characters all along the streets and Ian even took a photo with some celebrity impersonators! It was so exciting to see all of the stars with celebrity's names along the sidewalk. Brittany found Britney Spears' star and was so excited! Many of us enjoyed dinner at the California Pizza Kitchen, and then explored the area and took pics of the Hollywood sign. While walking around the area, many of the Trip Member's took this opportunity to look around the shops and Liv, Sophie, Lauren, and Reese went to Kitson, a well-known Los Angeles boutique.
The next day we went to Venice Beach, and the weather was ideal. The staff played a game with the Trip Members called Trade Up. Each group was given a pen, and the goal of the game was to trade the pen with someone for a different item. After trading many times with different people, everyone ended up with something more substantial than their original pen! This friendly competition allowed us to come out of our shell and have fun while doing so! One group even ended up with a Scooter! Ethan also found a really cool vintage store along the boardwalk and got an old school varsity jacket that he has been wearing on the cooler nights!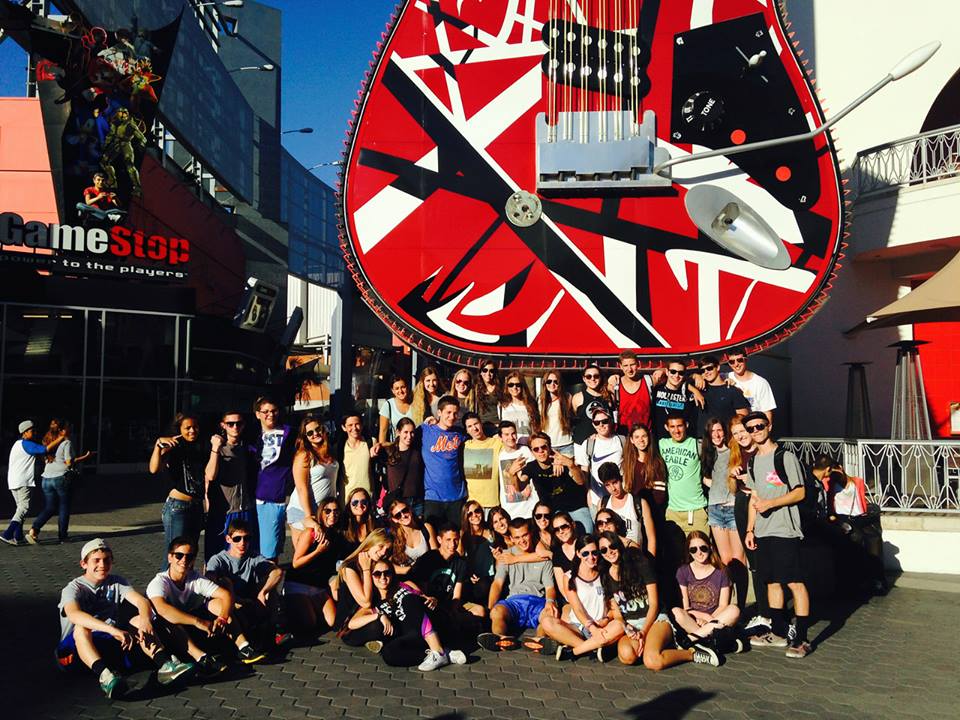 After our time at Venice Beach, we headed over to Rodeo. Many of the Trip Members were excited to walk along the swanky streets. Both of these very famous places (Venice and Rodeo) perfectly complimented and contrasted each other and offered something different to explore. Venice Beach was fun, loud, colorful, and scenic, while Rodeo Drive was glamorous, posh, and luxurious. John was so excited by all of the fancy sports cars that drove by Rodeo Drive, and could name every single one!
Later that night we attended the Improv, a comedy club in Los Angeles. One of the comedians we saw was even in the movie The Heat with Sandra Bullock! We had a nice, sit down dinner and laughed a lot. One of the comedians even called Noah on stage to perform one of his raps! Everyone cheered Noah on and he did such an amazing job, we were all so proud of him! It was such a relaxing and entertaining conclusion to an action packed day of exploring the city!
The next day we went to the Museum of Tolerance. It was such an impressive, interactive tour that gave us an inspiring and broad perspective on prejudices and their harmful effects. We were very fortunate because the day that we visited the Museum, a Holocaust survivor was volunteering there. Her name is Gloria Ungar and she was in the movie/book Freedom Writers. Ms. Ungar spoke briefly to our group and many of the Trip Members were touched by her words and many of them went up to hug her and ask her questions. It was a very powerful moment. That evening we went to the Santa Monica Pier and walked around, had dinner and then took a ride on the ferris wheel! Melanie was very excited for the ride, and it was so beautiful to overlook the scenery.
After our lovely evening on the boardwalk we got a good night sleep and prepared ourselves for a morning of community service. We volunteered at the LA food bank and helped to sort, pack, and distribute food to those less fortunate. It was so amazing to do something nice for others. The teamwork the Trip Member's exhibited was very admirable and we helped to pack over 10,000 pounds of food! Corryn was especially touched by this gesture. She spoke about her passion for helping others and that poverty is an issue close to her heart. After our hard work, we spent the rest of the day at Disneyland! Everyone was so excited to see all of the characters and go on rides! Indiana Jones was a crowd favorite and Julia K mentioned that she particularly enjoyed Space Mountain because it really felt like she was flying through space! After a day of volunteering, going on rides, and watching the Disney parade, we concluded our time at Disney by watching the fireworks show!
We had such an amazing day at Disney, but the theme park fun did not end there! The next morning we went to Universal Studios! There were so many simulation rides and our group ended up finding "secret codes" that allowed us to skip all of the line ups! Matt K., Jake, and Dakota mentioned that the Mummy ride was their favorite, while Robbie and Calvin were blown away with the Transformers attraction! Many of the Trip Members took photos with the characters that walked around the park, and we concluded the day with a dinner at The Hard Rock Café! After our delicious meals, and a walk around City Walk, which was beautifully illuminated at night, we headed back to UCLA for a good night rest.
Everyone had an incredible time in Los Angeles and our busy days allowed us to see so many different parts of the city. The weather was sunny and warm, and the people and attractions lived up to their high expectations. After a great breakfast in the UCLA cafeteria, we headed to San Diego which is where we are now.
We will catch up soon!
The Westcoast Blogger