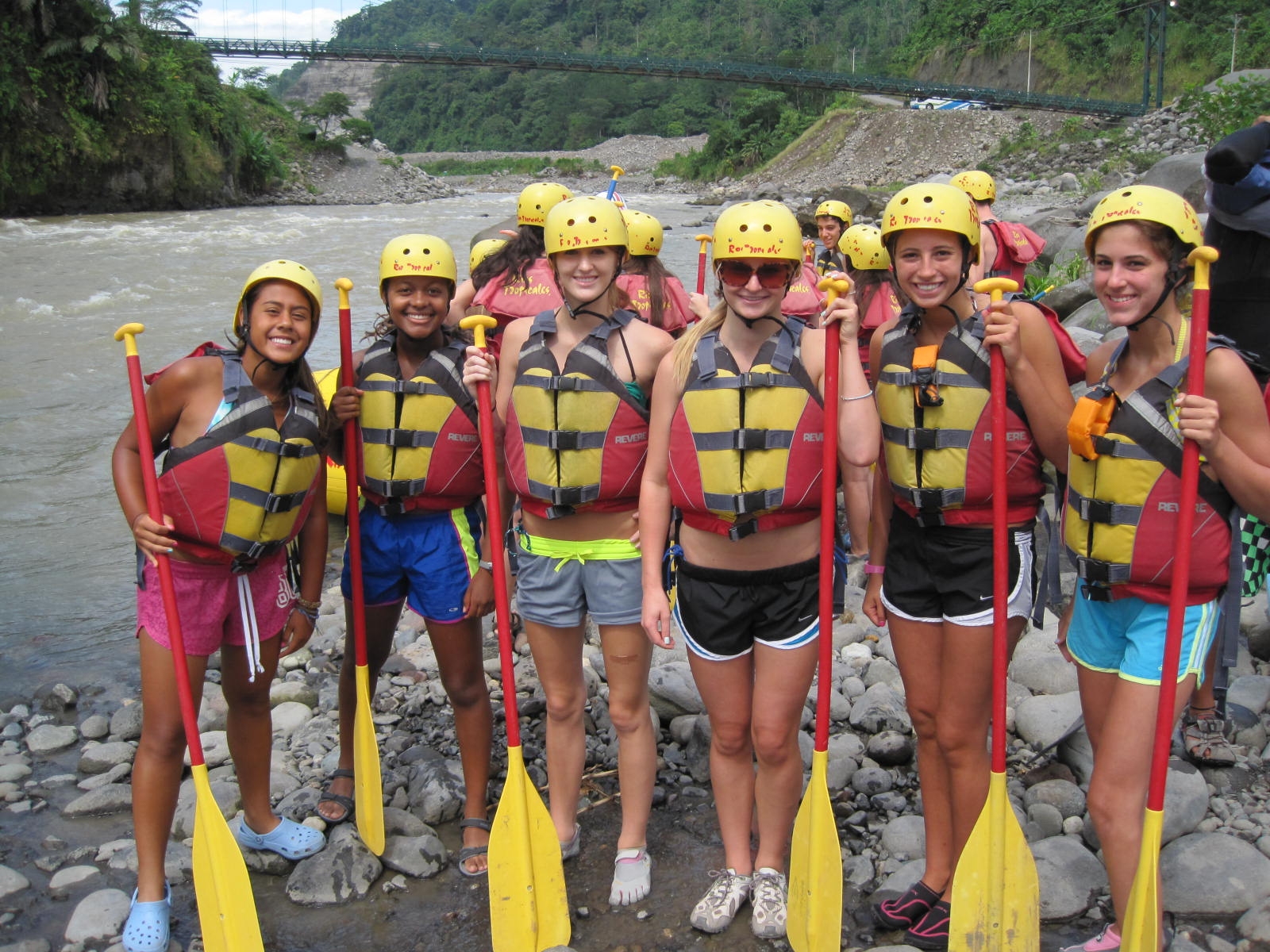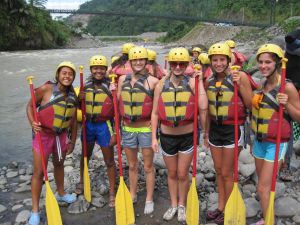 Ola from Costa Rica!
The last few days of our trip have been incredible!  After arriving at San Jose airport and playing Icebreaker games where we learned each other's names, we drove to our hotel.  The staff there gave us a tour of the building and after settling into our rooms we went to our first Costa Rican meal at a nearby restaurant.  We had a chance to try an exotic fruit drink called kas.  Our local Costa Rica Guide, Jeff, taught us our first Spanish word of the day, "Tico."  A Tico is a Costa Rican person and they often refer to themselves as Ticos.  After returning to the hotel we played some more name games and we learned what a lot of us have in common.  We learned that Amanda and Samantha are both cheerleaders back home.  We also learned that everyone was excited for both the adventure and service portions of our trip.
Day 2
After our first wake up in Costa Rica we drove to our first adventure, White Water Rafting!  Here we met Mike, our safety instructor.  He taught us all about how to wear a life vest and helmet properly.  Mike asked for some volunteers to help him answer questions.  Kayla was a trooper and helped to show us how to enter and exit the raft safely.  In Douglas's raft we had Jeff and Amanda as our leaders in the front of the boat helping to paddle was Kristina, Stephanie and Samantha, and in Roy's raft our leaders were Kayla and Vanessa.  We learned the commands, "Paddle forward, paddle back, Oh My G-d and Paddles up." Every time we made it through a rough patch of water we raised our paddles and shouted, "We are the best."  Jeff taught us the Spanish translation which was "somes los mejores."  We passed under an abandoned railroad and even spotted a sea otter!  The guides allowed us to swim in a very calm section of the water and everyone enjoyed the warmth of the water.
After some free time at the hotel where we had time to enjoy the pool and hot tub, we went to dinner at a local restaurant that had an outdoor playground.  Trip members enjoyed sliding down the slides and jumping from tire to tire.
Day 3
La Pura Vida! (The pure life) was our phrase for day three.  We were excited to begin our first day of community service!  We arrived at the site and went straight to work.  Jessie had a blast digging out a root with the help of friends Dan, Jake, Jordan, and Angeline.  After many attempts their hard work paid off and they were so excited to showcase their root to their friends.  We even had a chance to meet Jenny, the woman whose house we were rebuilding.  With the help of Jeff our guide, he helped to translate her very sad story about how her house burnt down while she was at work one day.  It was a very emotional time for the trip members, but getting the chance to meet Jenny was really amazing.  She called us her angels and thanked us all for the hard work we were putting forth so that she could have a brand new home.  After a well-earned lunch we found a mango tree with some ripe fruit.  After a few tries, trip leader Dave, used his backpack to get one down for us.
In the evening we enjoyed learning salsa moves from Jeff.  Working with a partner we learned the basic movements, which we used in our Zumba class that was instructed by our very own trip director, Micaela.  The trip members enjoyed the Zumba class so much, they asked if they could do another class soon!
Day 4
Our second day of community service was truly inspiring.  We had a chance to work with children at the local Montessori School.  Zoe played English/Spanish Bingo with several children, Vanessa enjoyed solving puzzles with the four year olds and Jessie read books such as "Winnie the Pooh."   Shannon held and fed some of the infants, such as Steven and Gustavo.  Watching each of the trip members make every individual smile was breathtaking.  These children longed for attention and people to make them smile.  After we had a chance to play with the students we enjoyed watching a play performed in Spanish about the journey Nicaraguans took in order to make a life for themselves in Costa Rica. Then we all enjoyed a delicious home cooked meal prepared by the Montessori staff.
The second group of trip members had an opportunity to paint lamp posts bright colors.  Angeline, Jordan and Amanda had a chance to paint the side of a house neon orange. Samantha and Dan painted with neon green.   All of this is in an effort to brighten up the grey area in which most low income people live.  It works as instant smiles and thank you's happen all around when we finish our work!
In the evening, we enjoyed dinner and karaoke together.  Some popular songs that were sung we "Call Me Maybe" and "Summer Lovin".
It has been an incredible time and we will write again before we leave the country.
The Westcoast Blogger