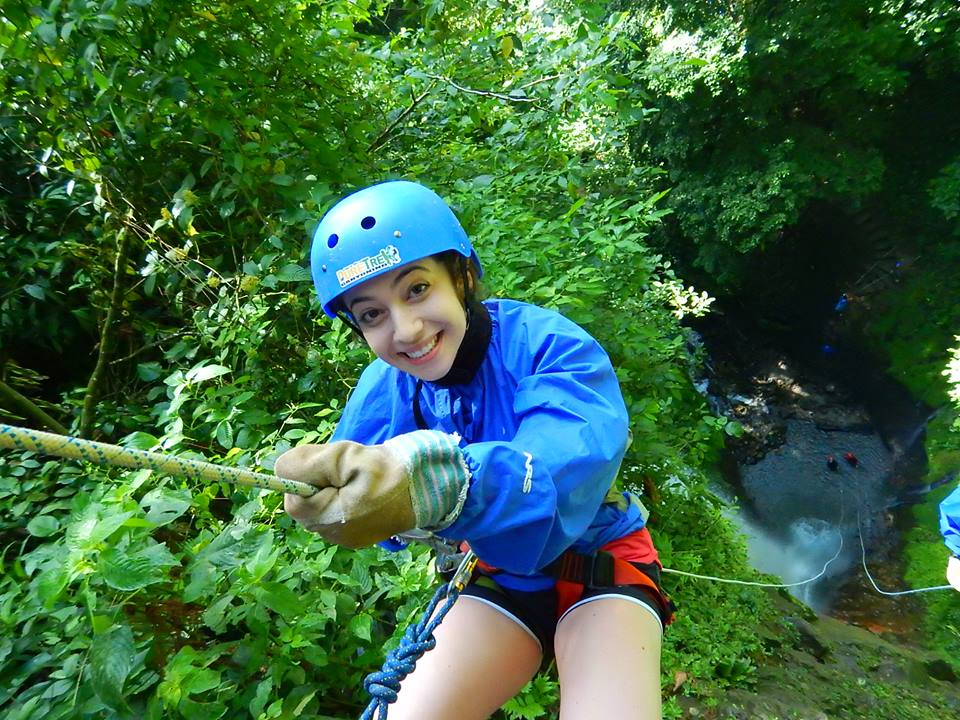 After a nice night at the bonfire our group was energized from a great night sleep to finish off our service in Flamingo. We were working on a new house which needed an uplift in order to allow the family to live there happily. Our group got right to work sanding and painting making sure that the house looked amazing after we left. We even enjoyed one last visit to the beach to wrap up a few days of service and fun.
The next day we were all packed up and ready to for a nice drive to Arenal. What a site to roll into! It was a clear day on a clear day and from our hotel we had a great view of the volcano and other surrounding areas. After checking in we enjoyed some nice games before going off to the hot springs. This was the most beautiful place that many of us had ever seen. The boys immediately went to the slides and enjoyed the fast movement of them. While the girls took their time and looked around before testing their bravery on the slides. After a nice relaxing night at the hot springs we went to a late dinner which was the highlight of the day! The number of deserts that were brought to our table and the great variety left everyone with a full belly and smiling faces. Our second day in Arenal we got to push ourselves to the limit of our courage by doing the Canyoning and enjoying every minute of it. This was truly a once in a lifetime experience going over 8 different drops and 6 waterfalls was breathtaking! After that we decided that it was time for our group to have some free time at the pool to play around, read their summer readings and just enjoy one another's company. Following dinner we enjoyed the perfect end to our day with a soccer game. We were amazed with Molly's hard shot and Rachel's maneuvering abilities. You could tell that this entire group enjoyed the experience!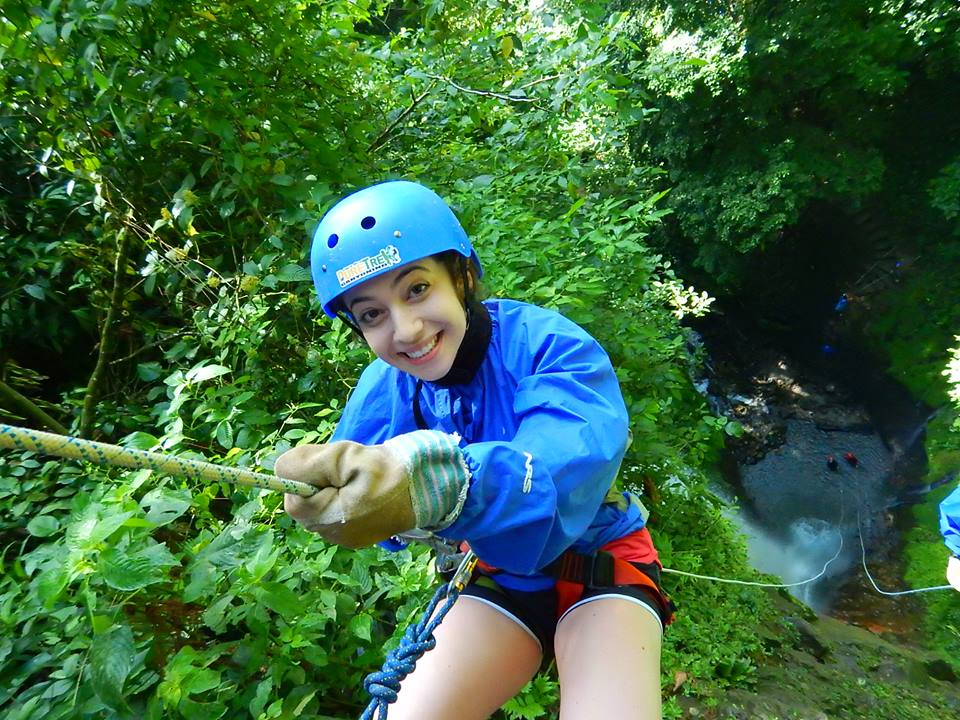 The next day we left Arenal to head back to Central Valley which would be our last stop for the trip. The group sang along on the bus to many different styles of music as everybody wanted to play their music. Once we arrived we went to the lobby and had some competitive games of cards. We learned that the group really enjoys playing cards as it's a way that we can play around and talk all at the same time. Service the day after was the start of our three days in La Carpio. Again we were at the same house that had burnt down and we were working away on the house digging the area and painting the walls that had been scorched by the fire. The group worked really well for three days and by the end had painted Mandala's on the wall which the owner loved and also painted the whole street giving it an upgrade from the way it looked before. When we left La Carpio for the last time the group truly enjoyed seeing the production that they had done and the fact that everyone on that street in some way showed how much they appreciated all that they had done. With our heads held high we went on to be able to sleep in for a morning which our group really appreciated.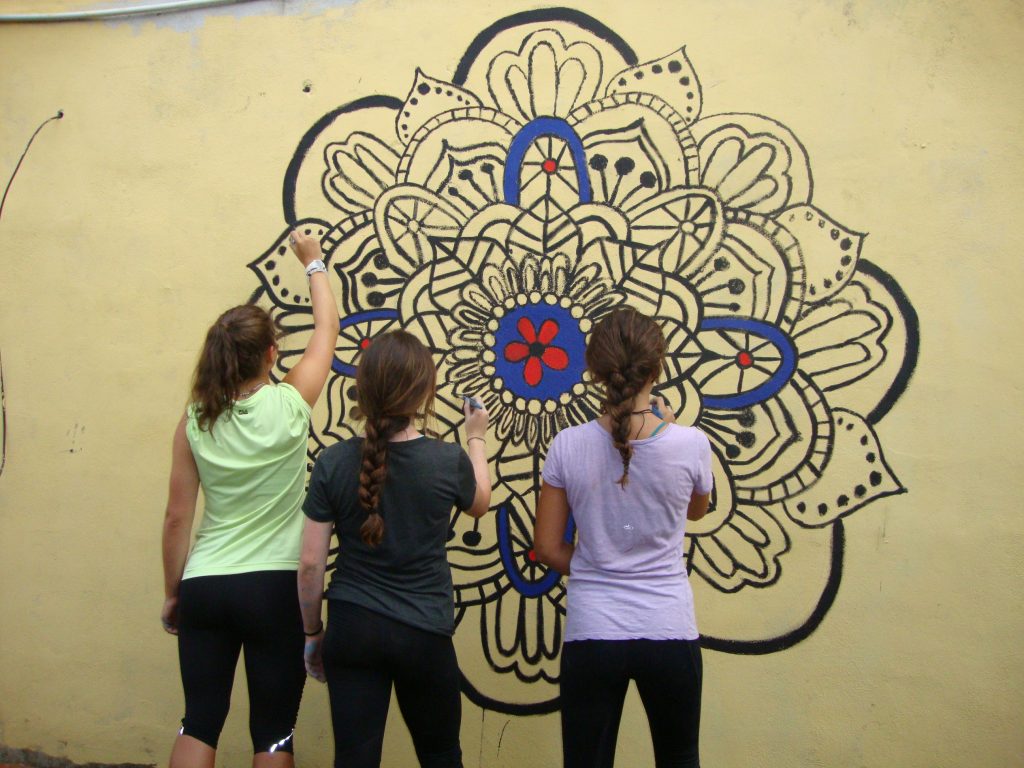 The next day began with us all feeling rested and ready to go as we had two more days of service of running a sports camp which included playing soccer, swimming and many other games that the trip members taught to the young kids of La Carpio. After two days of this our group was tired but feeling rewarded by the smiles of the kids and the hugs that they were getting at the end of each day. Karaoke was that night and the team enjoyed belting out some songs as loud as they possibly could.
At last our final day of the trip is tomorrow and as sad as it is to say that, we are going white water rafting!!! What a great way to finish this amazing adventure off. Our group has grown to know one another very well and I truly believe that this group will stay in touch. The young adults that we have called our trip members have given the staff something to think about and have made this trip very successful. I cannot wait for tomorrow to join this wonderful crew as we head down the river and then follow that up with a nice banquet complete with paper plate awards made by their peers and some really good food.
The Westcoast Blogger
If a Westcoast Connection adventure sounds like something you'd like to be a part of, explore our 10-day, 21-day, and 28-day Costa Rica student travel and community service tours!