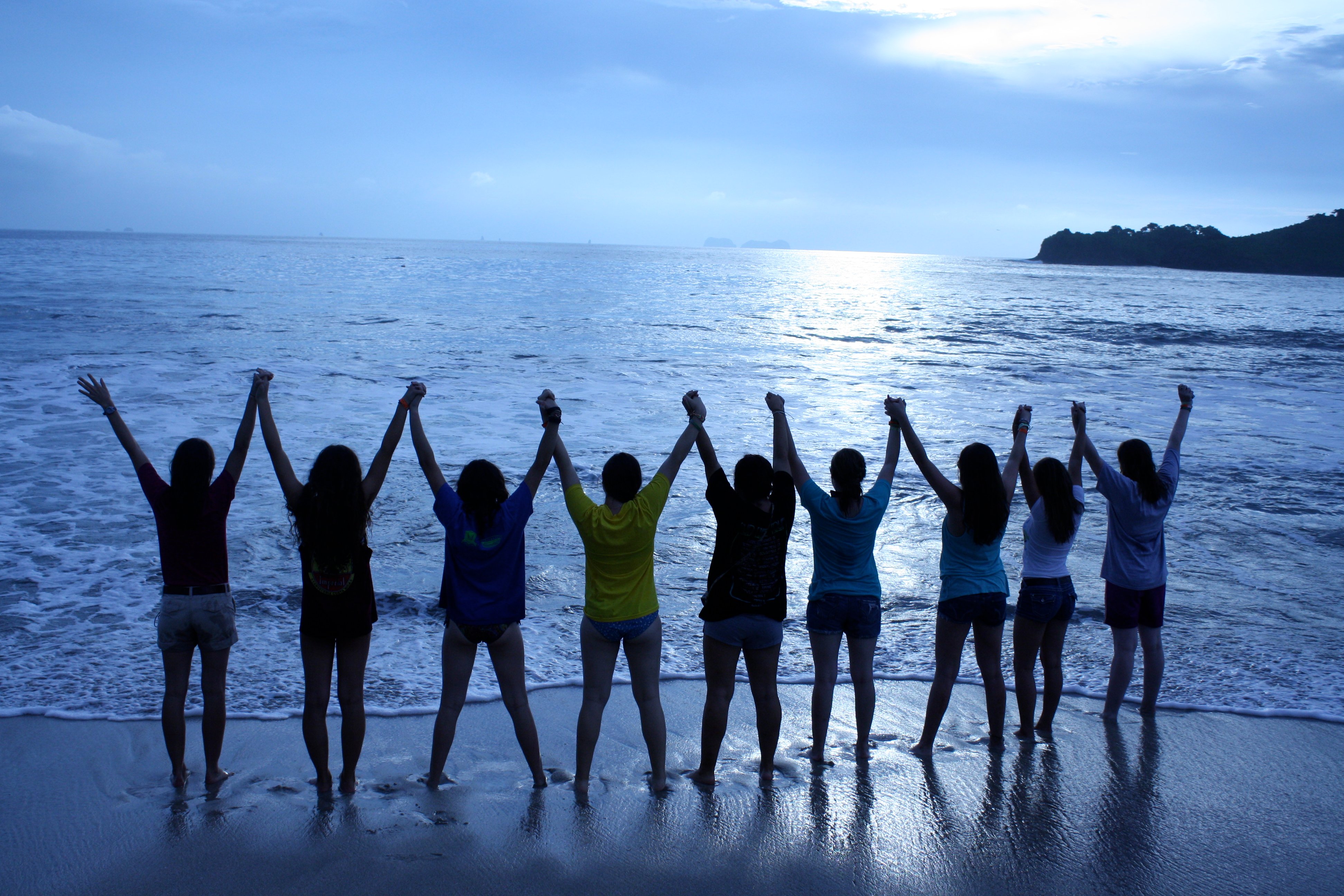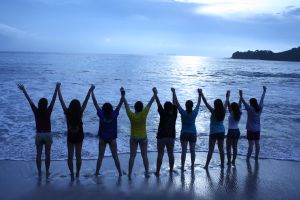 Dear Parents,
Here's a little recap of what's been happening with us …
Day 6: Ahhhh…how good it feels to sleep in and catch up on some rest! After loading up the bus we headed for Monteverde ("Green Mountain.")  The views were breathtaking as we wound higher and higher up the mountain. Dani was the winner of our lunchtime game at El Sol! We settled into our beautiful hotel before jumping back on the bus to play some indoor soccer at the local pitch. Val showed her skills and was so good that the two teams shared her! In the end, it was Ali's "Alligators" who took the win.
We came back to the hotel for spa night, and everyone, including the guys, did some exfoliating, rejuvenating and nail painting over some laughs Marco and Jordan, as well as staff member Bretton, really do have glowing skin now!
Day 7: Today we woke up to the sound of birds in our tropical hotel in Monteverde. After a delicious breakfast we hopped onto Luigi (our bus you may remember) to head to a local organic coffee farm for service. Our host at LIFE Monteverde, Guillermo, greeted us on the street as we approached and took us to a newly built classroom on his family's farm for a quick introduction to the farm and briefed us on our tasks for the day. The cooperatively owned coffee farm is based on the principles of sustainability and in addition to producing coffee also produces maize (corn), beans, guava, milk, goats milk and cheese and eggs. Chelsea H was first to try and feed the goats!
Our tasks at the farm ranged from terracing plots of land to prevent erosion and applying manure for growing coffee plants, to planting shade trees for the coffee plants. Remi made the connection that the terracing was just like the Incas that she had studied in school! After finishing our tasks, we headed back to the classroom for some freshly ground coffee (yes, we ground it ourselves….it smelled sooooo good!) and some bananas from the farm. As hard as we tried, we could not get Dani to eat a banana!!
Later on in the day, Jordan, Rebecca, Ali, Marco and Jemima were able to stop by the local café/store near our hotel, where they sell the Café Monteverde beans. They got some delicious coffee and great souvenirs.
Our group had lunch at a local bakery called Stella's and prepared ourselves for the 2.5 mile zipline through the cloud forest. As excited as we were, I don't think anyone could have prepared us for the views- just spectacular! We took a Sky Tram to the top of the mountain and then rode the zipline over the treetops. EPIC to say the least!
Dinner was at Amigos where we danced to some local and well-known tunes- Remi started the dancing and Bailey, Chelsea R. and Val were quick to join in- and soon everyone was dancing away!!
Day 8: Following a bus ride that included a sing off, a game of 'guess that trip member' and a souvenir/lunch stop…. we arrived in Arenal, home of the active volcano! The volcano is visible from the hotel, and is very beautiful! Many of the trip members immediately asked if we could stay another night!  But surfing awaits us tomorrow in Tamarindo! Jemima knew her sister would love the citrus fruit trees that are ripe for picking near the rooms! After a quick swim and chat in the sun we headed to Baldi Hot Springs, which are naturally sourced and heated from the earth. One hot spring even has several waterslides that go into it! Bailey said that the waterslides were more thrilling than the waterfall rappelling and ziplining!
Chilling out at the hotel after the delicious buffet dinner at Baldi (hello chocolate covered strawberries!) Chelsea H. saw an armadillo walk by her cabin!
Day 9: Leaving our beautiful hotel in Arenal was certainly not easy but we knew some of the great activities coming out way so we were able to get on the bus and bid farewell. We drove through the beautiful Costa Rican country side toward the Pacific Coast and surfer's paradise: Tamarindo. Making great time on our drive we were able to explore the tiny beach town a bit before the start of our surfing lesson. Surfing proved to be a favourite activity for everyone and the beautiful water and beach made the whole experience that much better. Val, Chelsea R. and some others were able to get the hang of it pretty quick and were riding waves all the way back to the beach. The rest of us all managed to stand at some point but it took a lot more tries. Stoked on our surfing skills we headed to our new hotel with just enough time to drop our stuff and then run to dinner, which was delicious as always.
After dinner we all enjoyed a tasty Gelato treat. We've really kicked into gear and are excited at where we are as a group as we near the halfway point of this wonderful experience.
Sincerely, the Costa Rica Community Service team Jessie and Bretton
The Westcoast Blogger