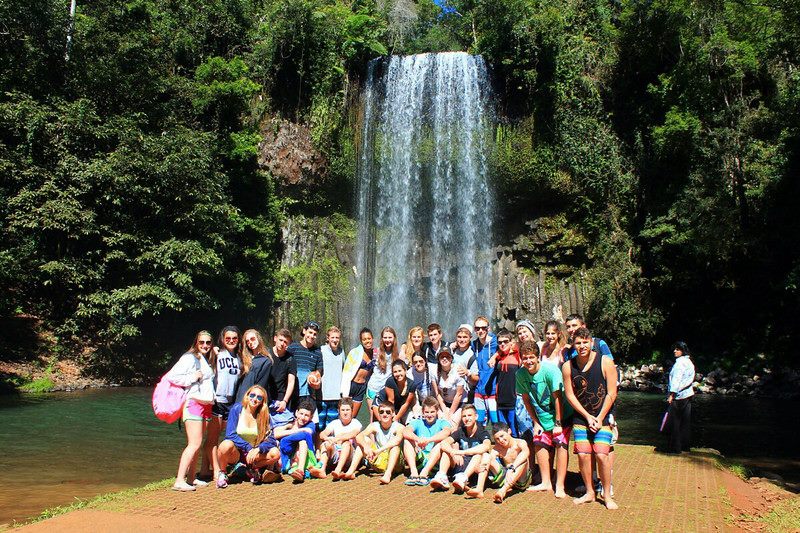 What a beautiful time spent on Fraser Island but it was time to continue onwards – our next quick stop was in Brisbane. The afternoon started at Steve Irwin's Australia Zoo. An amazing wildlife park filled with kangaroos, koalas, tortoises and of course crocodiles. The group was keen to take photos holding the cuddly koalas, the most adorable but as we soon found out smelly creatures in the park. The entire group took some time out to watch the crocodile show. The group continued with the kangaroo selfie trend having plenty of choice as dozens of kangaroos roamed around a large area of the park. Later that evening we got back into Brisbane city where we ate dinner followed by an evening stroll on the Southbank River.
The following day we were Cairns bound. Upon arrival we were picked up by Sydney, our driver for the next four days, who proved to be a knowledgeable tour guide and also happened to have excellent taste in music. We arrived to 'On The Wallaby' lodge and that evening our trip members put on a talent show. Jeremy opened the show with a beautiful rendition of 'Hallelujah,' Ben then dazzled us with a magic trick, and both Jordyn and Chris made ours eyes water as they sang for us. Natalie and Nicole put on a folk dance for the crowd while Jonny, Brandon and Adam put on a great performance of Australian artist Iggy Azalea 'Fancy'.
The next day we got a wonderful tour around the Atherton Tablelands, the 'fruit basket' of Queensland, which is nestled on a plateau surrounded by the wet tropics, a world heritage site. Our first stop was the Cathedral fig tree an enormous 500 year old tree that looks straight out of the film Avatar. Josh and a few of the other boys had a great time seeing how far up they could climb. We then took a quick break by Lake Eacham where Adam, Brandon and Ethan tossed a football and the group had a great time hanging out in the sunshine. Next stop was Millaa Millaa waterfalls, an iconic water fall that has been featured in copious commercials and music videos. Ben, Ely, Josh, swam out in the 'refreshing' water first followed by a few other brave souls. What a magnificent sight it was! That evening we went on a night paddle in canoes to spot some wildlife. It's safe to say that I think this was everyone's first time spotting tree kangaroos Zach G and Ethan caught sight of them first. There's something very magical about paddling at night with a starry sky up above.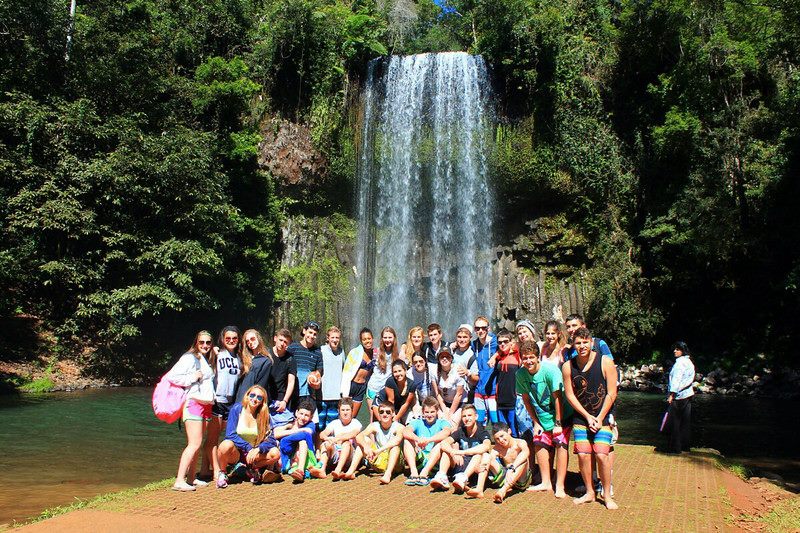 The next day called for a bike ride in the countryside followed by an optional afternoon of activities. Michael, Bella, Shawn, Ben, Maddie, Jeremy and Mel went for an afternoon paddle while Casey, Jordyn, Allison and Nicole G went out for an afternoon jog. Our lodge was close to a fruit and vegetable stand and an old used bookstore and Brandon, Shawn and Maddie went to check out some of the exotic fruit sold by Don, a local organic farmer. Before dinner Uri and Jeremy went platypus watching by the creek of our hotel. What strangely adorable creatures! That night we played trivia where Team 3 consisting of Ben, Josh, Michael, Alex Melanie and Brandon proved that they were trivia wizards!
Time seems to be flying now, we cannot wait for the adventures ahead!
The Westcoast Blogger
Have we piqued your interest? Want to travel to Australia (plus Hawaii) with Westcoast Connection? Learn more about booking our 27-day teen adventure tour!