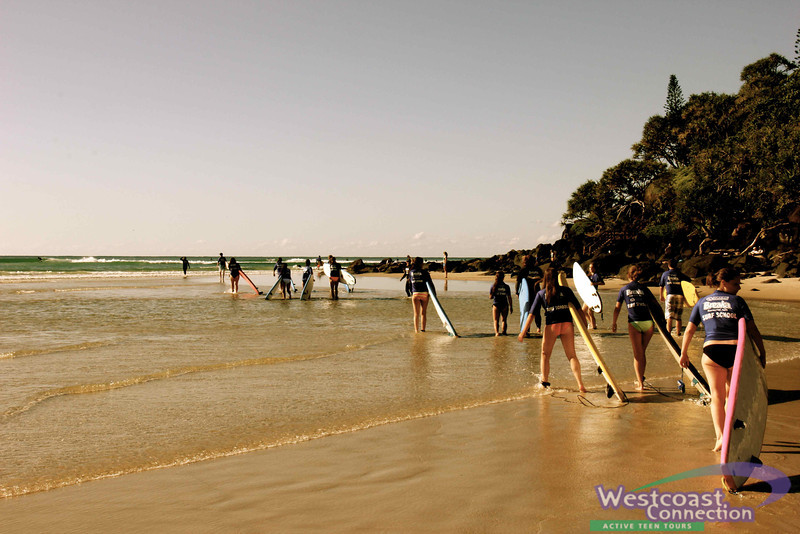 Hello from Down Unda!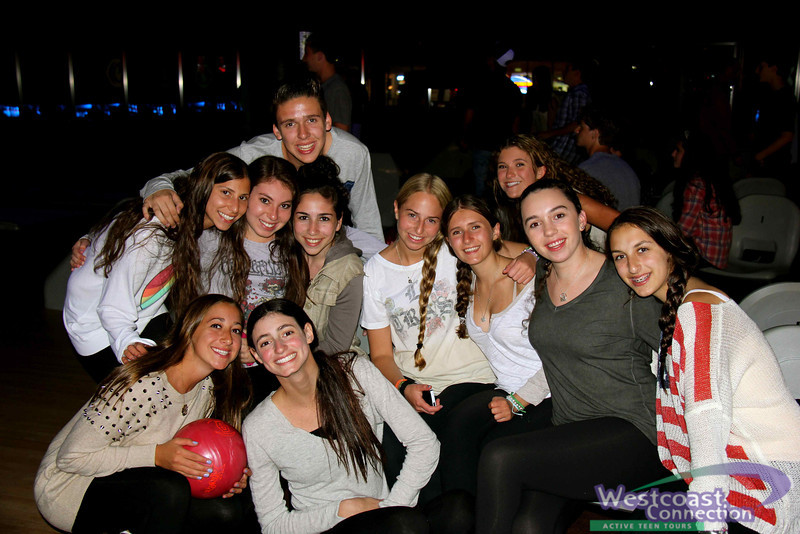 It is hard to believe we are already on day 9 of our trip here in Australia. Since our last scribe, we have spent 4 wonderful days in The Gold Coast, spending a lot of our time in Surfers Paradise. The name really does live up to its expectation; it truly is a paradise on earth. The beaches and views are simply breathtaking.
We had a day of travel from Fraser Island, where we took the opportunity to play some fun games on the bus and get to know each other a little more, which seemed to make the time go by quickly. When we arrived in Surfers, we checked into the Outriggers Surfers Paradise Hotel.  The hotel is in a perfect location, ideal for walks on the beach, shops, cafes and plenty of restaurants to dine at. We went for dinner as a group and then to the Infinity Interactive Light Show, which is a maze of lights, mirrors, and padded floors. All the trip members felt like they were in a dream or having some sort of illusion while walking through the light show. Rebecca, Chelsea, Kelly, Greer, and Morgan loved the light show so much they went back the next day after dinner and made sure to snap a few pictures to show friends when they get home.
The Next morning trip leader Derek led Chase, Julie, Lexi, Alina, and Holly on a nice jog along the ocean. It was a perfect start to an eventful day. After breakfast we went to Dreamworld. The park had so much to offer. Lauren and Noa got their fortunes read; Danny was able to attend a much anticipated tiger show; Robby got to feed one of the tigers horsemeat through a cage; Adam conquered his fear of amusement rides with the help of a few friends and went on one of the park's scariest rides. After a fun filled day in the amusement park we went back to the hotel and had some time to walk around and see what the shops had to offer. Sydney, Ariana and a few other girls just had to purchase a pair of UGGs, which of course originated in Australia, that even came with a certification verifying they are the " real deal." We then went to supper and broke off into smaller groups as each group picked a restaurant of their interest. On the way to dinner, we passed some local buskers. The kids encouraged the performers to play Wonderwall by Oasis, next thing you knew we had 32 teenagers singing along on the streets of Surfers Paradise. That night Melissa, Chase, Drew and Ashley tried eating teriyaki kangaroo, which they all described as being delicious.
The next morning, we had a much-needed sleep in. Everyone woke up fresh and ready to take on an afternoon of surfing in Coolangatta. Where Owen, Morgan and Sidney Shiffman proved to be naturals. We also had some time to walk around Coolangatta and indulged in some of the delicious cafes and restaurants around town. Some of the members took the opportunity to shop at Rip Curl, a surf store that originated in Australia. Later that night we went bowling where some people such as Zach K showed off his killer bowling skills getting four strikes and a couple spares. Brennan surprised herself as much as everyone else earning her first ever strike.
Well that's it for now; we took off to Cairns and are looking forward to more adventures in the outback and rainforest! We'll send another update soon.
Hope all is well at home!
~Your favorite Aussie crew