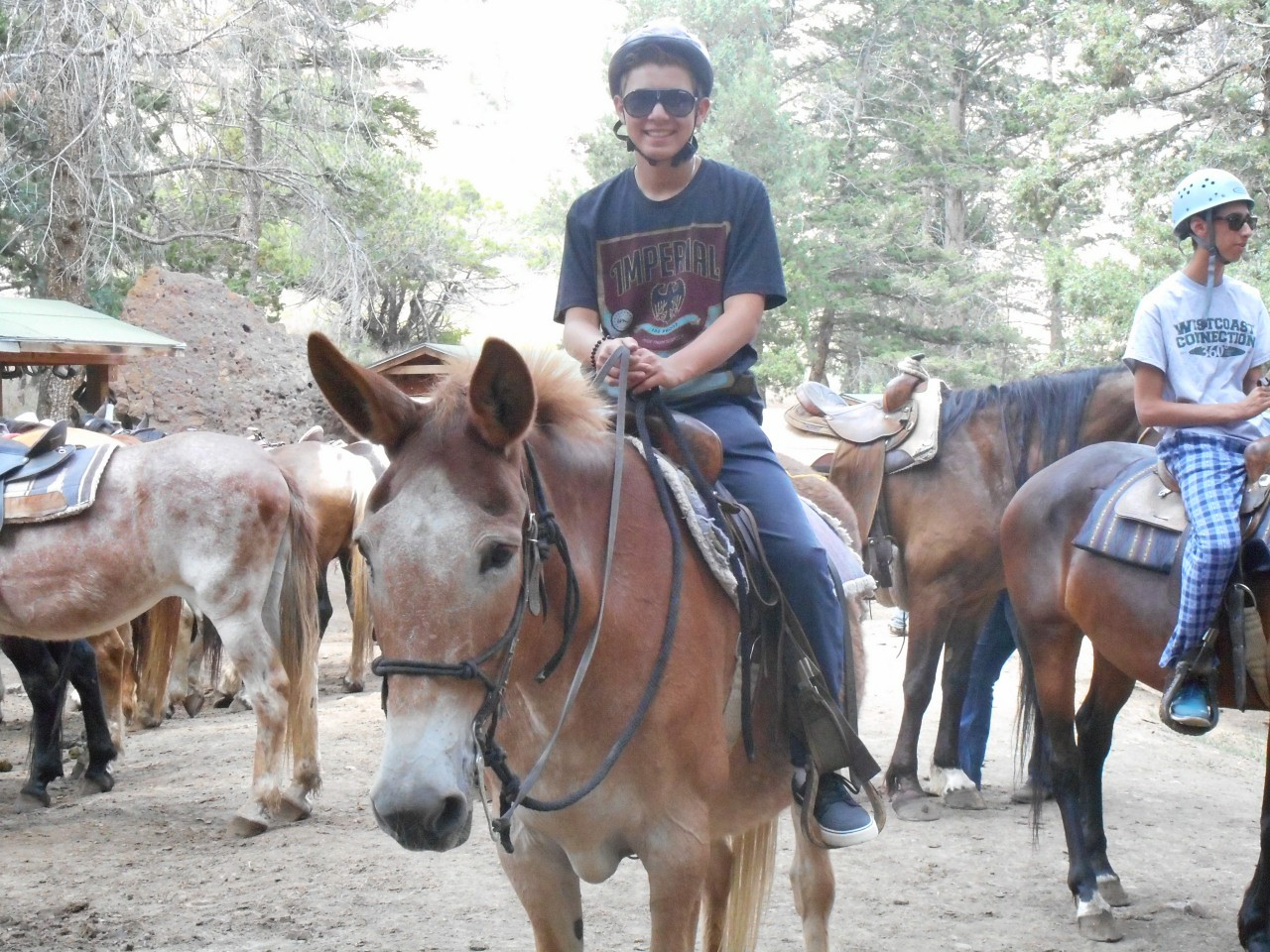 Hello Parentals of U.S. Explorer,
We've now officially past the halfway mark, and it seems as though the further into our trip we go, the faster the days roll by.
Since our last update we've past through three cities, and we're now well on our way towards Zion and Bryce Canyon.
Last we wrote, we had just arrived in Cody where we unloaded the bus and settled into our cabins. After our dinner, we had some free time to explore the town before meeting up for an ice cream treat. The real fun however, didn't start until our second day in Cody, which we kicked off with White Water Rafting. We boarded rafts in groups of ten, each raft with it's own river guide for the 13 mile trip down-river. Megan, Emily A., Becca, Noah F., Reese and Remi, got particularly wet as we plowed through the rapids. After drying off back at our cabins, we left for our afternoon activity – horseback riding at Bill Cody Ranch. As the first half of our group mounted up, Jordan, Jared, and Dani took a hike up one of the nearby mountains for an awesome photo-op and a gorgeous view. Meanwhile back on the riding trail, Ethan, David, and Sam stood head and shoulders above everyone else with three of the biggest horses at the ranch, while Sydney stayed a little closer to the ground on a mule named Trixie. After our scenic ride through the mountains, we finished off our day at the world famous Cody Rodeo. Miles and Kara even got to participate in the Rodeo when they were selected to try to chase down and pull ribbons off calves' tails, they were unfortunately outrun by some of the local kids.
The next day we packed up and left for our next destination – Jackson Hole. On our way to the campsite we drove through Yellowstone National Park, and made a stop at Old Faithful, and the Paint Pots walk. Rachel, Allison and Alexa marveled at the colors, and were quick to remark on the distinct smell of sulfur. Upon our arrival we had some time to explore the downtown area, and farmers market. After a quick lunch in the park, we hit the slopes and headed over to the Alpine Slide, where Daniel, Jake F., and Alec raced down the track. After everyone had a chance to try out the slide, we stopped off at the Jackson Hole Rec Center for some basketball and some cool down time in the pool.
Our drive to Park City was beautiful, as we watched the mountains pass us by. After checking into our hotel we had dinner in town. We had a much-needed sleep in the next day, and were all ready to start our second day in Park City. We began with the Alpine Coaster, a self-controlled roller coaster! Next we went over to Lagoon A Beach, where Jasper and Josh both helped lead their team to victory in a nail-biting game of beach volleyball in the waterpark. After a few rollercoasters in the amusement park, we returned to the hotel, where we had a pool party to finish off the night.
We'll keep you updated with all of our adventures to come, as we hike through the canyons over the next few days.
Until then,
The Westcoast Blogger