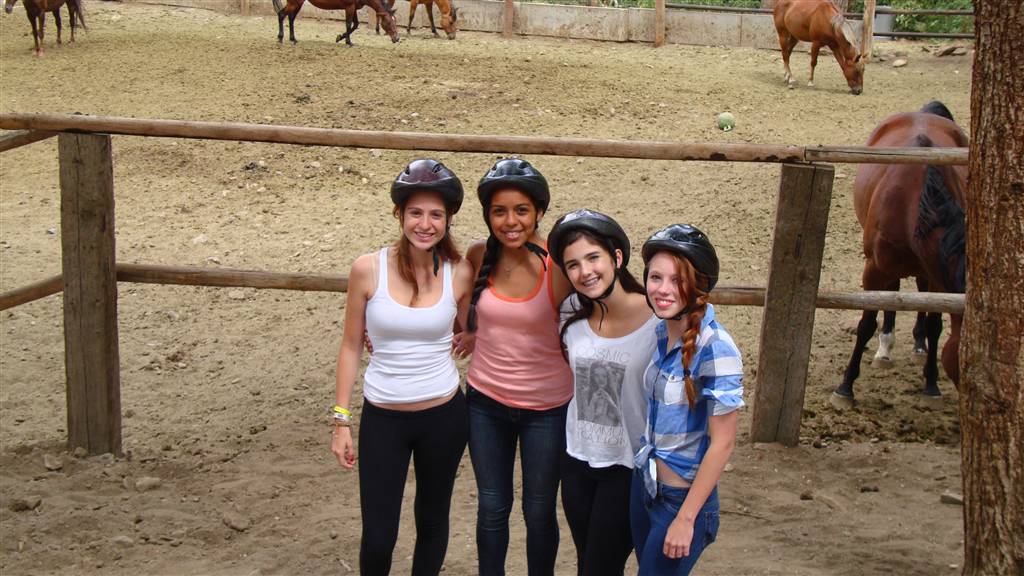 An update from the U.S. Explorer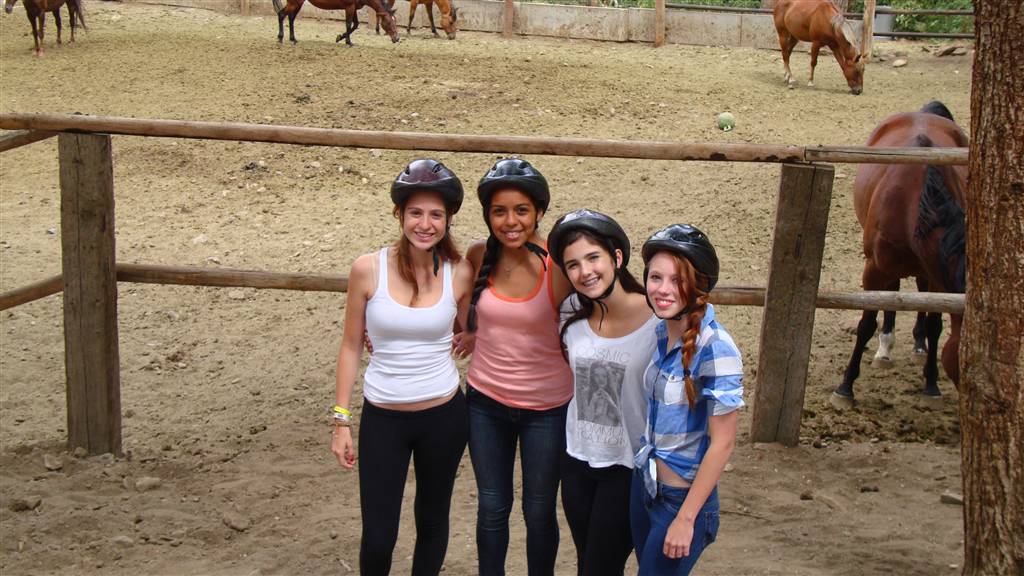 Are you jealous yet XR19 parents? We are having quite the journey!
Let's start with our adventures in Cody, Wyoming! We went whitewater rafting in the morning, horseback riding in the afternoon, and then to the World Famous Cody Rodeo in the evening. How's that for a day in the life of a cowboy?
Our whitewater rafting journey was a glorious trip down the Shoshone River! Before we talk about the rapids, let's talk about the majestic scenery and wildlife…  bald eagles, an osprey, a hawk and even a bunch of cows! As we paddled down river, Jared's boat sang Row Row Row Your Boat in Round, Raquel's boat was the victim of a splash war (they won with the help of their guide) and Amanda's boat proved to be the expert paddlers moving through the rapids with ease.
Everyone loved horseback riding. Mountains and lush greens in the distance, the only thing missing was Chuck Norris in the distance. We all got quite friendly with our horses – just ask Tyler about his horse Larry (and all the trees he stopped to eat) or Sami who spoke to her horse the whole ride.  Delilah's horse was your typical "brown nose" getting angry anytime another horse tried to pass her on line. It was Deliah's first time riding and every time we galloped, you could hear her giggling. Every so often, you could hear Noah telling his horse to "stop grazing" from a distance. Abby looked like a pro which is a good thing considering she has been riding since she was 8!
It seemed like all of Cody was with us at the rodeo! The sportsmanship exhibited by the cowboys and girls was unreal. Zach G. summed it up perfectly when he said, "this is actually kind of cool." During the rodeo, Lee, Nikki, Chase, Zach R., Tyler, Noah, Aaron and Brandon participated in the Calf Scramble. They chased after cattle with the under 12 crew (shhhhhhh!) hoping to untie the ribbon off of a baby cow's tail. Although they didn't win, we got quite the laugh from the grandstands.
As if that wasn't enough, our game "Gotcha" picked up! We have quite the competitive bunch! Each of us was assigned a person and a word. The challenge is to somehow get that person to say the word during normal conversation. If successful, you yell "gotcha" and that person is out (and passed along their person and word).  The game continues like this until there is one final winner. Kyle tricked Justin into saying the world right away. Somehow Rickey figured out that Evan S. was out to get him!
That night, Jared challenged the group to a dance off. Zach G. was chosen by the group to represent the group. He made everyone proud indeed with his amazing moves.
The next day was Abby's birthday! Just as Sam had done a few days earlier, she danced to the Macarena and skipped around the bus prior to the morning mix.  As we travelled to Jackson Hole, Wyoming through Yellowstone and Grand Teton National Parks, we watched a video to prepare us for the sight seeings that lied ahead of our journey including what animals to keep an eye out for, how a geyser works, and how bears (named Yogi and Booboo) live in Jellystone (or Yellowstone). Jonah E. gasped when the video said that the volcano Yellowstone sits on may one day erupt. As we looked outside at the beautiful scenery, we spotted a buffalo… and then herds of them! We even saw a bear and a moose in the distance. We are still keeping our eyes pealed for the world famous Yellowstone unicorn. Lyndsey said that she thought the bison looked like Beast from the Disney film, Beauty & the Beast. Mabil loved the fountain paint pot, an area with intense geologic activity. It was really cool to see the bubbling mud and mineral rich pools with exquisite colors.
Next up was Old Faithful, the most regularly erupting volcano in the park. Sam explained how it worked and remembered learning about geysers in school even though he said science wasn't his favorite subject. He also made some jokes that we will spare you from reading!
On the way to the campsite, we stopped to take a group photo in front of the Tetons. Raquel said it reminded her of the last scene of the film, The Sound of Music and of course, Haley started singing a song from that film! "The hills are alive…"
That evening was tie dye night! Sam E. was the expert swirler! Seryna loved it so much that she debated making two shirts! To finish Abby's birthday, we devoured two delicious cakes – an Oreo filled chocolate cake and tiramisu flavored one! Abby said she enjoyed the special treats and that she had an amazing birthday! We also roasted s'mores by the campfire and played a slew of campfire games including Broken Telephone or Dishwasher. As we all relaxed, Kyle told us all to look up for an unreal view of the stars and a clear view of both the Big and Little Dippers.
Gotcha moved on quite a bit that evening as well. Lee eliminated 8 people! Jared played dirty during "Would you rather" and asked Lyndsey if she would rather meet Justin Bieber or the Jonas Brothers. As soon as she said Bieber, he yelled Gotcha. By the way, it was interesting to hear who would rather be in a tub of snakes compared to giant spiders!
The next morning, we did a Pen Exchange. We were randomly split into teams and handed a cheap pen.  The teams asked people in downtown Jackson Hole what they could trade the pen for.  The exchanging continued for bigger and better objects – as many trades as possible in 60 minutes. Matt, Seryna, Aaron and Isabel came back with the best item or items. We were all shocked to see them return with a real pearl necklace, designer sunglasses and a handmade bird house. Just when you think the world cannot get any smaller, Matt runs into someone from Montreal who was working in town. She gave Matt's group a Picasso book that was worth $200 without any exchange required. This book was later exchanged for the necklace. The designer sunglasses were traded for a fire starting kit that fascinated a store owner. Although Jamie, Alexa, Jason, Evan A. and Gary returned to the meeting spot with a pencil, they conquered the other part of the challenge by making 22 exchanges! Very impressive considering they only had an hour to complete their challenge.
At the Snow King Alpine slide, we were lucky to slide down a huge mountain with an amazing view of the town of Jackson Hole and the Tetons in the distance! Emily said it was amazing and so much fun! She said he raced Haley down the mountain twice! Delilah's face when she slid into the finish line was absolutely priceless.
We then went to the rec center –  basketball was the game of choice for most of the boys! Julia and Mabil swam laps in the pool and climbed the rock climbing wall. Rickey, Gary and Grant especially enjoyed the big slide into the pool as it was fast, and the pool was the perfect place to cool down.
We can't believe we have reached the half way point and KNOW you're not having as much fun as we are – sorry about that!
The Westcoast Blogger