Two years ago, the backlot at Universal Studios Hollywood suffered fire damage. One of the attractions lost in the blaze was King Kong.
This summer, he is coming back to life … this time in 3D! By the way, Universal is saying that this is the largest 3D exhibit in the world.
During the backlot tour, Studio Trams will enter a darkened sound stage that looks very much like a secret jungle location. After surviving a close encounter with hungry raptors, they will be confronting by a 35′ tall dinosaur, intent on attacking the tram and Studio Tour guests. When King Kong enters the picture, they will see him in 3D and even smell his banana breath.
The L.A. Times did a great write up of the preview that happened last week. You can check that out here.
Experience King Kong's banana breath at Universal Hollywood on our Western Teen Tours and our California Community Service program.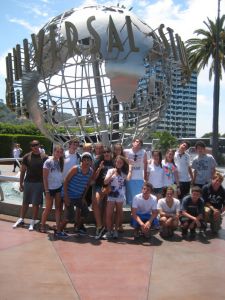 The Westcoast Blogger