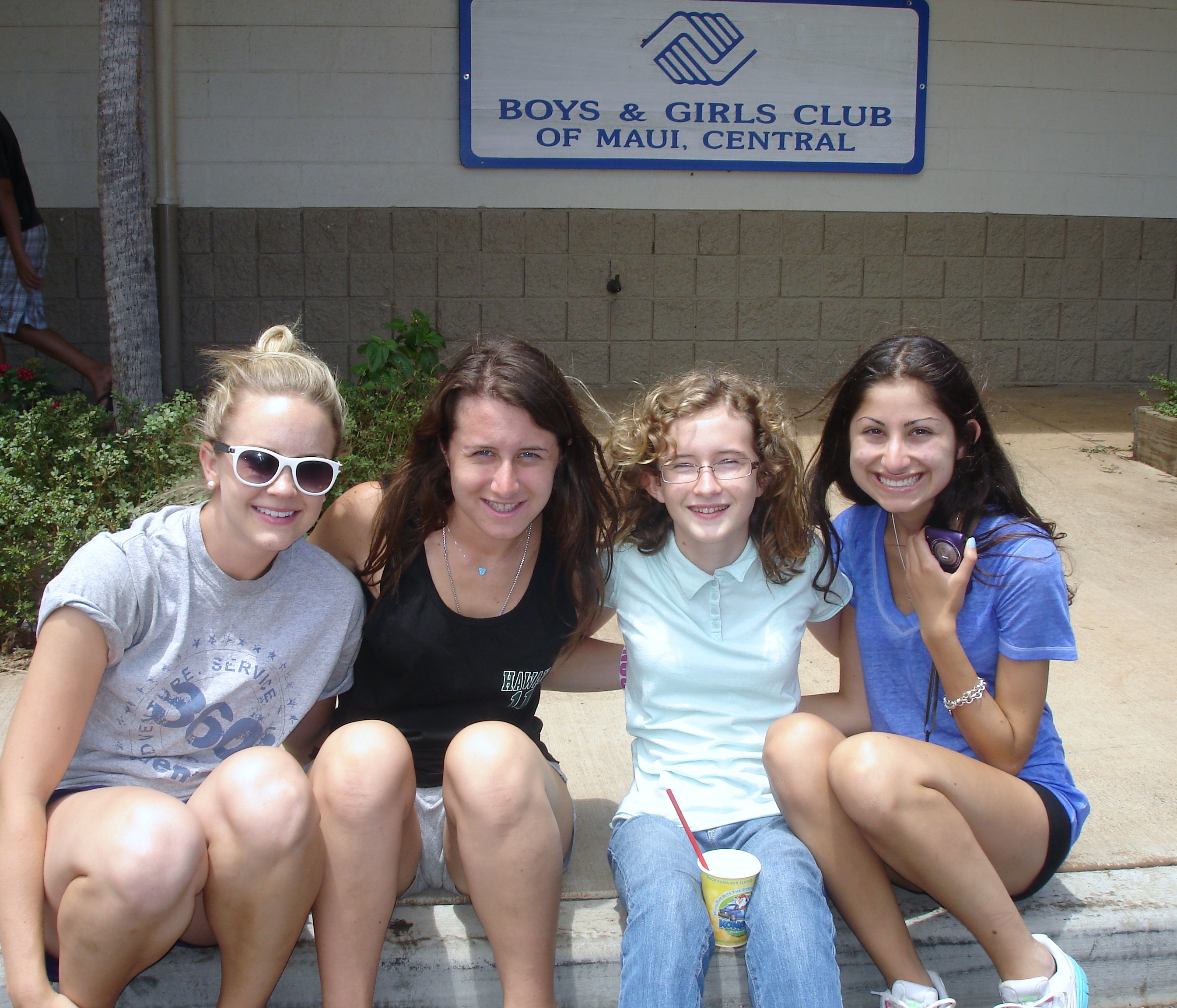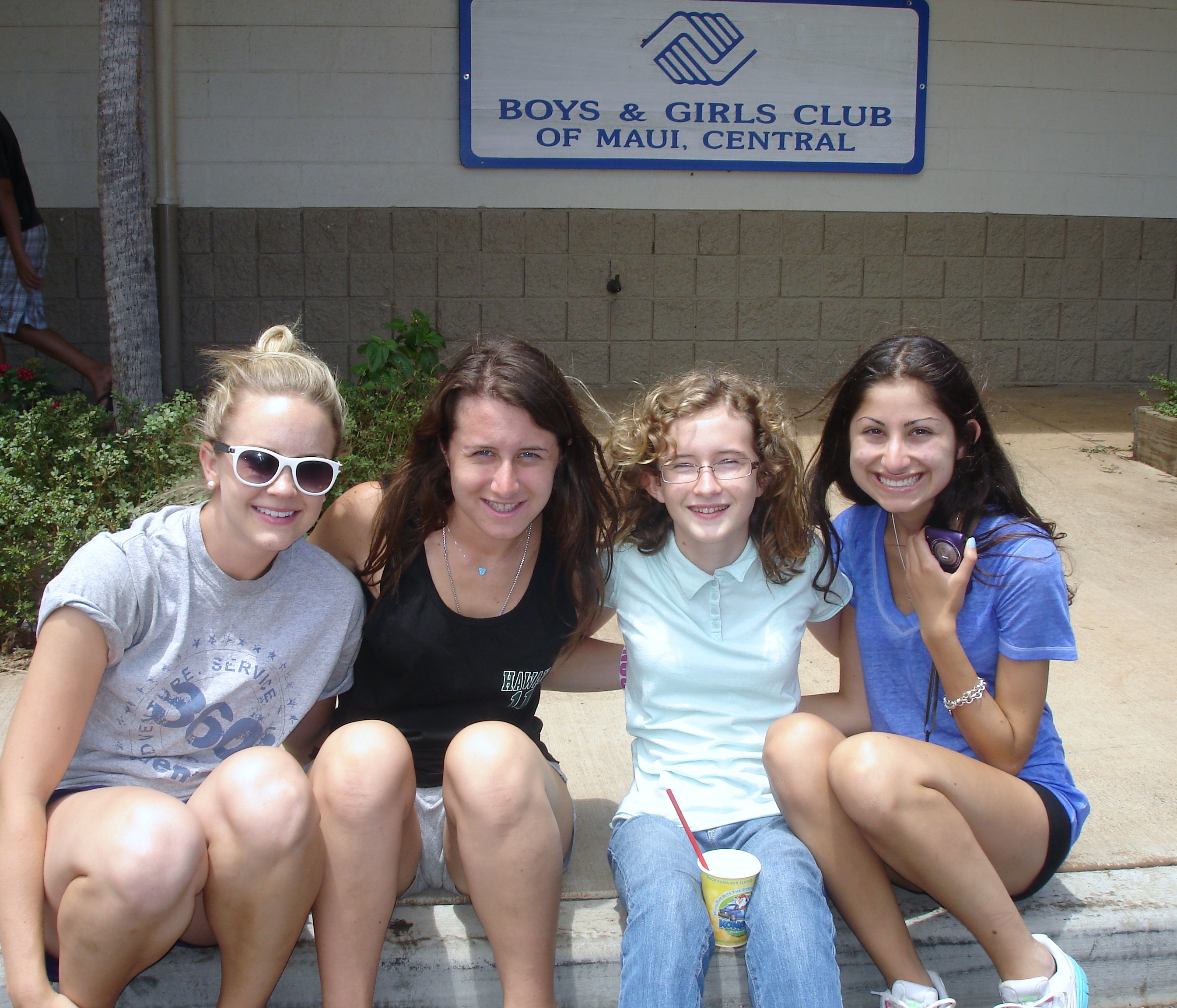 Aloha family and friends of Hawaii Community Service!
Since the last time we have touched base with you, we have hopped from one Hawaiian island to another and have had some amazing cultural experiences and adventures. We even had a celebrity sighting in Paia (Owen Wilson!). We attended a luau, where we watched a spectacular fire show, hula dancing, and indulged in local delicacies such as pineapple pie. We learned the hula and traditional Hawaiian chants together. We made leis for one another and shared the traditional ritual of offering a wish for our friends as we placed leis around each other's necks. This recognizable Hawaiian emblem will forever have greater significance to our trip members.
Our community service on Maui has consisted of three days at the Boys and Girls Club, as well as environmental service with "Nature Jay". Both of these experiences have held their own highlights and memorable moments. The relaxed and welcoming nature of the Boys and Girls Club allowed our trip members to feel that they were going in as peers, and leaving as friends. Throughout our three days at the club, one could find Sarah making club members laugh while playing Apples to Apples, Zoe and Rhea being covered in glitter as they did arts and crafts, or Tori, Elyse, Kaylie and Jordie being amused by the kids' ghost stories.  Noah and Alex competed with the club members in flag football, and joined Marc, Paige and Sara for a game of baseball where everyone managed to keep up the intensity and the fun at the same time! The variety of sports continued with Sara, Paige, Alex, and Jillian playing soccer with the group. The sports that everyone enjoyed were perfectly balanced with the display of musical talents that the club members put on for our trip members. Justine, Molly, Jordie, Haylee, and Kaylie had a preview of the next stars to come out of Hawaii as they enjoyed the girls' acapella performances and amazing ukulele performances! A definite highlight was the dance and karaoke performance by one of the club's youngest members, encouraged by Alexa to show off his talents. As we left the Boys and Girls Club, our new friends made it seem that it had been much more than three short days we had known them.
We have also had our first day with "Nature Jay" (and Epo the super-dog!), a fascinating guide who shared his wealth of knowledge about Hawaiian history and culture, and his passion for the environment, with us. Before a swim in two epic waterfalls in Iao Valley, we had the opportunity to participate in clean-up of the area. We hiked a trail to the first waterfall, while we drove to the second that was tucked like a hidden treasure in the heart of the valley. Rhea and Justine just could not seem to get enough pictures of the scenery of this area! At the same time, trip members already showed that they understood Nature Jay's message about taking care of the environment – Jordie and Marc gladly collected garbage from the waterfall areas and made sure that they were left pure.
Our last few days here in Hawaii promise to be action-packed, and full of highlights fitting of the end of our trip! Stay tuned for updates on ziplining, snorkeling and another surfing adventure!
The Westcoast Blogger