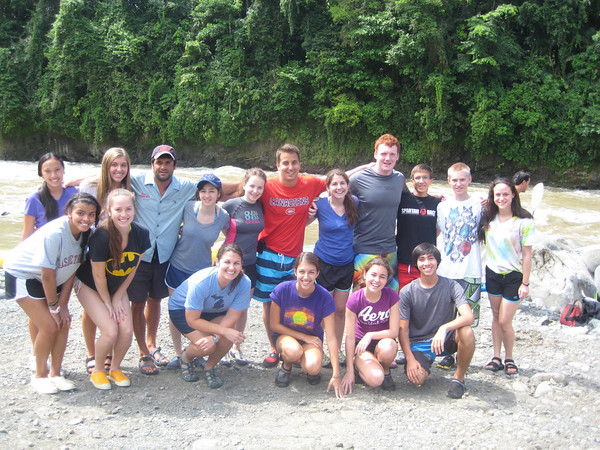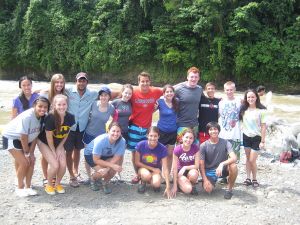 Hola Parents,
We are so excited to be sharing this experience with your sons and daughters.  The first day went by so smoothly and the group came together quite quickly that by the end of the day most of us couldn't believe we had only been together for a few hours.  And the amazing part was day one was all about the group orientation and the experience of the program had not yet begun.  We went to bed with eager anticipation for the fun and the camaraderie that was to come.
Float On(by Modest Mouse) our morning song could not be more fitting for our day of rafting. Jorge, our river guide for Rios Tropicales, gave us lots of interesting information about his beautiful country and kept us laughing the whole trip to the river. We stopped at a local bakery and got to taste some Costa Rican pastries. Carly and Jamie shared a chocolate treat with caramel and later on the river they enjoyed getting out in the calm sections and floating in the cool water with the sunshine in their face. Alfredo and Kelsie shared a sweet bread stuffed with chocolate and marveled after the transaction because they were blown away that money in Costa Rica is plastic but has such interesting artwork. Alfredo got to take a picture under the waterfall! Scott has also been taking lots of photos and capturing all of our great memories as well as keeping us laughing with his witty humor. Aysa, an old pro of rafting and Dave our trip leader and lifeguard, felt right at home on the river and loved the rainforest surroundings. Connor and Renato were at the front of the boat and did a phenomenal job paddling us through the rapids. A big cheer was given to Carly, Brooke, and Gabby who were a little timid at the start of the rafting, but ended up having a fantastic time and Brooke shared, "Rafting was super fun and it really helped bond our group even more."
After rafting we stopped at a fruit stand and got chilled fresh coconut water straight out of the coconut- Gabby pointed out that the real stuff is so much better than the store bought stuff at home. Rebecca and Amelia also enjoyed their refreshing drinks and when they finished they smashed their coconuts and slurped the yummy flesh.  Rebecca announced, " Costa Rica is absolutely awesome!"
Arroz con Pollo was a popular pick as our hilltop restaurant and we all got a kick out of the quirky art and antiques collection of old juke boxes, a car covered in colones (Costa Rican currency) and a statue of the owner that many of thought was a real person when we walked in.
Later on Gayle, the founder of the Costa Rican Humanitarian Foundation, our community service partner, met with our group and explained how and why she started the Foundation. Kelsie was thrilled to learn that the organization that we are working with has a Montessori program just like the one she attended for eight years and is excited to share her experience with the students from La Carpio (the town where we will be volunteering). We all appreciated Emily's input and wisdom in our chat after meeting with Gayle. The group is really looking forward to our first day of community service tomorrow and all that we can accomplish together as a team. Rumor has it that the Tree Frogs (Scott, Carly, Jamie, Alfredo, Rebecca, Gabby,and Asya) are going to outwork the Monkeys (Emily, Kelsie, Renato, Connor, Emma, and Brooke), but the Monkeys are geared up for a another great day tomorrow too.
We are ending each day of activities by recognizing someone who stood out for the day. Emma is proudly wearing her necklace from the monkey group for being such a good sport on the river and having a such a great attitude with all our activities- her positive outlook is contagious!  And lastly, Alfredo is sporting the frog necklace after selflessly helping others on the river today.
We look forward to writing again soon and sharing more memories.
The Westcoast Blogger