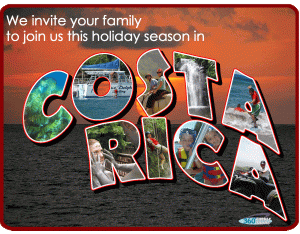 It's time for our first big announcement of the season!!!!! Now, you may be thinking we're about to unveil our new trips for next summer. Or maybe you think we're going to talk about some of the new highlights on our programs. We'll, you're going to have to wait a little bit longer for that information to come.
In the meantime, we are proud to introduce (insert dramatic music here) …
360° FAMILY TOURS!
If you're an adult, grab the kids. If you're a previous teen traveler, grab your parents and join us this holiday vacation for 10 days of non-stop excitement.
The journey will start in Rincon de la Vieja at the beautiful Borinquen Mountain Resort and Spa. For the action seekers, there is horseback riding, zip lining, ATVing, river tubing, canyon waterfall rappelling, and more! This is of course in addition to the mineral mud baths, hot spring pools, natural thermal steam room, and luxurious spa.
Then, it's off to Tamarindo Beach for surfing, boogie boarding, SCUBA diving, snorkeling, sailing on a catamaran, deep sea fishing, as well as spa treatments, shopping and more.
Check out www.360familytours.com to learn about this incredible family experience and to sign up now.
We invite your family to join us this holiday season in Costa Rica.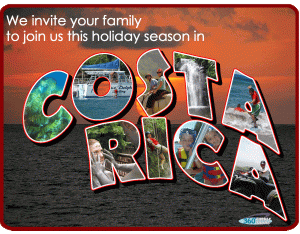 All of us at Westcoast Connection / 360° Student Travel
1-888-868-7882