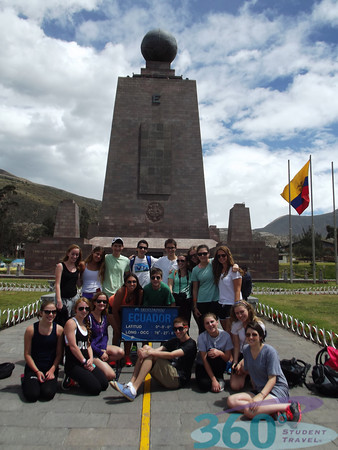 Hola Friends and Family!
Upon arriving in San Cristobal, we wasted no time and immediately started exploring what the Galapagos Islands have to offer. We began our visit by touring the Interpretive Centre where we all had the opportunity to learn about how the Galapagos Islands were formed. We also received an introduction to Darwinism. After an educational tour, we set off on our first snorkeling excursion at a small bay. Many trip members spotted wildlife that they had never seen at home including sea lions and sea turtles. It was the perfect beginning to our time in the Galapagos!
To kick start our next day, we began with some community service at a local high school where we filled in holes in the ground to create a cafeteria area for the students to use at lunchtime. Lauren S. and Cameron worked hard shoveling dirt and rocks into bags that Sami and Lexi then used to fill in the holes in the ground. Caroline B., Maya, Jane and Michael then toured the school ground picking up the trash to help clean the area. After a work filled morning, we began our second day of snorkeling. Upon arriving at the beach, we were instantly greeted by several sea lions. Jessie and Cameron got some great snap shots with our newest friends. After taking some photos, we put on our snorkeling gear and dove into the water. Tamzen and Stevie were caught off guard as a baby sea lion swam right towards them while Hannah took some great underwater photos. To finish off an amazing second day in the Galapagos, we all participated in an intense game of Battle of the Sexes. Our group separated into two teams of boys vs. girls and tested each other on their knowledge of the opposite sex. Lauren G. and Stevie were highly competitive team captains.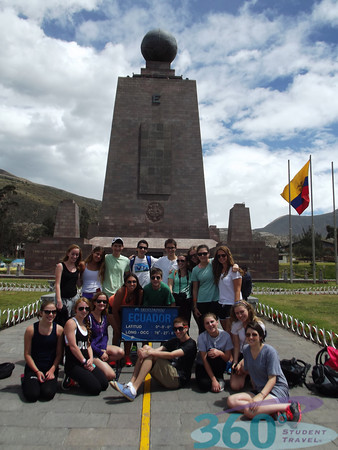 On our third day, we continued our service at the high school. Since we had filled all of the holes the previous day, we were ready to coat the floor with concrete. Sami, Jessie and Mason were in charge of mixing the dirt, water and concrete mixture. Once combined, they helped lay it down to create a smooth floor. Meanwhile, Lila, Lucy and Marlee continued shoveling rocks into bags to fill other holes on the school's campus. Finally, Tamzen, Carly, Max and Renee worked hard painting rocks alongside a walkway. Once we finished our projects, we played soccer with  several of the high school students. Caroline T. and Zach blew us all away with their moves and Mason was an excellent goalie for our team. To finish off the day of service, we participated in a dance challenge with several of the students where Lauren G. and Hannah showed off their finest moves.
On our final day in San Cristobal, we headed off to Kickers Rock for our last snorkeling adventure. Over the course of the day, we had the opportunity to snorkel through a channel and catch a glimpse of an array of fascinating wildlife. We also had some time to relax on the beach. During snorkeling, Jessie and Lucy saw a small shark swim right under them while Marc found himself surrounded by colorful fish. Stevie then saw a small octopus in the water that our guide then picked up to show us. Caroline T., Cameron and Zach then witnessed our guide get inked in the face. It was a memorable day for everyone!
As we are now done our time in San Cristobal, we are excited for our final stop in Santa Cruz. With only a few days left on the trip, we are making every moment count!
The Westcoast Blogger