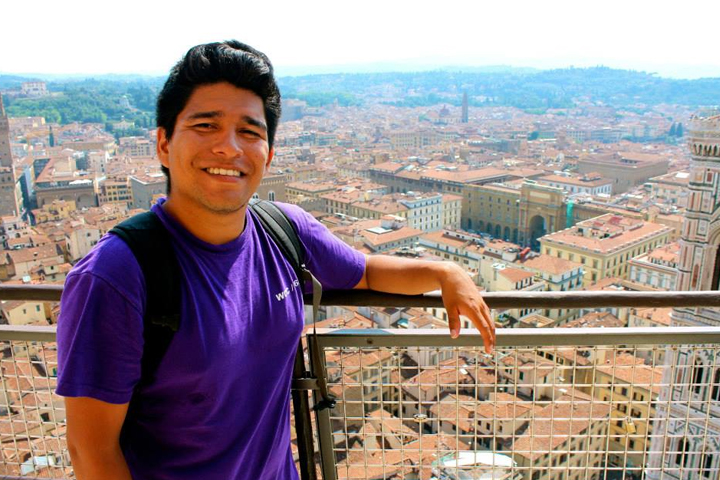 1. What's the dish/meal you look forward to most when you visit Europe?
Oh there is this amazing dish in Sorrento that I look forward to every time I go – it's a spaghetti seafood dish from Buffalito. You get freshly made pasta and a medley of seafood caught that day! This dish with a tall glass of lemonade… perfect!
2. What's the one meal all the trip members rave about every summer?
In Rimini we go to this pizza place where the owner serenades you. It's a traditional Italian pizza place so we get the best homemade pizza you'll ever taste.

3. What's the most bizarre food you've encountered in your travels?
When I was traveling in Japan I ate a lot of different food. I dined on snake, cows stomach and tongue. Maybe I'd avoid the stomach and tongue again. But the snake… tasted like chicken. However, this had to have been one of the best countries I have been to.
4. Tell us about some of the hidden gems you've come across in your travels!
In Florence you don't really have to do a lot of hunting to find really great food. However, sandwich building is an art form. I was introduced to this amazing little gem that makes the BEST sandwiches in Florence. It is hidden in a little nook and off the beaten path. If you're ever with me in Italy, I'll bring you there.
5. What's the one dish you've mastered cooking because of your travels with WCC/360°?
We take a cooking class at the Apicus International School of Hospitality in Florence and I have finally mastered how to make fresh pasta! There's nothing better in life.

6. Do you feel it's important to try the local cuisine while traveling?
I have been fortunate enough to go to a number of different countries and cities on multiple continents. The one thing that I have noticed is that people all gather in their "kitchens". Local cuisine is where you really get to know the country's culture. If you go to the local haunts – often times this doesn't happen in restaurants but on the steps of a building or local square – you meet interesting people and start to bond over food.
7. Where do you get the best meal: Street food or dining at a restaurant?
Street: In Annecy you can get a Panini from this little place where you line up on the street – La Tartine – you can take that sandwich and eat it on the grass overlooking the lake.

8. We all try to eat healthy on the road, but let's be honest, sometimes it's nice to indulge. What's your secret snack on the road?
When traveling in Europe it is still very easy to eat healthy and I do. Fresh fruit is always there and SO delicious. There are tons of little markets you can go to and "make your own" meal. Afterwards I find a spot on the grass of a park, or even the steps of a building and munch away.
9. How do you incorporate your favorite meals and ingredients from traveling into your cooking when you get home?
Learning how to make my own pasta was fantastic! I make it at home now. It's a messy process, but such a great way to impress friends and have a great meal.
 The Westcoast Blogger