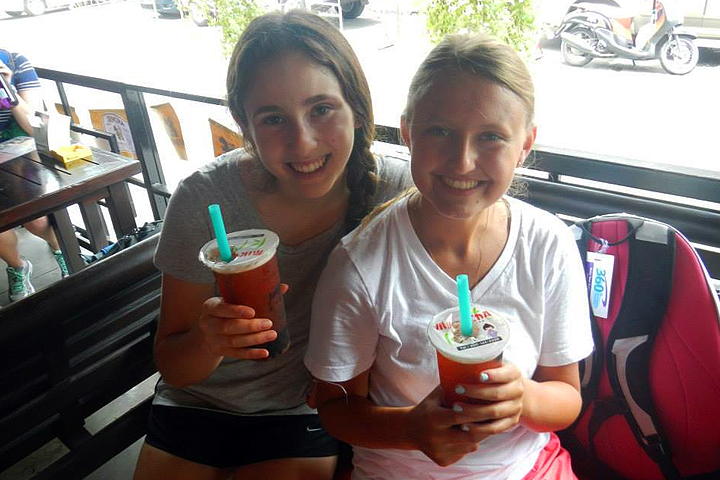 1. What's the dish/meal you look forward to most when you visit Thailand? 
PAD SEE EW!
2. What's the one meal all the trip members rave about every summer?
My trip members LOVED the bubble tea that we were able to find all over Thailand.

3. Most bizarre food you've encountered in Thailand?
Fried Insects! Some were even brave enough to give em a try.
4. Tell us some of the hidden gems you've come across in your travels!
Street side roti in Thailand! It's a delicious crepe-like pancake covered with sugar – YUM! I also can't forget to mention rambutans! Rambutans are a sweet lychee-like fruit native to Malaysia and Indonesia that you will fall in love with the moment you taste it. You can pick up a pound of them at any street corner for as little as $1 and they're a great healthy snack on the go.

5. What's the one dish you've mastered cooking because of your travels with WCC/360° ?
I do not think I could replicate it now, but in our cooking class we made sticky mango rice for the dessert portion of our meal and it was… stickalicious!
6. Why do you feel it's important to try the local cuisine while traveling?
This is absolutely one of THE best ways to acclimate to the culture. Especially in Thailand where food is so centric to the people, my group was astonished to learn that in Bangkok most people do not have kitchens in their apartment because it is actually cheaper to EAT OUT with all the gazillion of street food vendors than to buy groceries and cook for yourself at home!
7. Where to get the best meal: The street food or dining at a restaurant?
When in Thailand, act like the Thai and always… EAT STREET FOOD! And best place? "Pad Thai King" in Bangkok… our guide Kob took us there and it is supposedly where "pad thai" was invented YEARS ago!

8. We all try to eat healthy on the road, but let's be honest sometimes it's nice to indulge. What's your secret snack on the road?
Vanilla ice cream… I don't eat that much of it at home, but when on the road with the trip members… there's always a winner of a program we have run so the OBVIOUS prize is a stop at the local ice cream place.
9. How do you incorporate your favorite meals and ingredients from traveling into your cooking when you get home?
My friends and I do a Supper Club once a month, so every time I come back from one of my trips, I host a potluck and the theme is the country where I just got back from. Everyone LOVED the Thai themed Supper Club after last year's trip!
 The Westcoast Blogger