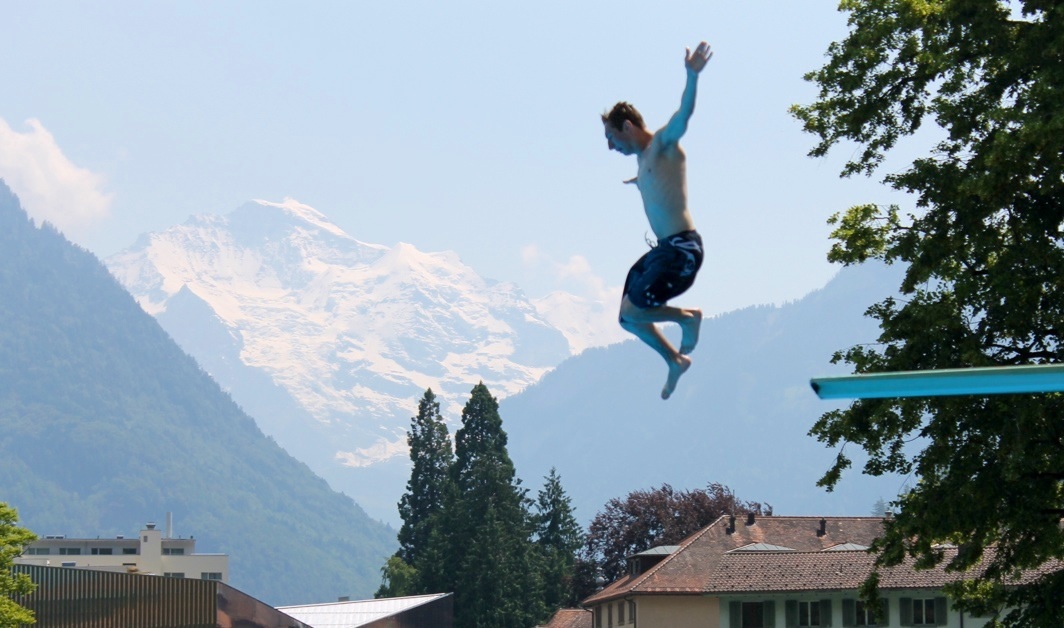 Hello!
Interlaken, Switzerland is an adventurer's paradise and we got to go rafting through awesome glacial rapids! Maude and Emily G. were so brave in the rafts, sitting up front and taking all the splashes. Eric even joined the activity, overcoming his dislike of water.  We were all very proud of him, and cheered him on with a few extra splashes for good measure!
 Andie has proven to be super adventurous, always trying the exciting activities including being the first down the aqua land slide, spending the most time on the ropes course and the first off of the high diving board at the pool!   Kate has proven to be quite the daredevil as well, and did the most difficult ropes course.  She would like to inform her parents that she will not be going to college next year, but instead will be joining the cast of "Survivor."  Jess and Jason C. among others did the entire ropes course as well, and also plan to join the show. Why not?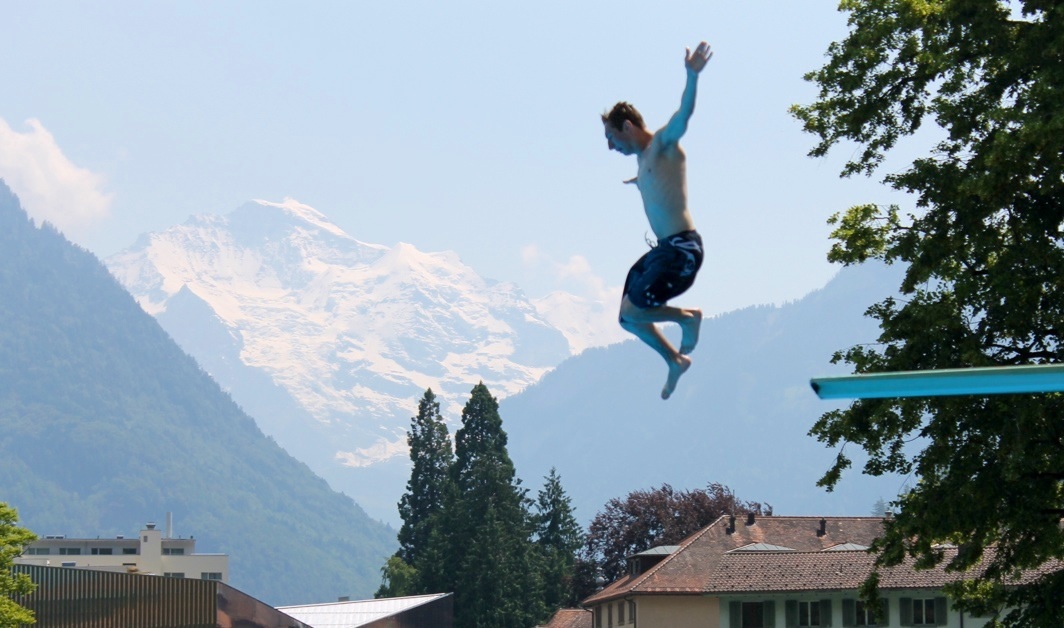 On our last night in Switzerland, we reminisced with a slide show of our trip to that point, followed by birthday cake to celebrate Zach's birthday!
 As soon as we arrived in Cinque Terre, we had a very authentic first Italian dinner at a lovely restaurant near the port of La Spezia.  The meal started with foccaccio bread (Emily's favorite), some olive oil and balsamic to dip our bread into, pizza then spaghetti, followed by the main course and then dessert!  Families–beware–we may come back as foodies.
 The following day, we went down to the beach in Montorosso for some rest and relaxation.  It offered us the perfect time to work on our Mediterranean tans and enjoy some water sports. Will and Jeremy played water frisbee.  Alexa, Kate, Jill, Will, Emily, and Jason A. had loads of fun on paddle boards, and Andie and Jeremy played some paddle ball, while Eric vegged out to some sweet tunes and enjoyed the sea breeze under our nice beach umbrellas.
 There was much more to be done in Cinque Terra!  Despite the spring rains, which flooded a few of the hiking trails, we were able to go on two spectacular hikes. Will, Zach, Kate, and Eric were in the front, leading the way through the narrow trails and taking advantage of the gorgeous views of the water and small towns built in the mountains. We're all still amazed by how people build houses and live up there.
 On a separate and more pressing note, Jason A. wants to break the record of who can eat the most gelato in one day with his current record being a whopping 8 scoops–with strawberry as his favorite… But, unfortunately for him, Alexa is determined to break that record before we leave Italy! If a clear victor does not emerge in the next week, they may have to pursue the heated competition in Long Island–so if their parents would not mind scouting out gelato places close to home, that would be much appreciated–anything for some "healthy" competition, you know!
 That's it for now,
The Westcoast Blogger