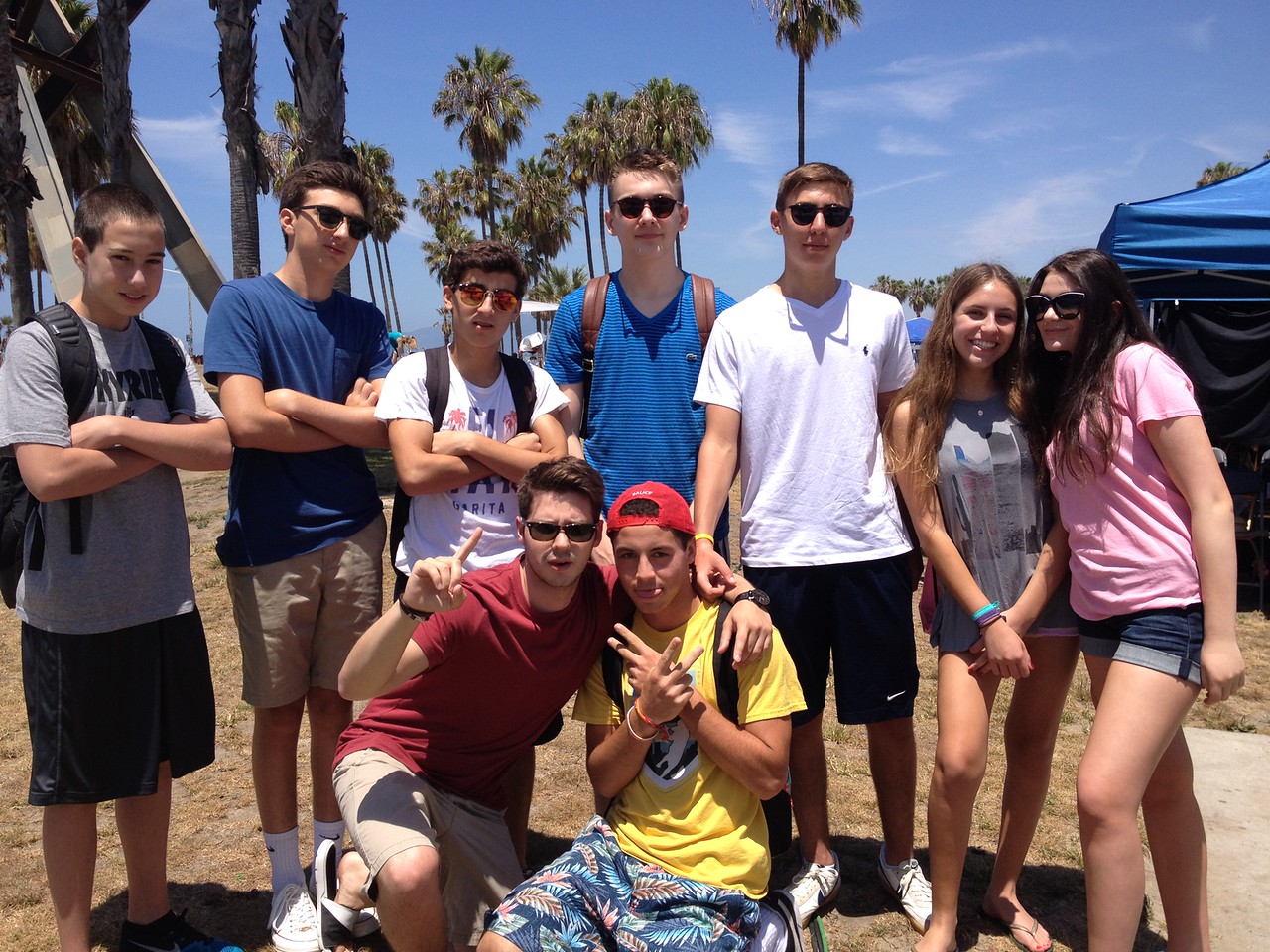 Day 1 (June 28, 2015):
This morning all the Trip Members arrived bright and early to the airport to be greeted by their staff. Together, we flew from New York City to Los Angeles and met our favorite bus driver, Michael. Turns out, Michael has previously worked as an extra on many well known TV shows including CSI, and How I Met Your Mother!
After playing a few ice-breaker activities to get to know one another and explore the beautiful UCLA campus, we headed to the Universal Studios City Walk. Following a  delicious meal at the Hard Rock Café, we played a game called "Paper Clip Trade Up." In this activity, trip members were divided into small groups and each group was given a paper clip. With this paper clip, they had to work together and trade their paper clip up for another item of greater value. Our most creative group managed to trade their paper clip with many vendors and eventually got three $25 leather wallets and a cologne bottle valued at $9. We were all very impressed!
Once we returned to our dorms after the long and exciting day, everyone was ready for sleep and to prepare for the day to come.
Day 2 (June 29, 2015):
We woke up and had a fantastic breakfast at the UCLA cafeteria. The possibilities there are endless! Next, we headed to the UCLA Bookstore, where some purchased a few souvenirs to bring home. The sweatshirts seemed to be a popular hit! Our next stop was Venice Beach, where the trip members were tasked with the challenge of a photo scavenger hunt; taking various pictures with the many characters of Venice Beach (e.g. take a picture with a bodybuilder with biceps larger than your face). Upon arrival at Venice Beach, we stumbled upon a camera crew that was filming NBA superstar Blake Griffin for an Air Jordan commercial. This celebrity sighting excited many of our trip members as we saw them taking shots of Blake Griffin shooting hoops.
At night, we made our way to Hollywood and Highland where we saw the main cast of Ant-Man walking along the red carpet, heading to the movie premiere. Here there were a few more celebrity sightings including Michael Douglas, Paul Rudd and Stan Lee. Some of the girls also met one of their favorite vine stars on the red carpet.
Day 3 (June 30, 2015):
On day three, we headed to Six Flags Magic Mountain. Many of the trip members were eager to ride the new rollercoaster "X2."  Trip Leader Harrison received some help from our trip members to overcome his fear of rollercoasters. The trip members were screaming songs at the top of their lungs to make the rides less scary and more fun. Some trip members tried out the famous Superman ride.  This thrilling attraction soars over 300 feet in a matter of 28 seconds.
We then headed to Santa Monica for dinner and exploration.  At the Third Street Promenade, the trip members had a variety of restaurants to choose from. There were live music performers and break-dancers. Vine celebrities, Jack and Jack were spotted almost immediately after we stepped off the bus. After dinner we went to the Pier and enjoyed a relaxing ride on the Ferris Wheel. Some of us had to brave our fear of heights and were so glad that we did. High in the air we had a stunning view of Santa Monica and shared our highlights of the day.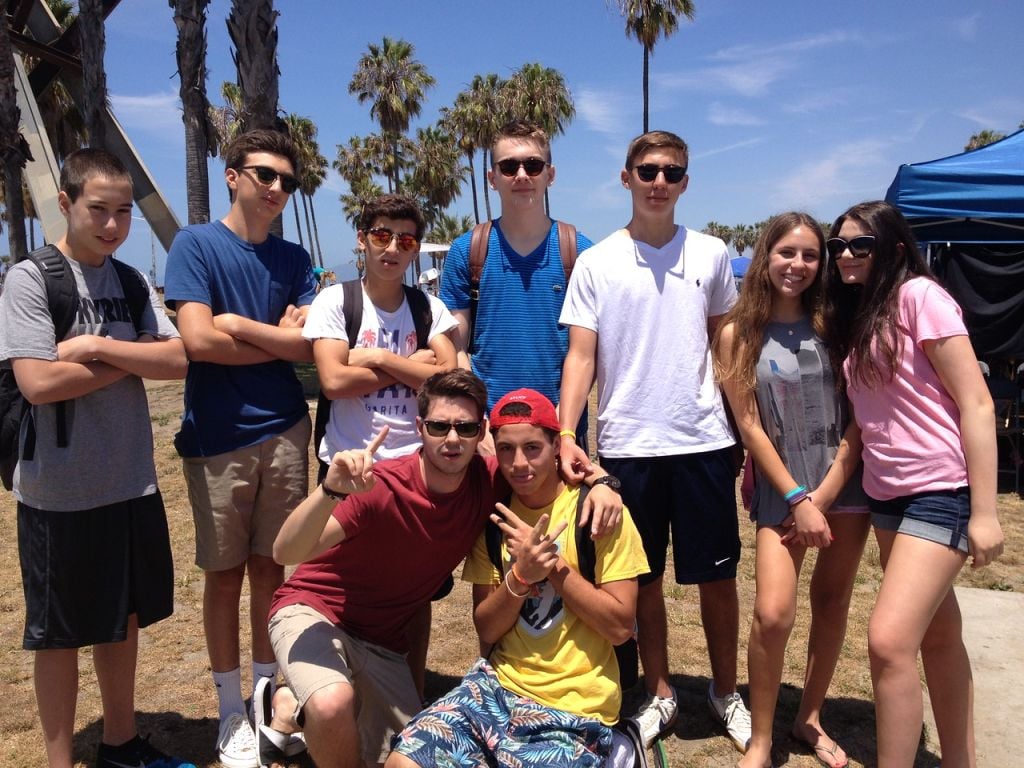 Day 4 (July 1, 2015):
We started the day at the UCLA Cafeteria for breakfast, with even more choices to select from.  The homemade granola with yogurt seemed to be the hit of the day! Next, we cleansed our thoughts at the Museum of Tolerance. At this museum, we reminded ourselves that we must be careful of what we say and do. We also learned to not hold prejudices against people and judge others by their appearances or preferences. Later, we headed to the famous Farmers' Market for lunch.  Many of us were pretty thrilled to have lunch at Umami Burger, which has been credited as having one of the top 10 hamburgers in the world. This joint serves juicy burgers with their own special unique sauce. The truffle burger was popular –we actually overheard this description, "My entire view on burgers has changed".  There was another celebrity sighting of Madison Beer and Jack!
The trip members all got excited about the program that their staff organized for them on Rodeo Drive, where we dressed up one of our trip members as a celebrity from the Disney Channel. Our lucky volunteer graciously accepted the task of becoming a celebrity for the day, and committed fully to his role as "Scotty Smith…That kid from the Disney channel." The other trip members spread out along Rodeo Drive in order to bombard the "celebrity" at various intervals for autographs. Through teamwork and cooperation, we achieved our goal and the tourists on the block watched and recorded him, while believing that he was a real celebrity from the Disney channel. As a result of Scotty's screaming fans, Scotty and his manager (played by Trip Leader, Harrison) were welcomed into the most fancy and expensive stores and escorted out the back exit, to escape.
That night, we headed out to the famous Improv Comedy Club for dinner and a show. The comedians were very interactive with our trip members. Whenever we looked over at our group, there was never a trip member without a smile on their face.
That is all for the LA portion of our trip! Can't wait to see what Vegas has in store for us!
– The Westcoast Blogger