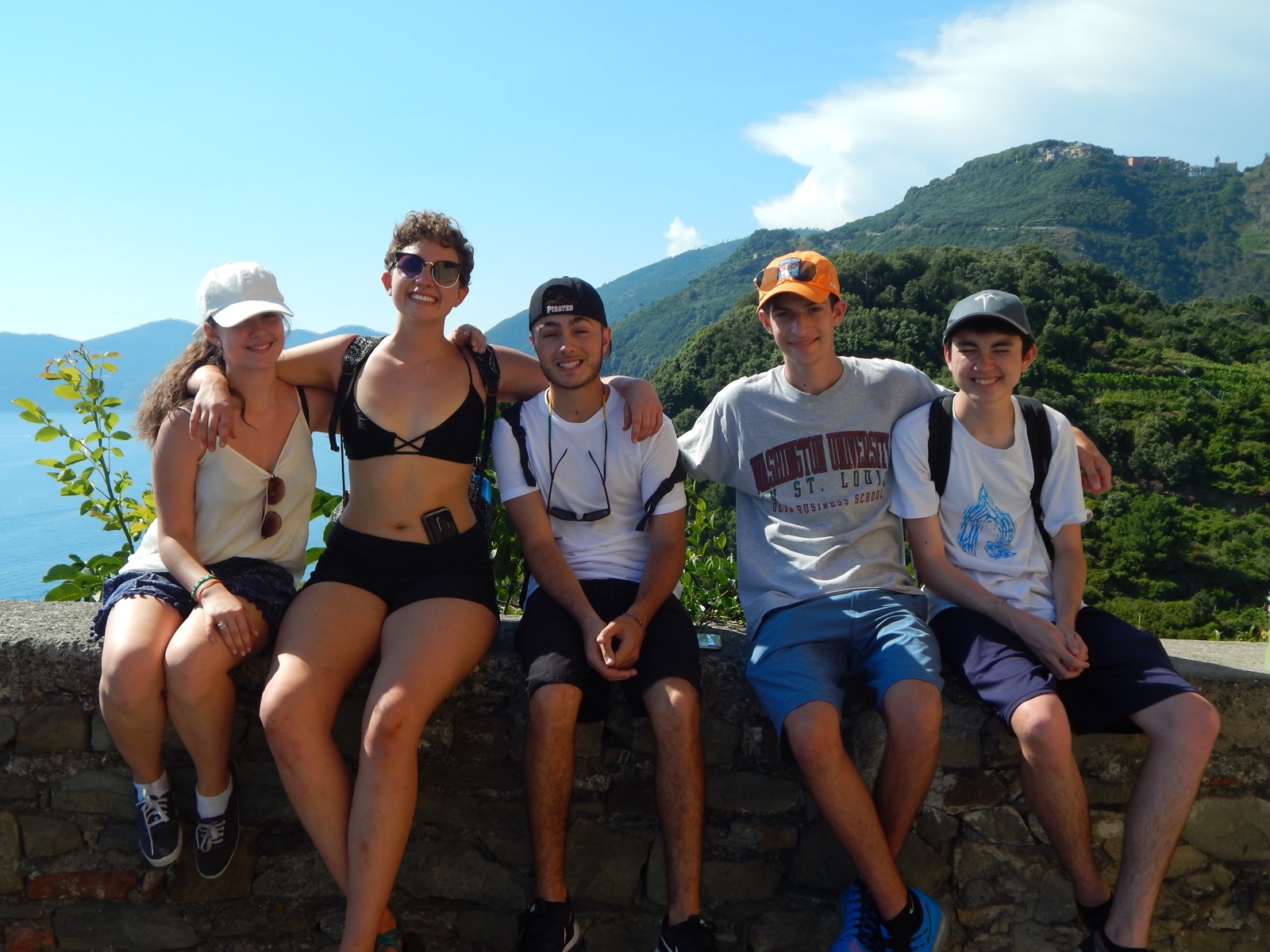 Buon giorno!
Trip 50B has had an amazing start as we have now visited La Spezia and Venezia!
Highlights of the first stop included a hike along Cinque Terre (meaning "The five lands" for the towns that dot the coast). While hiking between Verzana and Monterosso we found what Micaela describes as, "a cat heaven" built into the rocks, complete with food bowls and beds. When we came upon a spring running down the mountain what we thought was a downed power line was actually a water system that fed directly to their little cave.
We also passed by an old man who lives on the mountain and makes fresh-squeezed orange juice for thirsty hikers. Joe haggled with him to buy one of his oranges and we had a snack break at one of many scenic overlooks of the coastline below.
Exploring Monterroso in the evening, Shayna, Tristyn, and Kelsey smelled a heavenly aroma from a restaurant called Páe Veciu and couldn't resist investigating. Turns out the food was so appetizing we decided to have our group dinner there that night. When we were getting ready to leave they gave us all postcards to send back which they use to decorate their walls. I guess we all have a reason to return and eat there again!
We rode in private, six-person cabins on the train to Venezia which reminded everyone of the Hogwarts Express from the Harry Potter movies. Naturally, jokes about chocolate frogs, dementors, and platform 9 ¾ ensued. Upon arriving in the centuries-old city everyone immediately noticed that there were no cars anywhere and soon understood why as we navigated narrow alleyways and canal-spanning bridges to San Marco Square. During free time, Jackie proved she's the queen of haggling – she bought a handbag for about a quarter of the original asking price. Meanwhile, Tiger and Greg found some cool magnets to add to their ever-growing collections.
In the evening, we played a game at Campo Santa Margherita. We broke up into three groups. Each team received a list of silly sentences in Italian and had to get them translated into English. Trip members had a blast interacting with locals and unknowingly telling them, "Let's have a dance party right here!"              
The next morning Gracie was inspired by our tour of the Jewish Ghetto as it resonated strongly with her heritage. After seeing the synagogues that date back to the 13th century she says she can't wait to go on Birthright to Israel once she's old enough. Walking the Ponte di Rialto and taking gondola rides through the Gran Canal were primo photo-ops and we were also blown away by the glass making demonstration at Murano Glass. There were countless designs of ornate glasses and assorted jewelry. No spoilers but many trip members took advantage of this opportunity to get gifts for family members back home.
We've had an amazing time at our first two stops and are now off to Firenze where we will continue exploring, experiencing Italian culture and eating as much gelato as humanly possible. More to come later!
In boca al lupo! Ciao ciao!
The Westcoast Blogger
If this sounds like an adventure you'd like to be a part of, explore our Westcoast Connection 16-day program for student travel to Italy!