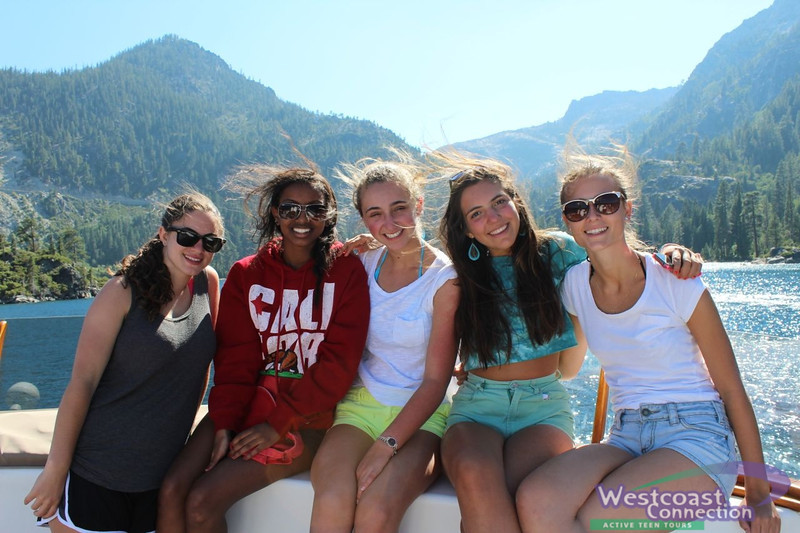 Hello again from Sunny California!
After the most incredible breakfast spread at the UCLA dorms, we started off our second day in Los Angeles at the Museum of Tolerance. Trip members had the opportunity to go through the interactive tolerance exhibit where they engaged in conversations about cyber-bullying, prejudice, stereotyping and other contemporary global issues. Following the tour, we were fortunate enough to be spoken to by one of the museum's managers who shared his story about the intolerance he had experienced throughout his teenage life. We were so proud of the way our group listened and engaged in the question period afterwards and know that you would have been too. Emma and Jake were very active participants during the conversation that followed his speech and at the end of our session, Aaron and Scott went out of their way to thank the speaker for sharing his story with our group.
During the day, we took in the sights of Santa Monica before heading off to the Improv Comedy Club, LA's most renowned venue for up-and-coming comedians. While waiting for the show to start, we enjoyed dinner where Ally said she had the best cupcake of her life and India and Sarah T. started a conga line around our group's tables! A musical artist began the show by inviting Alyssa and Noah onto the stage for a dance off. Max T was brave enough to get on stage as well and tell two jokes in front of the entire club and Ryan T was given the opportunity to introduce one of the comedians! Zach and many others on our trip, however, said the ultimate highlight was when the infamous comedian Louis C.K surprised us by doing a 20 minute set! It's incredible that some of our trip members got to share the stage with such a well known personality and we all loved watching them enjoy their moment in the spotlight. Ayda handled herself gracefully when a comedian made her the centre of attention while Joey's light up shoelaces became the main focus of another comedian's set. As we got back on the bus to head to the dorms, everyone agreed that it had been one of the best nights of the trip so far.
The following day, we visited the immense UCLA bookstore. Jason and Ryan G. played a game of hacky sack outside once they were done looking around while Amanda M. and Sarah S. had a lot of fun playing a game of Ninja. We then got onto the bus and headed to the happiest place on earth: Disney Land! All of our trip members were excited to get to explore the park and try out the rides. It was Clementina and Mimi's first time there and they both agreed that it exceeded all of their expectations. Sam, Hannah, Ben and Justin said their favorite ride of the day was Space Mountain but Danny and Brad disagreed and said that Splash Mountain was definitely better. That night, we all watched the amazing firework show together and agreed that they were some of the best we had ever seen. One of the funniest highlights of the day was all of the attention and generosity Adrien received when he was mistaken for the Prime Minster of Canada's son.  Ethan W was a special guest of the park that day as well as it was his 16th birthday! He received an honorary birthday badge, friendly wishes from all of the characters and enjoyed a cupcake and musical card with the rest of the group.
Our final day in Los Angeles started off at the LA Food Bank where we spent some time giving back to the local community. Our task was to sort through the food donations that had come in and everyone jumped quickly into their jobs! Amanda L. and Logan were very helpful in their group as they went through the different food items and Ann-Katherine was great at packing up her table's packages of pasta. We all left at the end of our shift feeling good about the work we had done and Erika said that she was surprised by how much she had enjoyed helping out! We then went to the farmer's market for lunch and continued on to explore Rodeo Drive in the afternoon. We decided to play a prank and pretended that Graham was a famous star from the Disney channel! The rest of the trip members followed him around, pretending to get autographs and pictures. It wasn't before long that many others on the street saw what was going on and started asking for autographs too! Hunter thought it was hilarious that we successfully fooled so many people. We all had a good laugh and had a great time pretending to be in the presence of a famous star. That afternoon we also had some time to explore the UCLA facilities where Ryan S and Daniel played a great game of Ultimate Frisbee.
What better way to end off our time in LA then at the Hollywood Walk of Fame! We matched hand and footprints at the Chinese Theatre and got to see the Hollywood sign! Gabriella said that walking around that area reminded her of Times Square, Sydnie enjoyed walking in the footsteps of the stars she knew had been there before her and Isabelle thought it was really cool to see the stars of all of her favorite celebrities. At the end of the day, Katie and Carlie said that they had really enjoyed their time in LA because of how different it was from their hometowns and anywhere they had ever visited before.
We are now on our way to San Diego and are excited to see what the next few days have in store for us!
Speak to you soon!
The Westcoast Blogger