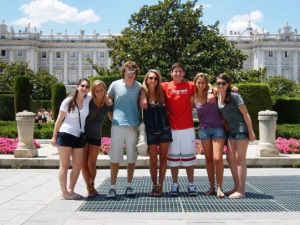 Although I personally do not speak a word of spanish, Tour Director Jenn and her team have reported that they are having a blast in Spain. The trip is being run entirely in Spanish, everything from the morning announcements to the conversations over dinner. We know that everyone is having un buen momento! Here are a few photos and recent trip report from the staff!
The Westcoat Blogger
We have settled in and are having a great time.  It took less than two days to feel like a familia, with everyone feeling connected to each other.  
The wonders of being in Spain and learning about a new culture began right away, with late-arriving Henry W.'s famous cab ride with a staff member to the hotel. Henry quickly made friends with the cab driver.  Through their conversation, he got dubbed "Kikilobo", which the cab driver yelled out the window as he dropped Henry off with the group.  The nickname stuck and our famous Henry "Kikilobo" has embraced it proudly.  
Being in Spain, we have already experienced many "once in a lifetime" opportunities. On Tuesday we went indoor skiing, snowboarding, and tubing at Xanadu Mall.  It was a blast!  Some people were beginners and others amazed us with their skills.  David G. went out on a limb and decided to try snowboarding for the first time.  While he spent a lot of time on his rear end (as all beginners do), he wasn´t discouraged and kept at it with the raw determination to learn.  With everyone giving him pointers, he managed to learn both heel and toe side stopping, which takes most beginners three days or more to master.   Other skiers and snowboarders at advanced levels awed us with their wonderful skills, the likes of which included Andrew S. and Dare R. on the skis, and Arden on the snowboard.  All in all, it was an awesome time that everyone keeps talking about.   
The tour leaders have been impressed by the group's amazing personalities, their ability to learn Spanish and how quickly they have adapted to the local culture.  There are varying levels of Spanish speakers on the trip, all of which have improved already.  Annie M. and Dana S. are already conversational and borderline fluent!  Torn and Sam W. had no previous knowledge of Spanish and within a few days of taking class, they can now drop a Spanish phrase.  The growth is incredible!
Holden S. has quickly become our trip comedian, impressing all of us with hilarious stories, most of which begin with, "My grandma once said…"  He is always eager to speak up at meetings or grab the microphone on the bus and nearly every time laughter ensues. 
We have had so many cool experiences while in Madrid and we are looking forward to seeing the other parts of Spain.  With so many awesome friendships already made, all that´s left is to grow closer together and live in the moment, soaking up every experience that we have!
Hasta Pronto!