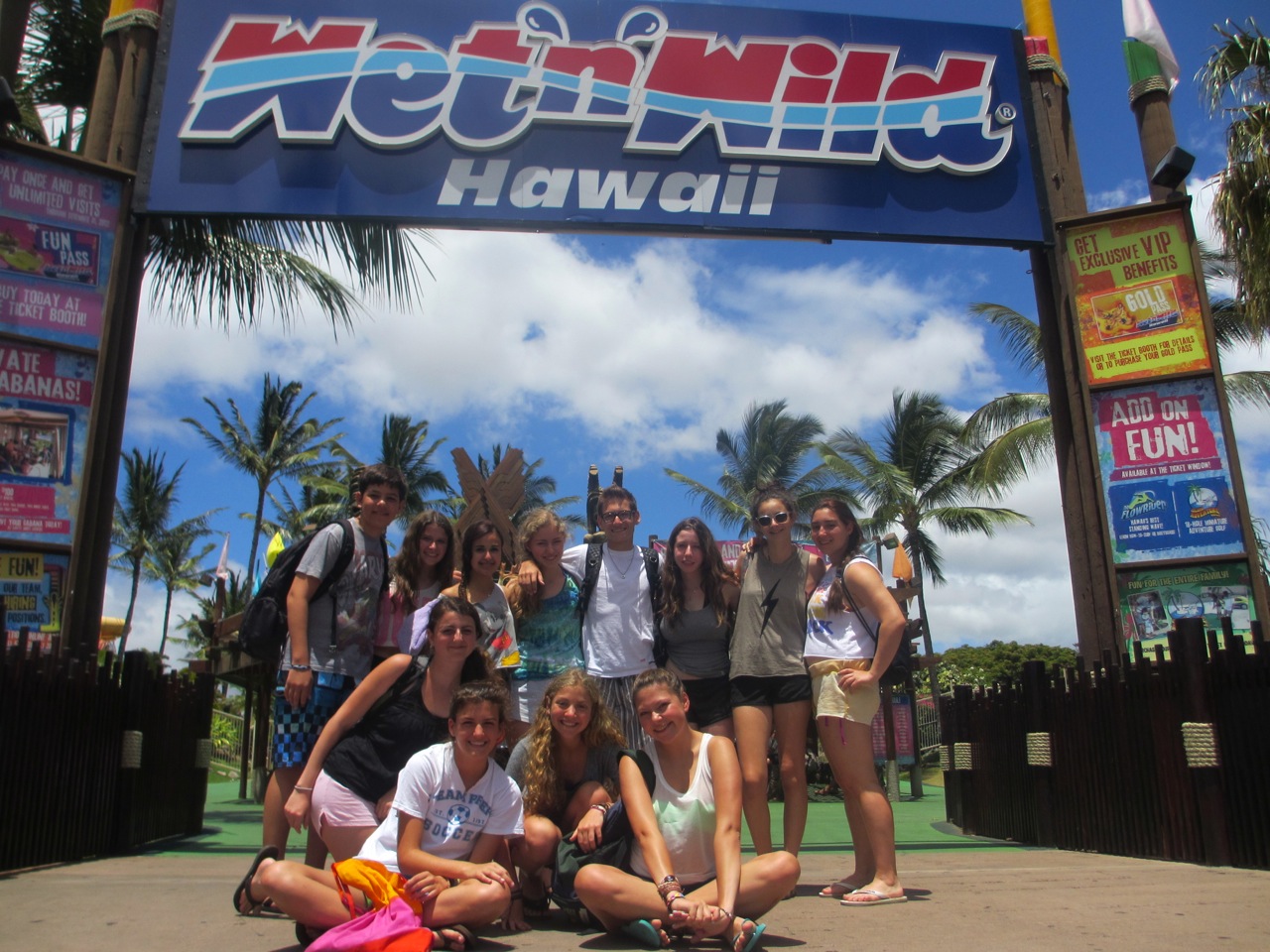 Another update from Hawaii Community Service:
Aloha!
After being all rested after a nice sleep in on our last day in Oahu, we were lucky enough to visit the wonderful Wet 'n Wild water park after a nice brunch at the Wailena coffee house. The park was small and cute and many were able to do most of the rides at the park including the "Tornado" and "The Big Kahuna". Alex and Josh S were also eager to ride one of the scariest rides at the park: "Shaka".  After that we were on to the TV featured hot dog restaurant Hula Dog, which Anthony Bourdain branded as one of the top eateries in all of Hawaii. Many, including Olivia, Emma P, and Monica enjoyed the freshly squeezed lemonade. Instead of sitting down at a table, we walked a short way to the beach to watch the sunset. We took our final views of Diamond Head and the Waikiki skyline before getting ice cream and saying our final goodbyes to the streets of Honolulu.
The next day we woke up early to catch our short flight to Maui and headed to our beautiful new hotel. When we walked inside the lobby, we looked through to see a giant cruise docked next to beautiful mountains. We loved Honolulu, however we also love being with the nature in our beautiful new home in Maui. We now have a view of the water from most of our rooms and a "quiet area" from which we can watch the sunset. Once we were all settled in, we were ready to get lunch at a mall where Olivia and Emma T found a delicious homemade crepe stand. From there we were on to the beach on the North Shore of Maui. While some decided to rest on the beach, many ventured into the water where they spotted a few large sea turtles. That night, we went to a restaurant called The Fish Market in Paia, where we ate the most phenomenal fish on the island. Many, including Jessica ordered the salmon, which they found to be amazing.
The next day, we had another early wake up, which proved to be very worth it. We went and visited Wailea, where we went kayaking and snorkeling in very clear waters and were able to see the amazing coral reef and watch colorful fish swim by. After that we relaxed on one of the nicest beaches in Maui near the Fairmont and Four Seasons resort where we were able to see the vacation home of the actor Clint Eastwood. From there we were on to the shops at Wailea where we went to an amazing smoothie and ice cream shop.
That afternoon, we played a fun game called photo scavenger hunt. There were three teams that were given lists of photos that had to be taken such as a photo in the trunk of a van, a photo of everyone spelling out Maui, and a photo depicting a Disney movie. Chelsea, Mackenzie, Stephanie, Samantha S, and Samantha G were among the winning team. That evening we enjoyed a nice dinner at the Flatbread Pizza Company.
We welcomed Allie back to our group with a big surprise for her. Right as she crossed the street and entered the parking lot at the airport, our personalized flash mob began. One Direction started blasting out of a car that Josh G popped out of and started singing to "What Makes You Beautiful". After the first verse, every trip member was performing their respective dance welcoming her back to our family. It was one of those moments where we all realized how close we have become as a group, and how each and every trip member on our trip is deeply valued by the rest.
After a few days of activities and touring, we started our next round of community service at the Boys and Girls Clubs of Maui today. Rachel and a few others were lucky enough to hear a 12-year-old girl named Tieghan sing. After listening to her sing, they all understood why she said she wanted to audition for The X-Factor one day. Hannah and a few of the other girls sang "I'm Yours" to a few of the Boys and Girls Club kids, while Allie played along on the ukulele. Eric played basketball with the kids, and Jordan spent most of his time at the skate park at the club. Now we're all looking for a few more great days at the club!
The Westcoast Blogger