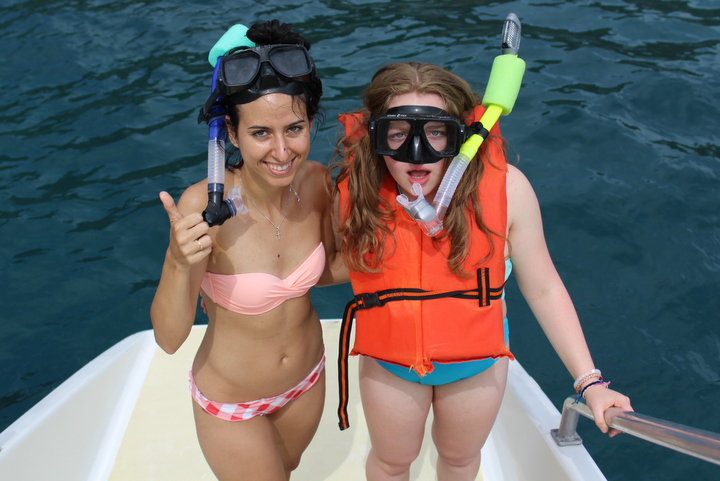 WOW!! Los ultimos tres dias han sido increibles y no hay palabras que puedan describir lo inolvidable que han sido los ultimos tres dias! Hemos hecho muchas actividades y disfrutando nuestro tiempo. Words cannot describe how incredible the last three days have been. We have been doing amazing activities and getting to know each other even more. Thursday night we had an awesome futbol tournament where we all played and became as passionate about futbol as the Costa Ricans.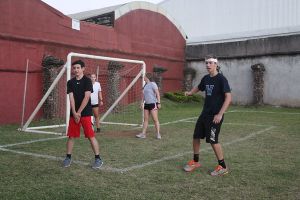 Viernes, llegamos a Exploradoras Rafting. Tuvimos un gran experiencia rafting,  jugando en el barro y comiendo pi˜na delicioso. When we arrived Friday morning to Exploradoras Rafting we received an amazing breakfast with lots of local fruits. We then geared up with helmets and life jackets to go into the river. We had an amazing experience on the raft and also off the raft. We took various stops along the river to play in the mud, to enjoy some fresh pineapple and to enjoy the view of different trees and animals along the river. We saw another sloth and were insanely excited!
La noche de viernes, tuvimos un gran cena a donde hicimos karaoke. Disfrutabamos cantando y tenemos muchas cantadores buenas en nuestro viaje. After an amazing few hours on the river, we headed back to our hotel to relax for a bit before a big night. That night we had dinner followed by an awesome night of karaoke. We have some really talented trip members. Some song highlights included "Ice Ice Baby" and "Fotografia". We sang the night away!
La proxima dia, fuimos a Arenal, a donde hay un volcan muy activo. El hotel y la vista era preciosa. The next day we headed to the beautiful area of Arenal, a town with one of the most active volcanos in the world! The hotel we stayed at was beautiful, with a full view of the volcano, a giant pool and two hot tubs.
Sabado era un gran dia, y hicimos muchas actividades. Fuimos por el zipline, y habia vistas del lago y las montanas. Despues, hicimos un scavenger hunt a donde hablamos con Los Ticos y aprendimos sobre hechos de Costa Rica. Finalmente, fuimos por el hot springs. Son naturales y relajamos. Era un gran dia! Saturday we headed to zip line in the mountains. This was a huge highlight for the all of us. There were a total of seven zip line cables where we zipped through the canopy with a view of the Arenal lake on one side and the mountain on the other. We all had a big adrenaline rush, and some people showed their courage and faced their fears of heights! Que bien muchachos!
Our day continued to be amazing when we headed to a restaurant called Que Rico. Many of our trip members decided to enjoy some international foods, such as an extra large pizza and some shrimp fetuccini (The team members were so happy and excited, they kept saying "esta delicioso"). After an amazing lunch, we went to the small town of La Fortuna where we had a photo scavenger hunt. We interacted with locals and learned many facts about Costa Rican living.
In the afternoon we headed to Baldi Hot springs. This hot spring is naturally heated from the Arenal volcano, and each pool is a different temperature depending on each person's preferences. Baldi Hot Springs is one of the most beautiful and relaxing places that many of us have been. Many of our trip members also enjoyed going down a slide and making a huge splash. We had a great time at the hot springs where we also enjoyed a buffet dinner.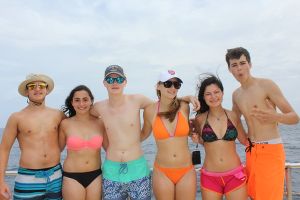 Acabo de llegar en Flamingo. Aqui, hay playas bonitas y una buena vista del mar. Aqui tenemos clases, servicio para la comunidad y otras actividades para disfrutar. Estamos muy emocionados para estar en Flamingo! We just arrived to the beautiful beach area of Flamingo where we will enjoy the beach and the warm weather. Costa Rica has been an amazing experience full of discovering a new culture, meeting new people, trying new dishes and enjoying this beautiful country. We are so excited for the next week and all our coming adventures!
The Westcoast Blogger
Have we piqued your interest? Learn more about our Costa Rica language immersion programs and join us on a 21-day teen tour!