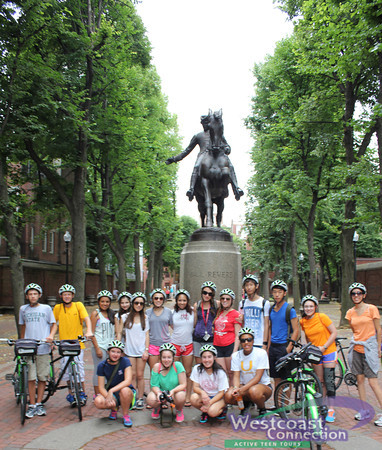 Dear Friends and Family of Boston and Washington Community Service,
Today was our first full day in Boston! We had the chance to bike through some of the historical sights of the city, as well as spend some time in Quincy Market during lunch and the early afternoon.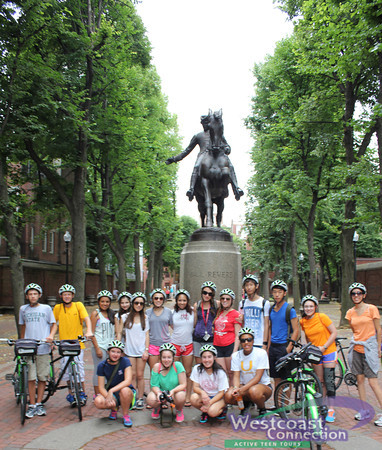 After a filling breakfast at the Boston University Campus, the group loaded into our convoy (led by the aptly named black stallion, because the van is black) and headed downtown to begin our tour of the Freedom Trail. On the way to the bike shop, Abigail commented on how she felt surprised about how friendly Bostonians are.   After hopping onto the proverbial saddle, it was obvious that Courtney had every intention of helping Denise lead the bike tour through Boston's Freedom Trail. At our first stop, the Paul Revere statue, Blake demonstrated his knowledge of American history with the distinction that Paul Revere likely shouted, 'The lobster backs are coming!" in reference to the oncoming assault from British Regulars during the revolutionary war. Through dogged determination and an enthusiastic attitude, Trip Members were able to bike to the obelisk that marks the site of the battle of Bunker Hill. Some members of the group decided to climb the 294 steps to the top of the obelisk and take in the view of the greater Boston area.
Through the helpful use of playing cards, Trip Members were paired with another member of the group who they may not have spent a lot of time with for their dinner time conversation. Sadie and Talia enjoyed a particularly in depth tête-à-tête during the meal, demonstrating an openness to new relationships that is so important in camp situations. The meal ended in an unfortunate manner, as the Trip members held up their end of the deal, by talking with each other rather than talking on their cell phones during dinner, causing the Trip leaders to clear all the dishes for all twenty-one people.
The evening was spent together in the University common room where team members continued to build upon the group dynamic through a variety of activities and a discussion of our upcoming service at the Boys and Girls club. The day finished with a spirited game of Gaga ball, where Leo demonstrated some serious skills in the group's new favorite activity.
Until next time,
Denise, Sam and Trevor
Are you interested in this community service program or similar? Check out our trips to Washington DC for students and join Westcoast Connection for the experience of a lifetime.