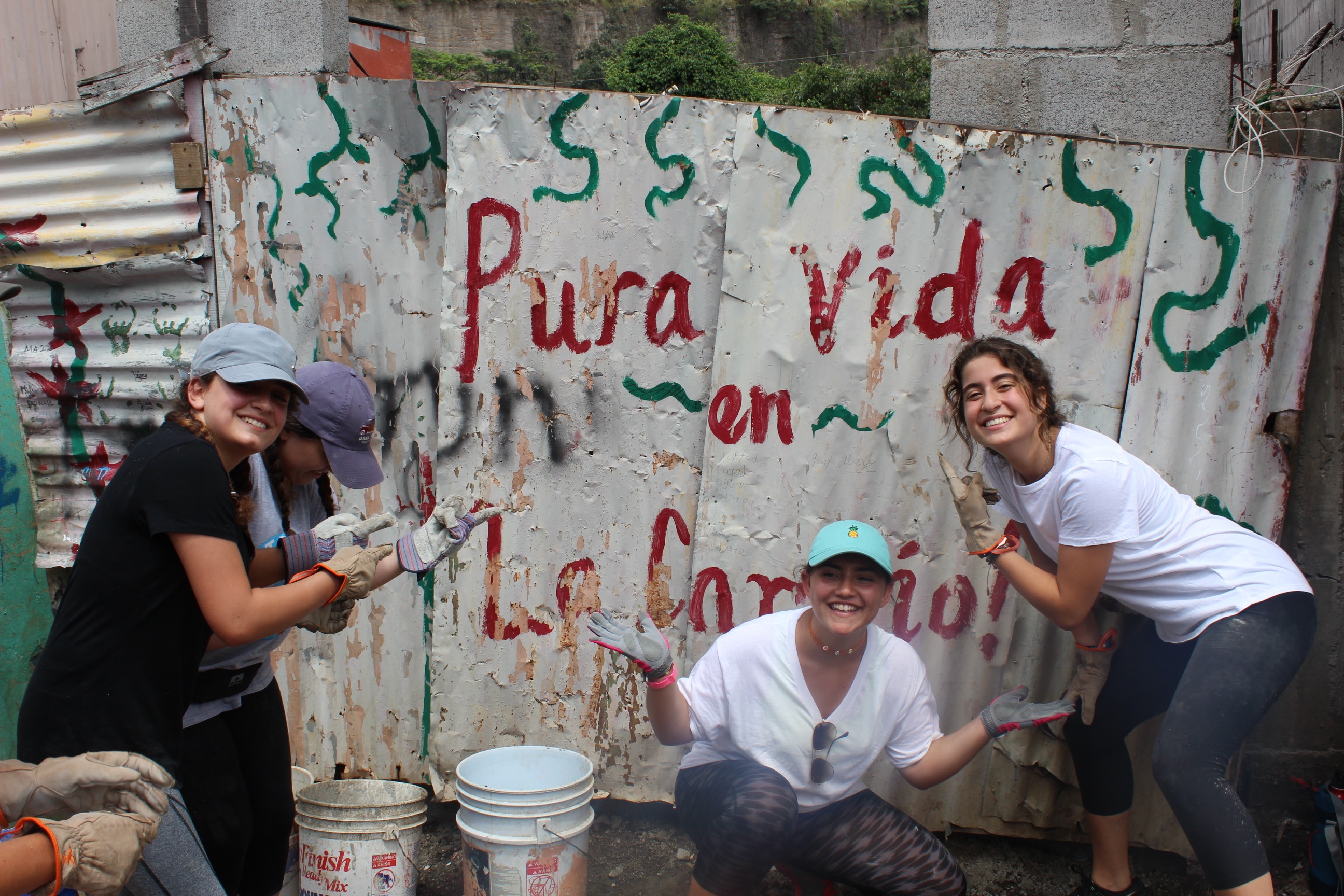 Buenos Dias from Costa Rica!
Our service trip has been off to an amazing start! A group of incredible  teens have come together to challenge themselves physically, emotionally and socially with the goal of creating positive change in Costa Rica while also having a lot of fun! The work we are doing takes place in communities that are drastically different than anything any of us have ever seen before. But, before we talk about that, how did we get here?
Day One of the trip was a travel day. Many of the trip members met up in Fort Lauderdale, Florida, for our group flight. After a couple of card games, we boarded our flight and headed south. Once in Costa Rica, we checked into customs (alongside a local Costa Rican top level club soccer team…no big deal) and then made our way to the hotel. The hotel is beautiful, tucked in between the Cordillera Talamanca mountains of San Jose. Once at the hotel, we gathered as a group for our first ever team meeting, where we talked about trip expectations as well as the "Pura Vida" way that people live down here.
In Costa Rica, "Pura Vida" translates literally as "pure life," but for the people here (the Ticos, as they call themselves) it means so much more. "Pura Vida" means to appreciate what you have, to live life to the fullest, and to generally just enjoy the world around you! Similar to "aloha" in Hawaii, it is used in a multitude of ways – as a greeting, goodbye, or even as a sign of gratitude. For example, "Hey, thanks for the help." "Pura Vida!" We embraced this mentality as we headed to sleep and prepared for our first push out of our comfort zones in the morning.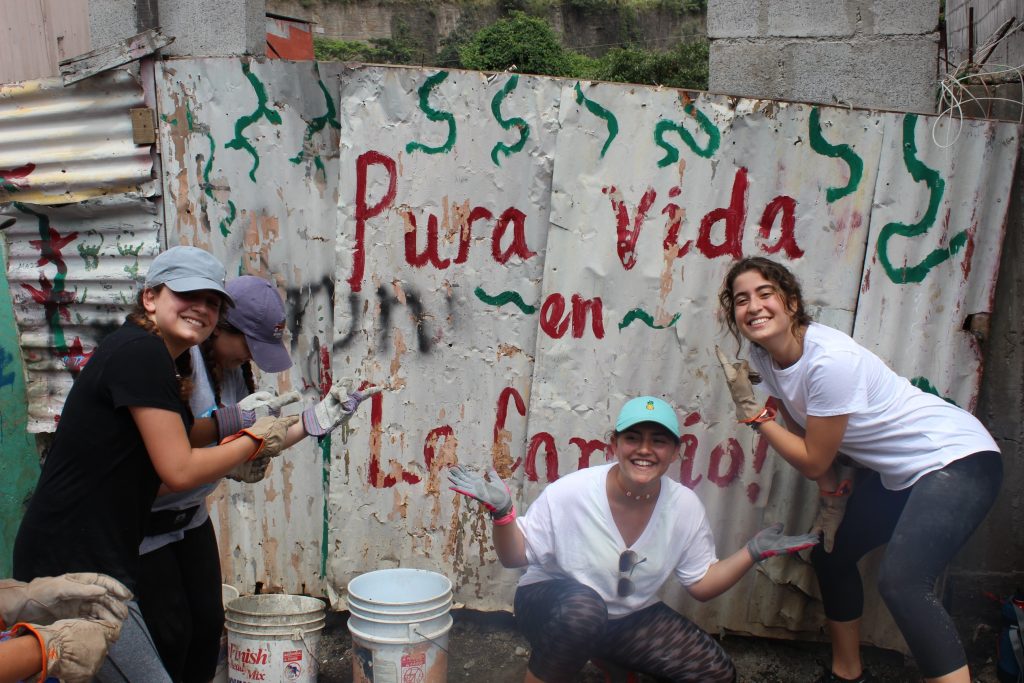 Day Two was white water rafting day! We went rafting at Exploradores Costa Rica, which we were told was ranked a top five white water rafting destination IN THE WORLD. Man, this place did not disappoint. In a word, I would describe the white water rafting experience as exhilarating. The trip took about three hours, as we rafted anywhere between class 2 and class 4+ rapids. The trip even included a lunch that was freshly made by our rafting guides, who were also local to Costa Rica, and included some of the most delicious pineapple any of us have ever had. As we made our way through the beautiful rainforests of Costa Rica, serenaded by the cicadas up in the trees, you could tell that this group was growing closer together by the minute. We had a blast, but in the back of our minds, we knew the real reason that we had traveled down here was just about to begin.
Days Three through Five were service days. Our community service took place in a community called La Carpio, a neighborhood of San Jose. There, we worked with the Costa Rica Humanitarian Foundation. We heard from the foundation's leader, who told us to "be ready" to do some really awesome work.
La Carpio is an extremely poor community located in San Jose. To give an idea of the conditions that the people here live in – we were told to play soccer with the kids. There was no field, so we played in the street. We were told to make a wall. We handmade cement so that could be possible. We were told to pass bricks up and down a large hill. Okay, that one was actually very accurate. It was unbelievable to see our trip members' reactions to these conditions – because as opposed to saying, "man, this is rough. This sucks. I don't want to be here," the response was the polar opposite.
Our TM's dove right into this work, doing everything imaginable – lifting, coloring, picking up trash, playing, donating, all with no regard for any of their personal things. It was fine that their shirts got dirty, or that their shoes may have gotten a little scuffed up. Why? While our TM's have done great work, we have all been inspired to do this work by the people who live in La Carpio. The people who live there have so little, but are pleased by so much. The Trip members LOVED playing soccer with us in the street; the adults were so grateful for us just to be there, and any work that we did was just an added bonus. We did so much good work, and it was so gratifying to see the finished product and all that we had accomplished over the course of our three days there. As a group, we reflected and came to the following conclusion: our time in La Carpio was life-changing, showing us the beauty in the simplest things that life can provide us.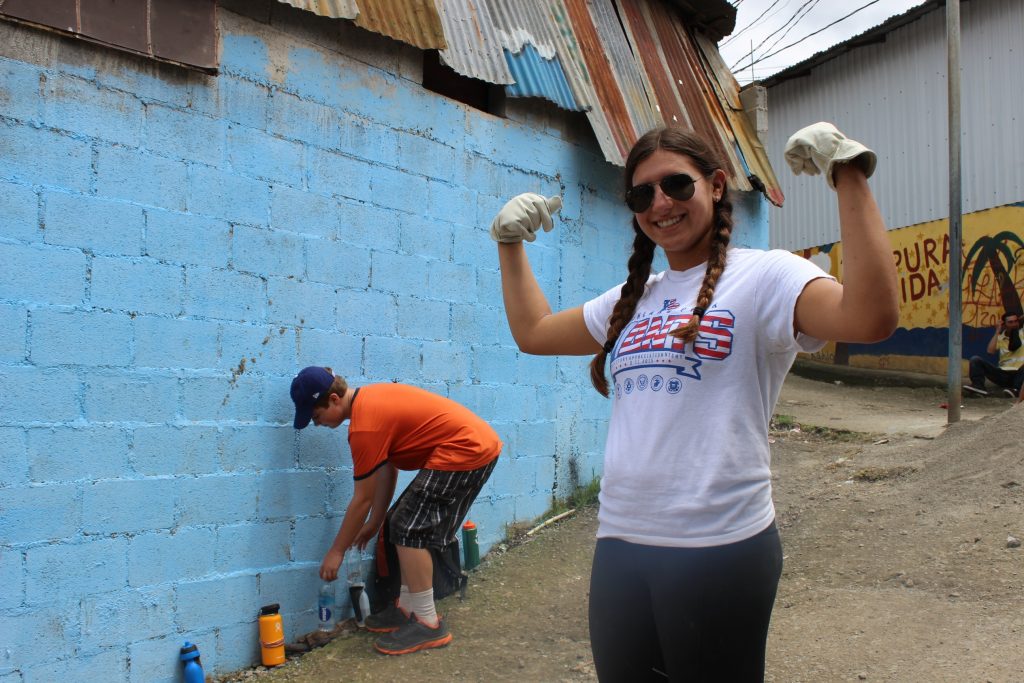 We are now heading northwest in Costa Rica to Flamingo, where we will be engaging in some very necessary down time (shameless plug to tune in next week to hear about some of the incredible things we will be doing!) as well as our second community service project. From there, we will head north to Rincon de la Vieja for some really fun excursions at the end of our trip.
It's crazy to think that this trip is already halfway done. The group that is down here in Costa Rica is truly amazing, and is living life the "Pura Vida" way. We couldn't be more proud of this group of honorary Ticos, and can't wait to see them grow even more as we head into the second half of this trip.
Pura Vida y Hasta Luego,
The Westcoast Blogger
If a Westcoast Connection adventure sounds like something you'd like to be a part of, explore our 10-day, 21-day, and 28-day Costa Rica student travel and community service tours!