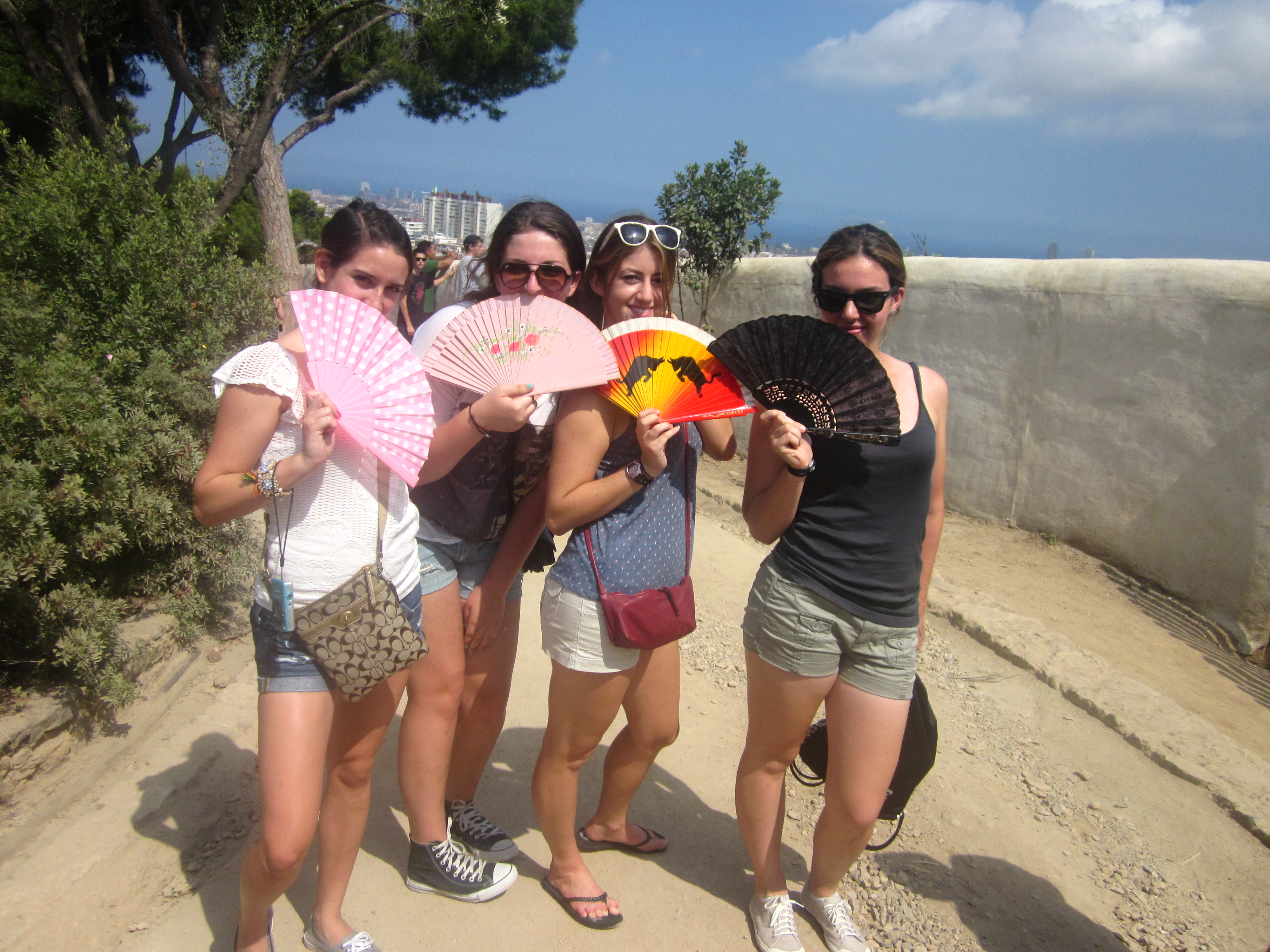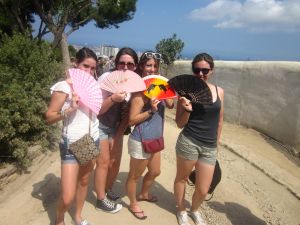 Hola Padres,
Let us get you up-to-date on the past few days! They have been filled with adventure, laughter and all-around great times. Our cozy group has been soaking up the sun beachside and poolside (with plenty of sun block of course), working out, checking out the latest Harry Potter flick, and attending our final Spanish and elective classes.   In recognition of their great work over the last three weeks, we had a celebration "graduation" lunch at a yummy Italian restaurant on Las Ramblas. 
Once back at the residence, we packed our things and got ready to say goodbye to Barcelona and "Hola" to Sitges, a stunning beach town where we will finish off our trip with relaxation and well-deserved rest.  We arrived on Sunday and once we set our bags down in our hotel, we were off to Port Aventura amusement park (comparable to a Six Flags in the United States).  After taming the fastest and most thrilling roller coasters in the park (and the bumper cars in the case of Becca, Rebecca, and Jesse) we headed to the park's various ethnic themed restaurants for dinner.   Morgan, Nora, and Brittany tried out exotic American hamburgers and listened to "real American music" at the Western Rodeo Restaurant, while Andrew and Ahmed warmed up the audience at the Hacienda Mexican Restaurant with an on-stage dance prior to the arrival of the scheduled theme park performers.  When we finished dinner, we listened to stunning vocal performances by Mosoma and Mollie prior to the start of the theme park's firework spectacular. 
This morning we woke up and enjoyed an amazing breakfast at the hotel complete with 9 different kinds of cheese, 8 types of fruit, and a make-your-own-omelet station.  With our stomachs filled and our bodies covered in sunscreen we headed to a beautiful beach where we spent time taking in the sun, playing volleyball, and playing in the Mediterranean Sea.  Later, we headed to the city center at sunset to have dinner at restaurants overlooking the water and spent the rest of the evening at clubs playing everything from Lady Gaga to Reggaeton.  When we got back to the hotel it was time to go to bed and get ready for our final day in Spain. 
When we wake up tomorrow we will be heading back to the beach and the pool to take advantage of the bright Mediterranean sun one last time before heading out to our banquet dinner commemorating 28 days of friends, fun, and memories that will last a lifetime. 
It won't be long before your angels are returned to you safe and sound. See ya real soon!
Saludos,
The Pre-College Enrichment: Barcelona Team from Sitges, Spain
The Westcoast Blogger