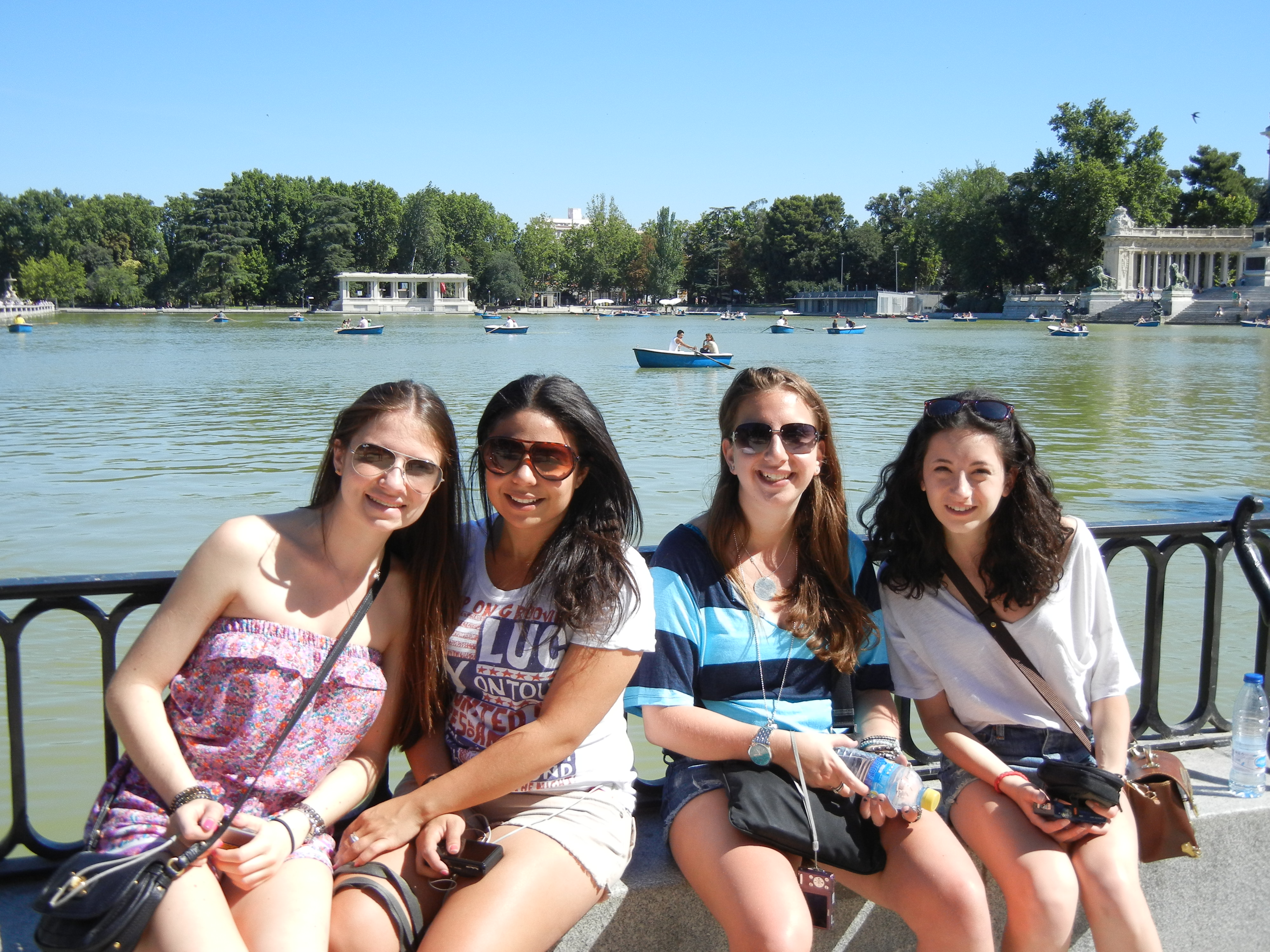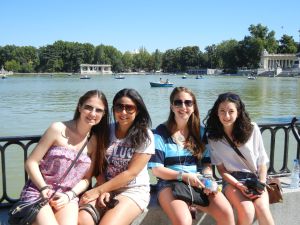 ¡HOLA!
 So much has happened since our last update! As I'm sure you all know, we spent a lovely and busy weekend in Madrid. While there, we did a lot of touring around the city exploring the local streets and discovering a multitude of parks and statues; it was amazing! One of the highlights of this trip was when we walked to the Royal Palace and had time to wander around and take pictures, not only of the amazing architecture of the building, but also of the local street entertainment we have encountered often here in Spain. The man with no face was very amusing to Mallory and Abby. The mood was nicely set by the small orchestra playing a charity concert directly in front of the palace. The Palace also had a beautiful courtyard in which we took many pictures; Ben, Ellery, Rebecca and Emile were seen walking around snapping many shots or sitting for the photos. Megan and Alexis Ca. were caught in the act of taking silly photos of themselves; there were some good ones that should be saved and then displayed at their high school graduation parties. 
That same night, we took a nice stroll to the Opera house for dinner and some entertainment. Little did we know that we would end up putting on our very own show! You again should all be very proud of the group members.  It all started when after dinner when Mallory was asked to play us a few songs on the piano in our room at the Opera house – she was wonderful! Next thing we knew, Mollie had joined in to sing some Adele for us! Then an acapella duet by Jake and Mollie ("Baby It's Cold Outside") left the audience begging for more.  We then all joined in singing "Seasons of Love" from RENT and Lady Gaga's "Pokerface". There was also a special cultural performance by Badr, Mohammed, David, Bram and Ahmad who showed off some singing, clapping and dancing that is popular in the Middle East. We even had a mini rap session performed by Jake, Masoma, Ally, and Sarah, as well as a duo rap performance by Masoma and Morgan.  It literally gave us chills to hear our group members coming together for an impromptu talent show.
 Also showcasing her voice was Alexis Ch. Everyone was stunned by her performance and she received a lot of admiration from her peers and the staff. There were a lot of hugs, praise and high fives given that night. Even though we put on a great show ourselves, we were all impressed by the opera singers that performed two songs in our private room. The group members really enjoy the show and even were asked to sing along. Everyone was still singing during our whole walk home from dinner.  Victoria and Paige in the Spanish moonlight enjoyed the street singing. The 360° Student Travel staff feel so very fortunate to have been able to witness such an incredibly special night.
 The next morning we got up and were able to go to the Prado Museum. The Prado Museum is renowned as being the largest art gallery in the world. Steven toured around with staff leader Andrew, our walking encyclopedia of Spain, to get a better feel of the paintings and their history. It also exhibits sculptures, drawings and other works of arts, but it is undoubtedly its large collection of paintings which has given it fame worldwide. It houses more than 8,600 paintings. They have more paintings than they have room to display them. This museum visit was a great way to show the group members some European culture with artists like, El Greco, Rafael, Goya, Rembrandt, and many more.
 After this visit, many of our students are looking forward to the Picasso museum tour to see more works of art that they are familiar with. Another highlight of our Madrid trip was our adventure to Xanadu where we were able to choose between going skiing, snow boarding, or tubing. The largest group was made up of the tubers with members including Amanda, Jaela, Nora, Graham,  Becca and Nikki. Some of the snow boarders included Nick and Camille, while the skiers were made up of Jesse, Ben, Ricky, Haley, Emily F., Hannah, Mollie, and Andrew.  It was nice to get out of the heat and on to the powder for a while. Many students commented on our walk back outside how it was strange to have just been chilly, all bundled up with rosy cheeks on the slopes, to going outside back into the warm sunshine of Madrid.
 We had a dinner in Madrid where some students were at "Spanish only" tables. We are working really hard to help the group members not only learn, but to use their new Spanish skills. This dinner was a success!  Even for those students who are in the beginner level Spanish, having them try to use their Spanish is helping them learn. Plus the other students who are more advanced are great at helping out the beginners. We have become quite the family. Our last day in Madrid, we walked to a lovely park called Retiro with a large pond in which we had fun in row boats beneath the brilliant sunshine.  The group had an incredible weekend in Madrid! The hotel was beautiful and centrally located, the food was great and the sights were amazing. We have plenty more fun activities in store, so stay tuned for our next scribe entry.
 ¡Hasta Luego!
The Westcoast Blogger