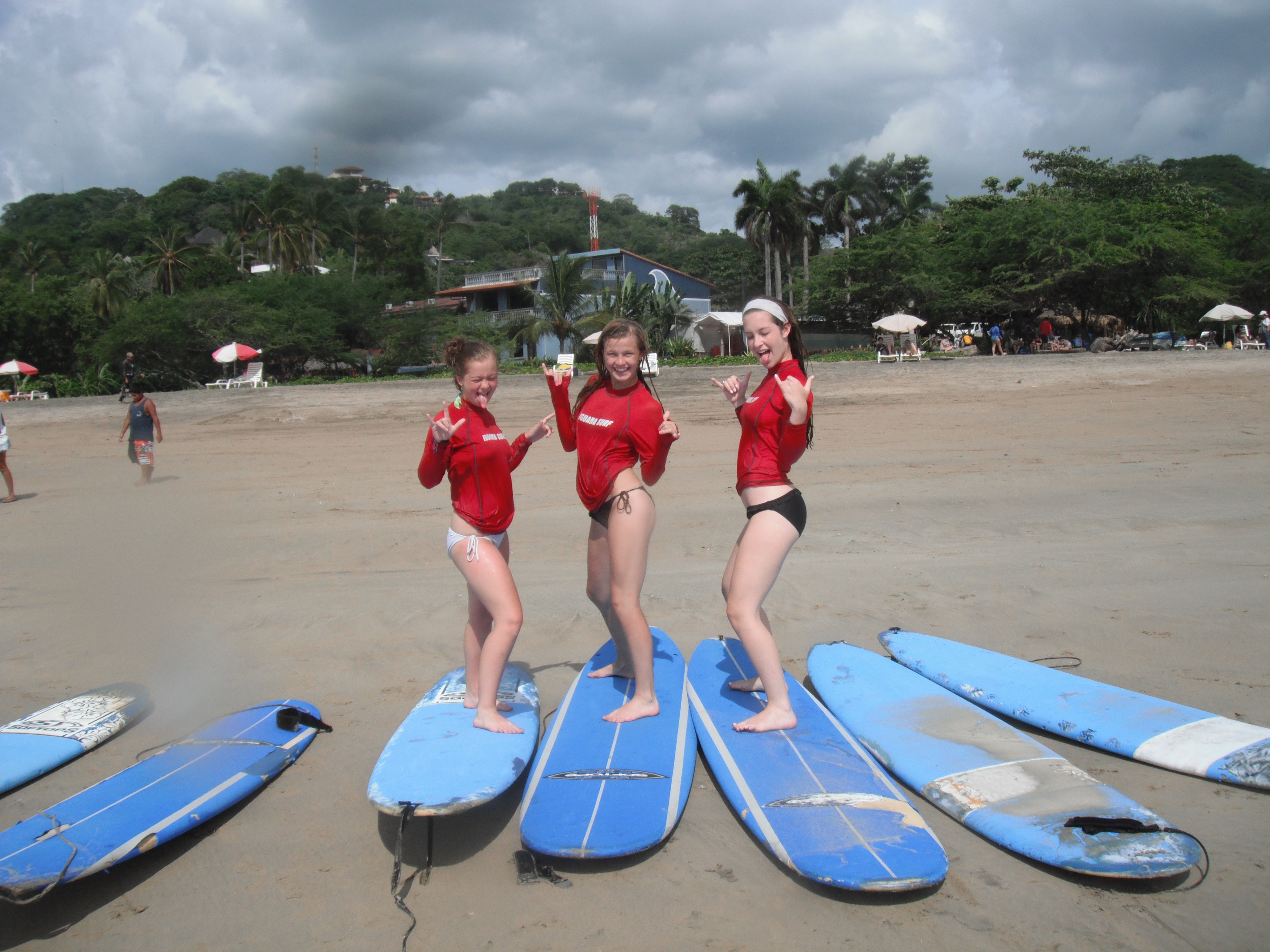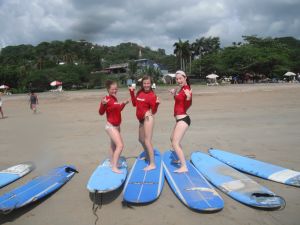 Hola Familia y Amigos:
 
We started our first day in Monte Verde at a coffee farm not only doing service, but also learning about the sustainable crops and how local fair trade coffee production works. Working in the lush fields of Monte Verde was amazing because everything was so green and beautiful.  Nina liked it so much that she said she would love to come back to Monte Verde some day to volunteer at the farm.
By the afternoon we were off to our next adventure in the sky for some ziplining. The Zipline has 14 zips and is high above the cloud forest canopy.  The views were absolutely incredible.  Grant started us off as the brave first one to go.  He decided to go down like a monkey, with his feet up in the air! Nina was also feeling adventurous and tilted her head back for an upside down view of the jungle. Rachel C-G and Rach C. were hilarious riding the zipline tandem.  Both were yelling, screaming, and laughing so hard!  It was such a fun afternoon for everyone.   
Rach C. passed along TMOD to Amelia for her bravery during the day on the ziplines.  Despite being scared, Amelia faced her fears and whizzed through the forest with a big smile and made all of us laugh, like always! 
That night we had dinner at the discothèque and a night full of dancing.  At one point the DJ allowed Claudia to dj on stage.  She really got the Dream Team going and Ali, Olivia, and Micky Dee joined her on stage.  Kenzi busted out his dance moves with some crazy long handstands and flips on the dance floor.  The Ticos (Costa Ricans) were very impressed with him!  We all tried to practice our salsa moves from our Latin dance class, however the fist pumping and jumping around is how the Dream Team, particularly Grant and Ryan, dance best.  
The next morning we were off to Arenal, Costa Rica's largest volcano.  Once we were off the bus we were all struck with that sense of, "Oh yes, we really are in Costa Rica."  We ate lunch with a hot spring pool off to the side and a volcano right behind us.  Pura Vida! We were then off to more hot springs, cold pools, and water slides.  Lindsey and Amelia had a great time riding the water slides, they had quite an adventure down the slides and both were unable to stop laughing!  Everyone spent the night both trying out the slides and then relaxing in all of the hot springs.  It was a great last night before heading back to the Central Valley to start our volunteer work with the Costa Rican Humanitarian Foundation (CRHF).
The next night Amelia passed along TMOD to Micky Dee.  She stated that she had really enjoyed being roommates and getting to know Micky the night before.  It is really awesome to see so many new friendships forming.
On our first day at CRHF half of the group helped transport materials to build a home and the other half worked in the daycare.  It was truly an eye-opening experience to meet, see, and work with the people who live in the Carpio, a disadvantaged community located outside of San Jose.  Nobody worked harder that day than Lindsay.  She loaded and the carried rocks up a huge hill in the morning and afternoon.  She did it all with a positive spirit and was more than willing to help in any way that she could.  Lindsay said that even though the work was hard it didn't matter because it was for a family's home and she didn't mind going the extra mile for someone else.  Because of this, she was named TMOD. 
Olivia, Ali, Grant, Ryan, Kenzi, and Amelia were absolutely amazing with the children in the daycare.  They helped the ninos practice their numbers in English and then played games with them.  But the ninos were also our teachers that day and helped by teaching us words in Spanish. Mariquita=butterfly (our word of the day).
After leaving the Carpio the Dream Team discussed our experience and shared how we had been impacted.  Everyone felt incredibly grateful for the lives we have and for the opportunity to experience something so different from what we know and understand.  Later on that night we had a karaoke party.  Claudia and Grant sang a lovely duet together, while Rachel C. and D-Boy (Danny) did a rap for us.  We finished off the night with our song of the day "Home." The whole group sang together, "Home is whenever I'm with you…" and this couldn't be more true.
The Westcoast Blogger