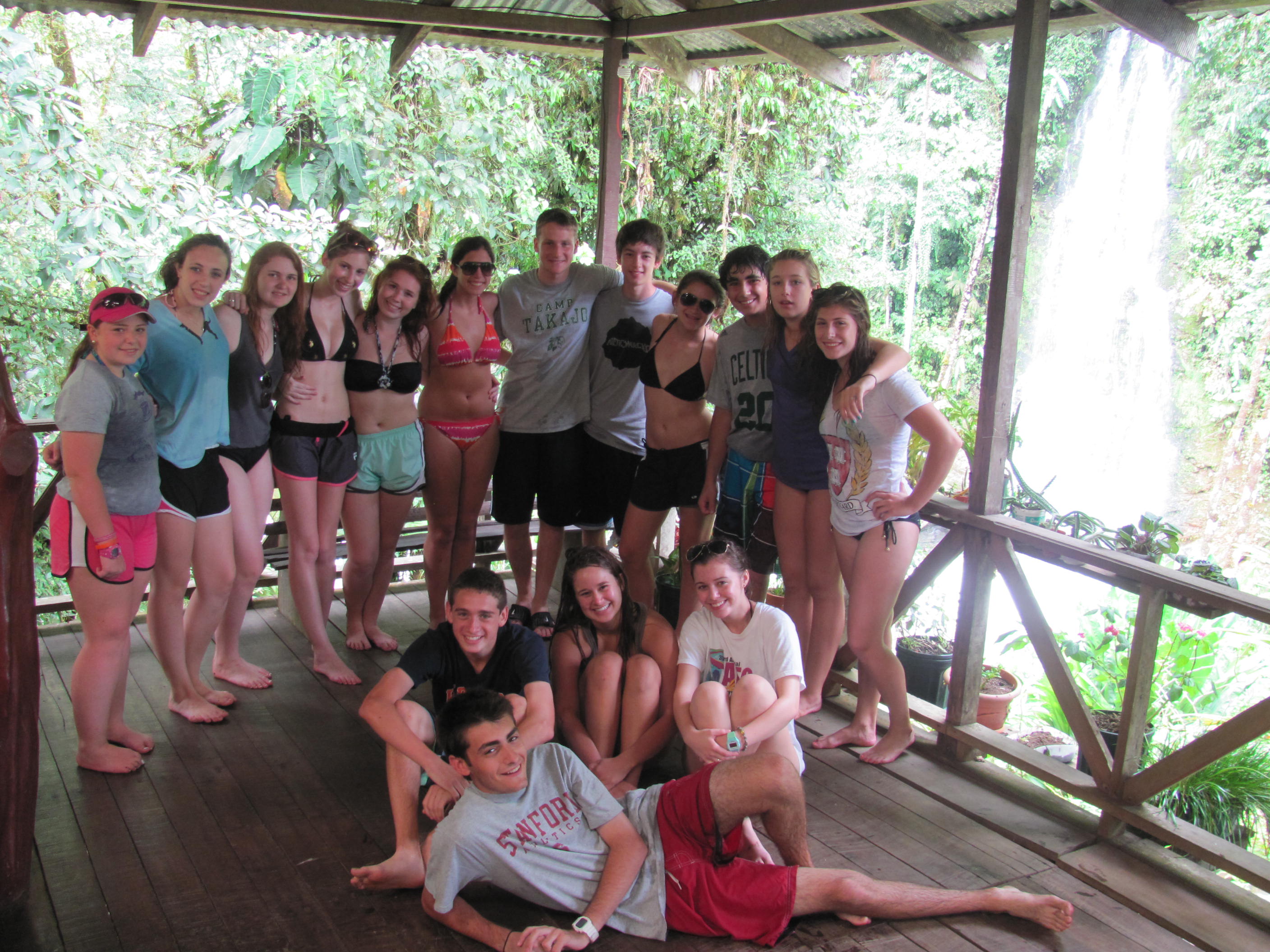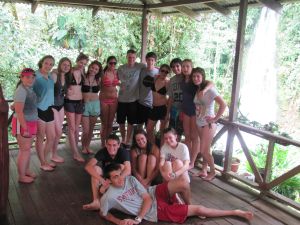 Hola amigos y familia!
It's already ten days into our Rainforest adventure and, if you can believe it, even more has happened since our last post!  We have left SanGerardo and are currently in San Isidro staying in our fabulous hotel.  We are as excited for the next part of our trip as we have been from the very first day!
From the moment where we left off, after the soccer game in San Gerardo, we interviewed the founder of the town, and Alec seemed to be enthralled by the gentleman's story of chasing his dreams.  We hopped into the bus and enthusiastically headed back to San Isidro.  Once there, we ate a hand-made assortment of scrumptious food and Madi, Monica, Kimmy, and Ali Y. couldn't wait to dip their toes into the pool.
Yesterday we visited one of the remaining three "trapiches" (coffee/sugar plantations) in Costa Rica.  There, we learned about coffee production and even had the opportunity to eat fresh bananas straight off the tree.  Matt Be. seemed to be enjoying the bananas most as we stood in the soft shade of the banana trees, smelling the sweet air around us.  We joined the family in their home and shared a warm snack.  Alex and Matt Ba. discovered their own way to drink the soul-warming coffee and we tried a new food called biscoche.  Afterwards, a select few daring individuals, including Julia and Sarah, assisted in milking the trapiche cow and we sampled sugar in each one of its forms.
After such an exciting day, we rested last night, knowing that today would be one of the most special yet: our first day of community service!  After a tasty breakfast of pancakes, we spent the entire day at the Hogar Ama Orphanage, where we not only met the boys who live there, but began work on their gymnasium which we will completely repaint by the time we leave. Joey really took the initiative in designing a quote to paint on the wall for the boys to enjoy.  Tomorrow we will return to play with the children and to work hard on the gym again.  We are making great strides in learning lessons about leadership and the purposes for reaching out and helping others.
Thus concludes this update.  We have clearly etched into our busy schedule time enough to bond and grow together.  The next few days of community service will fly by as we get to know the children of the orphanage and we will soon be headed to the beach for some surfing lessons. Until then, friends and family, pasalo bien!
Día 10 de nuestra aventura y, si usted no lo crea, más aún ha pasado desde nuestro último lectura! Hemos ido de San Gerardo y ahora estamos en San Isidro en nuestro hotel fabuloso. Las lluvias de la tarde se han relajado a todos y estamos tan emocionados por la siguiente parte de nuestro viaje!
Despues del partido de fútbol en San Gerardo, lo entrevistamos el fundador de la ciudad, y Alec parecía fascinado por la historia del caballero que perseguio sus sueños. Nos subimos en el bus y con entusiasmo nos dirigimos a San Isidro. Cuando estuvimos allí, comimos una cena deliciosa y Madi, Monica, Kimmy, y Ali Y. no podían esperar para meterse sus pies en la piscina.
Ayer visitamos uno de los tres restantes "trapiches" (plantaciones de azúcar y café) en Costa Rica. Ahí aprendimos muchísimo sobre la producción de café e incluso tuvo la oportunidad de comer bananos frescos del árbol. Matt Be. parecía disfrutando de la mayoría de los bananos durante de que nos paramos en la suave sombra de los árboles, oliendo el aire dulce que nos rodea. Nos unimos a la familia en su casa y compartimos una merienda caliente. Alex y Matt Ba. descubrieron sus propias maneras de beber el café y hemos probado un nuevo alimento llamado biscoche. Posteriormente, un grupo de individuos atrevidos como Julia y Sara ayudó a ordeñar a la vaca y tomamos muestras de azúcar en cada una de sus formas.
Después de un día tan emocionante, que descansó ayer por la noche, supimos que hoy se presentaría a ser nuestro desafío más grande todavía: nuestro primer día de servicio comunitario. Esta mañana nos levantamos temprano y comimos un desayuno delicioso de panqueques. A continuación, pasamos todo el día en el orfanato Hogar Ama, en el que no sólo cumplió con los chicos que viven allí, pero comenzó a trabajar en su gimnasio que por completo se volverá a dibujar en el momento en que nos vayamos. Joey realmente tomó la iniciativa en el diseño de un presupuesto para pintar en la pared para que los niños pueden disfrutar. Mañana vamos a volver a jugar con los niños y trabajar en el gimnasio nuevo. Estamos haciendo grandes progresos en el aprendizaje de lecciones sobre el liderazgo y los fines para llegar y ayudar a otros.
Así concluye el día 10 de nuestro viaje. Tenemos claramente grabado en nuestro tiempo lo suficientemente apretada agenda para unir y crecer juntos. Los próximos días de servicio a la comunidad va a volar por cómo llegamos a conocer a los niños del orfanato y que pronto se dirigió a la playa para las clases de surf.
Hasta luego amigos y familiares!
The Westcoast Blogger