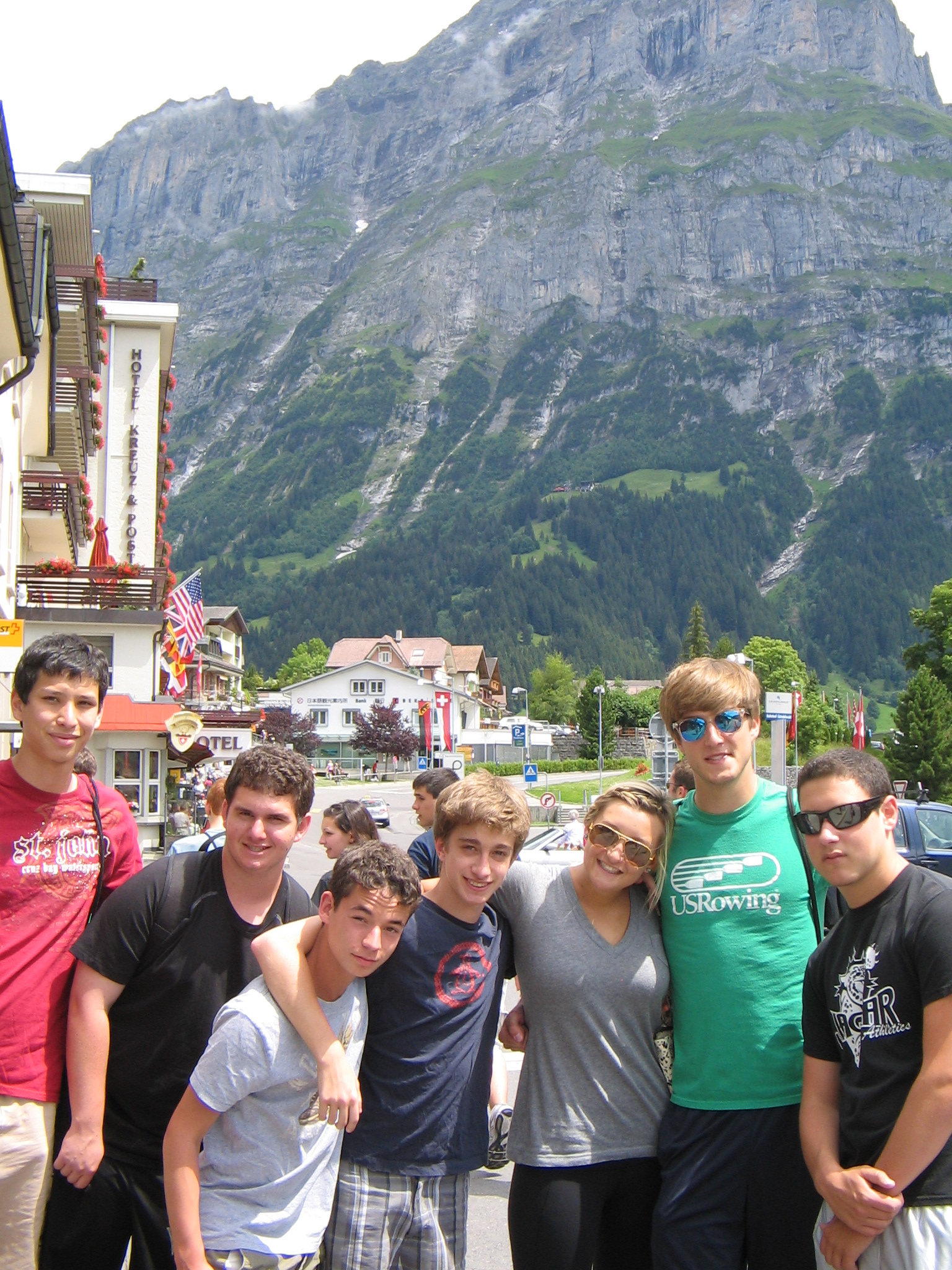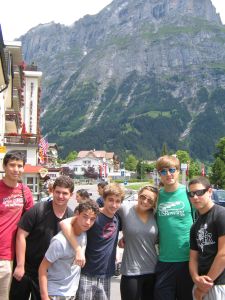 Hello parents of families!
Lots to catch up on since our last update! Our first major activity for this trip was going skiing in the Alps. We rose early so that we could go and get fitted into our skis and snowboards and take the funicular – a train that runs THROUGH the mountain – to the summit. Skiing in the Alps is no easy feat. We had a solid group of skiers and boarders, especially Tyler who impressed us with his quick turns and expert ability and Josh spent most of the day trying to improve the technique of Xander, as Josh is a competitive ski racer back home in the United States.
When we got back into the main section of Tignes where we were staying, we took advantage of the sports that it offered us. Tignes is a sport town and is a major destination for sport enthusiasts. Matt W, Eric, Alex, Xander, Andy, Baui, Robby and Aaron all spent some time on the courts, playing some basketball. For dinner, we went to a small restaurant in a small village nearby our village (Tignes is separated into little villages close together), where we were treated to a true Savoie delicacy, tartiflette. It's potatoes, cream sauce, vegetables, bacon and cheese, all cooked to deliciousness. Ben, Justin, Matt F and Josh all figured they would sample the Savoie delicacy, and none of them were left disappointed (or with any leftovers). The rest of the trip members had freshly made pizzas, all individually tailored to their palates.
 From there we took a quick walk over to the disco in town, where we would spend our first party night. Andy, Baui and Xander quickly made friends with some Europeans who were sitting nearby, chatting the night away with them between dancing. Matt F, Sydney E and Sarah met up with a different group of Europeans, quickly making friends with them as well. Since we walk into most places and bring the head count up from 10 to 32, most people want to get to know us and hang out with us, which has worked out great for our group of very outgoing and social trip members.
The next day was our most 'extreme' day so far on the trip. It all began with mountain biking, lead by Phillipe and Edouard (or Dou-Dou as we affectionately refered to him as). They began the morning with a safety lesson and training session so as to make sure that everyone will be able to handle the terrain that we would encounter on the way down. First we ski down the Alps, now we're biking down the Alps, how could you beat this?!
While the bikers were negotiating their way down, Andy, Sydney E, Sydney F, Sarah and Maddie went over to the laundromat to get some clothes washed. Normally, laundry isn't really worth describing, but they met a couple of interesting characters while there. First was Ratatouille, a small dog that belonged to the owner of the restaurant next door who was extremely friendly. He lapped up our attention and paraded around from one person to the next to nestle into them and get pet. The best part about Ratatouille was his pig-like resemblance. He snorted instead of barked and had a snout that one could easily mistake for a pigs face, if it wasn't for furry coat. In addition to Ratatouille, we quickly made friends with two very sweet elderly British women who were also using the laundromat. They were very jealous of the incredible trip we were currently on and wanted to hear all about our experiences to date. They then proceeded to jump out of their seats as soon as our laundry was done and quickly begin folding shirts and pants and pairing socks together and giving all the trip members good tips for their next laundry excursions. Who would have thought laundry could be a great bonding experience?
After grabbing lunch and meeting up with the mountain bikers, they strolled over to the Acroland slide with great excitement. Almost everyone suited up and we began our safety lesson with the very friendly gentlemen who ran the slide. Now, if you haven't already seen the photos or videos of Acroland, here's a quick description. Take a 75-foot water slide and attach an 8-foot high jump to the bottom. The result is approximately 25 feet of air and 25 feet of distance. It was absolutely wild. The 'awards' for the day would go to Ben for best distance and technique, Eric for greatest jump (one and a half flips into a head dive with perfect form) and Xander for wildest jumps. Even the gentlemen running the slide expressed his surprise at how well and quickly our group picked up the technique and the no-fear attitude needed to succeed at this sport.
The switch was upon us from France to Switzerland. The second phase of our trip was now real, solidified by having to switch from Euros to Swiss Francs. Josh quickly lead a group of guys to their first real Swiss bank in excitement. Then, after settling into our hotel, we hopped on the tram and rode over to the United Nations European headquarters. I think this may have been Andy's highlight of the trip, running up to each group of 2 or 3 other trip members, trying to discuss the magic of the UN and how important he finds it to be in helping the world progress together. Andy then quickly sidled up to our tour guide to make sure that he was able to hang on his every word. I think everyone's favorite part of the tour was to see a gift from China to the UN, which was a tapestry depicting a sanctuary. The odd thing about this tapestry was that the entranceway to the sanctuary seemed to follow you around the room, making it seem that no matter where you looked at the tapestry from, you were always facing the doorway in. We watched for a while as Justin made his way from side to side to test out the interesting piece.
Interlaken is nestled in the Swiss Alps and is known as an extreme sports capital, shown at all times by the stream of sky divers falling out of the sky steadily throughout the day. We took a slightly less adventurous beginning, spending a night at a pool and darts hall. Eric established himself as the shark, pocketing ball after ball, and cleaning up on the dart boards. But, on the foosball table, Matt F and Aaron were the clear sharks, beating some teams 11-0 even.
The following day, we took part in an adventure sport, white water rafting. We were treated to class 3 and class 4 rapids after our safety training, where Sydney E was the faithful assistant to our guides. The river was great in that it offered some great rapids as well as some long straight-aways with no rapids. During these sections, we were able to hang on to the boat while in the water to cool off from all the hard work of navigating the twists and turns in those rapids. Rafting was a huge hit amongst all the trip members and will definitely not be forgotten by any.
To continue the adventure theme, we traveled by train to a nearby village, Grindewald. We were then treated to an incredible indoor ropes course, with some of the most unique obstacles some of us had ever seen. Tyler seemed to fly through all the different courses with such ease, leaving us all at the starting points, trying to figure out how he seemed to walk as quickly on a thin wire as he did on the ground. Matt F and Xander quickly followed behind him, making quick work of some of the most challenging features. Adam and Justin both seemed to also love their time in the air, as they were seen going right to the very end of our time there. Everyone left that activity with huge smiles from ear to ear.After the ropes course was the marking of a sad time for us; our final dinner as a full group.
 The next day would be when 5 of our members, Baui, Tyler, Maddie, Sarah and Dylan, along with one staff, Stacie, would be ending their journey and returning to North America. We all got a little fancier than usual for this special occasion and went for some real Swiss fondue. The restaurant we went to, Bebbi's, is a special treat thanks to its owner, Bebbi. This is a man who can't be described properly in words. He's a true Swiss mountain man, with huge muscles and all. Most notably though was his sense of humor. He couldn't spend 5 minutes away from our tables, always bringing crazy and wacky things over to make us laugh and smile. The best thing he brought was a Swiss Alp Horn, which is about 12 feet long and has no moving parts. Many of our trip members went up to attempt playing it, Andy, Sydney F, Dylan and Matt F all were great, but Justin left us all, even Bebbi, in awe at his newly-found talent at the Swiss Alp Horn. Bebbi was so impressed that he pulled out a second horn so that he and Justin could have a duet.
After dinner, we returned to the hotel to have some time together to give out 'last will and testaments' to the 6 departing members of our family. Lots of laughs were shared and smiles flashed, and then we gave out trip bracelets to everyone to keep as a symbol of our bond. It was nice for us to talk about the 2 weeks that we all just went through together and all the good times we had.
At our delicious first dinner in Italy, we started with a plate of Trofie al Pesto, which turned out to be the best and freshest pasta that any of us had ever had.  Then for the main course came out either pizzas or roast pork with potatoes. Needless to say, not a single piece of food remained by the end of the meal. As we all discussed how full we were, they started to bring out dessert. None of us knew what kind of cake it was exactly, but it all quickly disappeared, with Aaron and Andy both managing to somehow get at least 2 pieces each. The walk back to the hotel was filled with "oh man, that was incredible," and "the food in Italy is AWESOME!"
The following day was to be a beautiful day of relaxation. We jumped onto a train and made our way over a few towns over to Monterosso. It's basically a beach town along a gorgeous coastline. This was also the first experience for most for some real Italian gelato. Adam was definitely the biggest gelato enthusiast of us all, having 8 scoops that day. His goal, he said, was to have every flavor possible.
The next two days were highlighted by the hikes of Cinque Terre, world-renowned for their beauty. Matt W lead the way, making quick work of the hike. At the end of the hikes, we were treated to some more time at the beach to cool us off. Ben, Aaron, Eric, Justin and Alex spent some time on a paddle boat, checking out all the beautiful sites that the beach had to offer.
Venice is one of the most unique places in the world, with waterways to replace the roadways. The paths are filled with tourists, with not a single car to be seen. Our first night there, we walked over to San Marco Square, which is just an incredible area, with trios playing classical music that filled the air. While there, we played a great game of 'Bigger and Better,' which is where each team of 3 or 4 members gets given a pen and a task. That task; to trade your pen to the other people around you for something slightly better and see what you can end up with after it's all over. Andy, Justin and Adam were able to get pair of iPod headphones, a 30$ value back in North America. Considering that a pen is free from any hotel, that's quite the profit. But our best final item went to Sydney E, Sydney F, Robby and Alex who managed to literally get the shirt off of someone's back at the end of their 9 trades.
The next day in Venice was spent getting to know the city and trying to learn the maze that the locals call home. We were treated to one of the most famous things about Venice, a gondola ride. We split up into groups and loaded into our beautifully adorned boats. Our gondoliers were impressive to watch, paddling us through the 'streets' of Venice while singing and whistling classic tunes, all the while making sure to duck under the many foot bridges that bring people over the waterways. We're all sad to leave this beautiful city, but Florence has some great promise with its famous churches and museums that we're scheduled to see.
Until next time,
The Westcoast Blogger