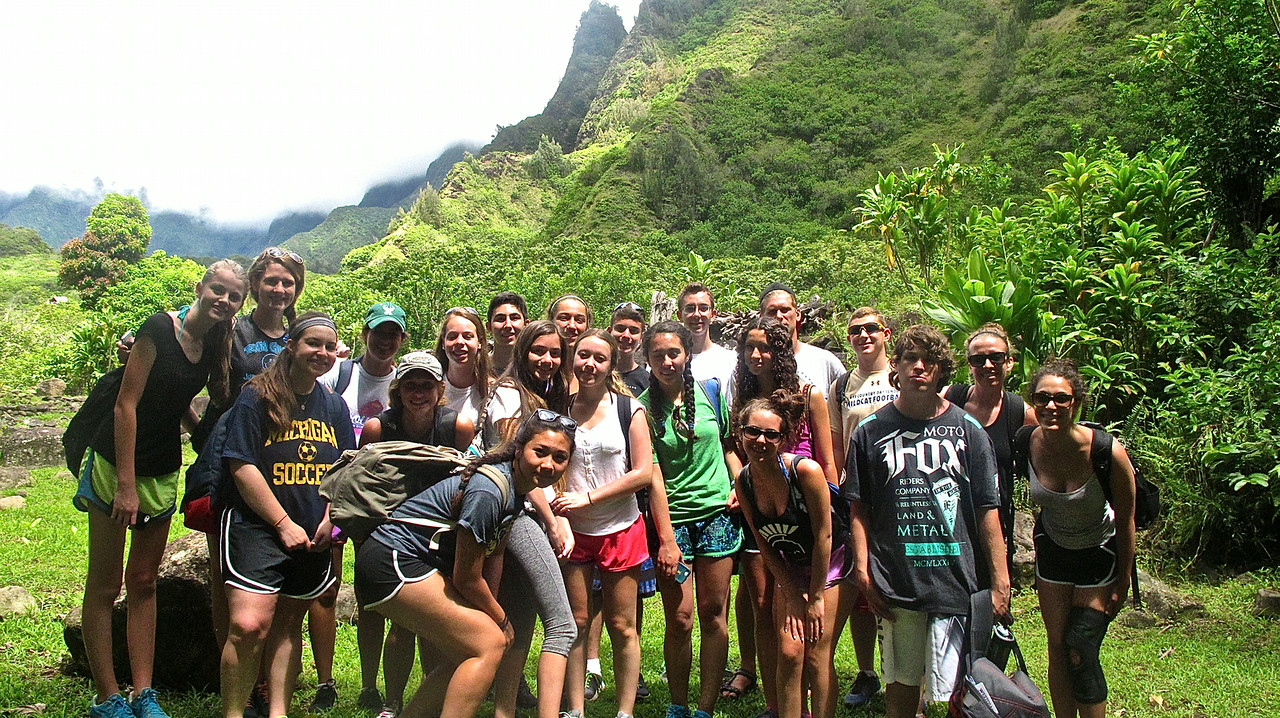 Aloha!
We have had an amazing first few days here in Maui. All the trip members arrived on Friday bright eyed and excited for the few weeks ahead, and they were all chatting and laughing faster than you can say "Honolulu"! Once we had all settled into our rooms in the hotel, we had a yummy pizza picnic dinner in the courtyard of our hotel, which is right on the water! It was a very relaxing (and delicious) way to start off the trip.
Our first full day in Maui was spent on a snorkeling boat tour to Molokini, one of the other Hawaiian islands. The crew on our boat told us that we were very lucky to have such amazing weather. After seeing the beautiful crystal clear blue water, everyone was looking forward to a full day on the ocean. Tracy was very excited, as it was her first time snorkeling, and she had a great experience seeing all the different types of fish and coral. After we all had a great time taking in the view from above and below water, we finished our sun-filled day at a Mexican restaurant near our hotel.
Our second full day was very adventurous. We were joined by Nature Ray, our tour guide, who took us on a beautiful nature hike, and imparted his knowledge of Hawaiian culture, nature and history. Alec, Nick and James were true gentlemen, and helped all of us throughout the entire hike. In the spirit of trying something new, Jane was a real trooper, and did a fantastic job overcoming her initial apprehension of the hike. Nature Ray rewarded our hard work by taking us through a calming meditation session. Ray's excitement and knowledge were really infectious, and we were in high spirits when we went to our next stop – the beach!
That night, after a yummy meal in a nearby town called Paia, we came back to the hotel to do some 'homework' that Nature Ray asked us to do. We worked in teams to write letters to Mother Earth, and it was really inspiring to hear some of the things the group came up with! Lucy and Christina in particular had a lot of value added to the activity, and both came up with beautiful ideas about how everyone in the world is connected through nature. Marie-Geo even added a haiku about nature to end off one of the team's letters.
We have our first day of community service today with Eco Maui, and are all excited to see what they have in store for us!
Aloha for now,
The Westcoast Blogger