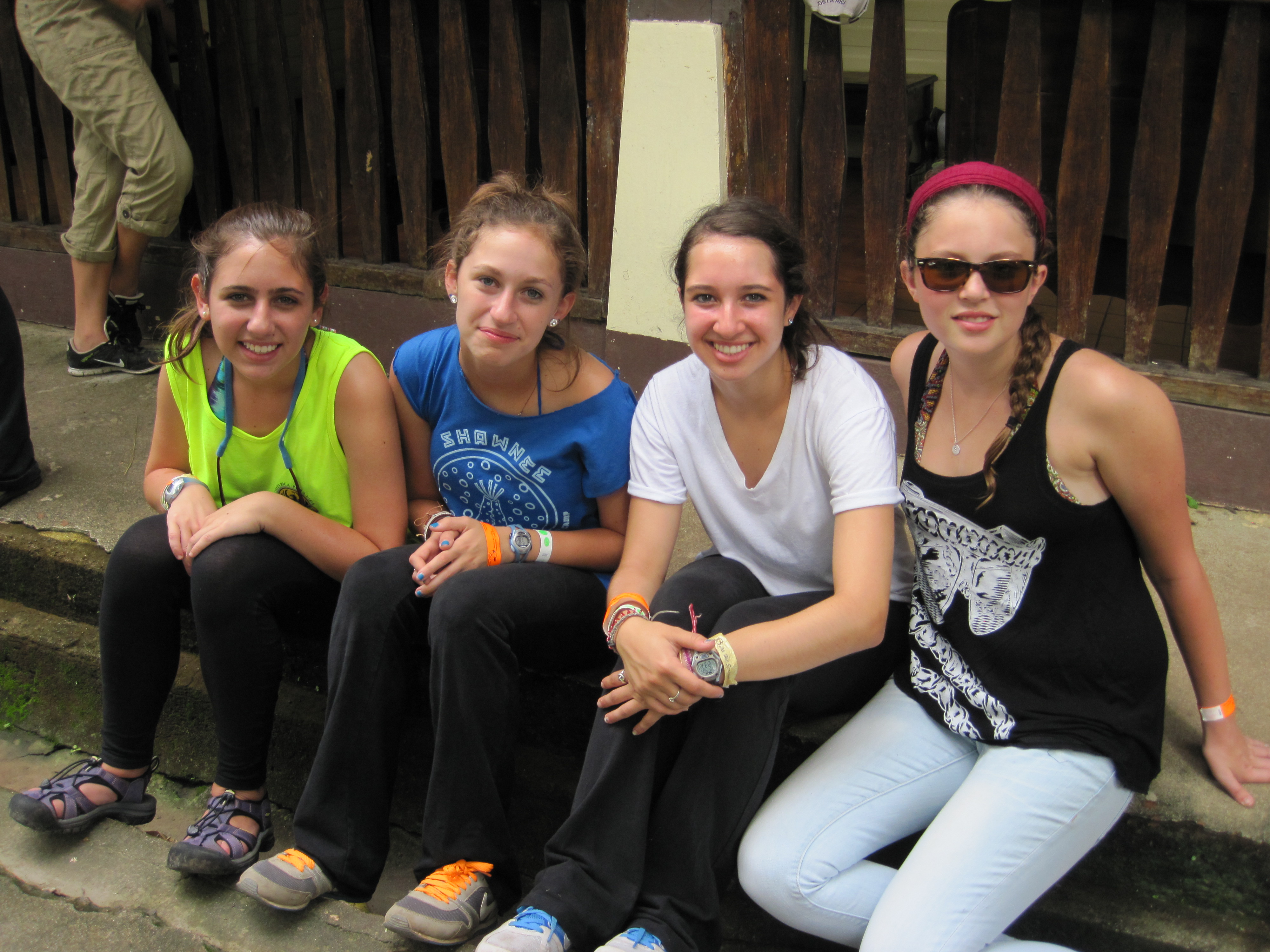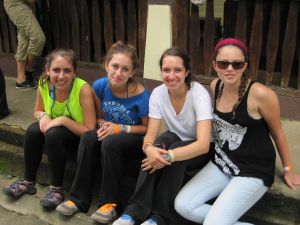 Hola Amigos y Familia!
We last left off heading out on a morning scenic hike to a waterfall in Rincon de la Vieja.  After we got back we headed off to the mud baths to pamper ourselves in their sauna, volcanic mud, and hot and cold pools.  We started off in the sauna, and then headed over to the mud baths where Erika, Kiana, Lexi, and Jordann represented the group spelling our trip name out in mud on their stomachs!  After covering ourselves in a layer of mud, we relaxed in their courtyard while the sun helped the mud harden.  We all looked like swamp monsters from the black lagoon.  The mud really brought out the blue in Sarah's eyes!  After we rinsed off we headed to the cold pool to finalize the process and all felt ten years younger!
Feeling rejuvenated, the group headed back to finalize their skits for Olympics night.  The skits were nothing short of spectacular and everyone's eyes were tearing up from all the laughing.  The three teams were the Purple Pims, the Tie Die Chicas, and the Black Mambas.  The Olympics consisted of events ranging from a water balloon toss, name that tune, a charades relay, and more.  The night was full of competition and laughter but in the end the team that pulled through and took home the gold was Lexi, Jennie, Miranda, and Erika with the first place in the skit portion and many other events.
The next morning we packed up and headed for our next destination.  Here we started our work at Habitat for Humanity building three houses for families in need of a "hand up".  Annie and Allie became shoveling machines and loaded up the wheelbarrows with dirt to level out the floors.  Ben showed off his strength lifting the heavy bags of concrete with ease.  We were also given the opportunity to play with children of the neighborhood who were living in other Habitat for Humanity houses.  Haley and Brenna entertained the kids by coloring pictures and a game of freeze tag.  We winded the day down with a nice Ice Cream Sunday Social to celebrate all our hard work.  We found out that Kiana loves Oreos after trying to hide the whole bag for herself.
Tomorrow we get to tour the famous Brit Coffee plantation before continuing our service with the Costa Rican Humanitarian Foundation.  There we will get to give back to La Carpio community and wrap up our service tour.  While we are coming to an end we are still expecting many adventures to come in these last few days!
So until next time….Hasta Luego!
The Westcoast Blogger