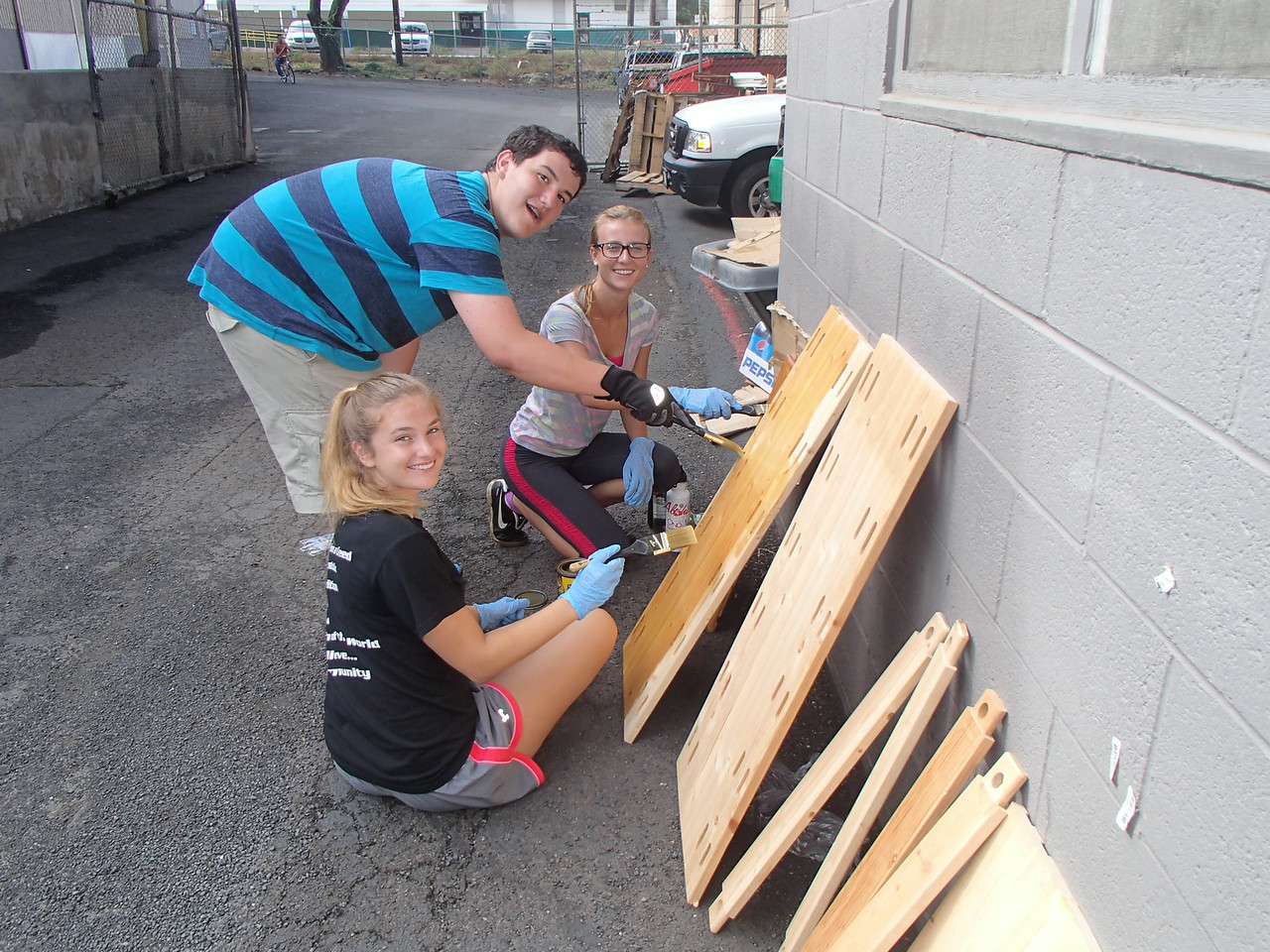 The last few days spent in Honolulu have definitely been busy. We have spent them volunteering at Habitat for Humanity. Our work consisted of priming, painting, cleaning, lifting, wiping, moving, staining, sorting, and organizing. What impressed both the trip staff and the organizers at Habitat was by the initiative shown by our group. Trip members took charge of organizing themselves and worked tirelessly. They, on their own volition, would ask for more work and would execute their tasks in a professional manner. A thank you goes out to all trip members who volunteered to pack extra lunches for the staff at  Habitat.  Because of all of our hard work, Habitat has a store that is easier on the eyes, a bathroom that is both clean and freshly painted, shelves that are well organized, and a staff that was well-fed.
Amelia, Jonathan, and Jess K. did an excellent job organizing the refurbishing and moving of commercial air vents. Taylor C. took command when reorganizing the shelves in order to stock the vents. She led by example and set a quick pace for her crew. Kudos to powerhouses Mika and Samantha for doing some of the heavy lifting required. Emily and Remi, great job organizing and lifting those sinks! Porcelain is heavy! Jacob, Alex, and Mireille, that wood that you stained looks good as new. To everyone here the organizers at Habitat also thank you for the cleaning and renovation of their restrooms. Your work was much appreciated. Remember how we found them?
After Habitat, on our final day on Oahu, we got to relax. It began with brunch at a charming place by Waikiki Beach called Lulu's that looked out onto endless blue. Omelets, pancakes, waffles, and French toast were served for all to enjoy. The more adventurous asked for extra coconut shavings, guava syrup or even sliced papaya served with a side of lime (which is delicious, by the way).  After brunch, we headed to those very same waters we looked down upon from Lulu's for one final swim in Waikiki. The water was perfectly refreshing and quite active with schools of translucent fish. Mireille and Sean used their goggles in an attempt to track them and catch our dinner. Needless to say, they were unsuccessful at catching the live fish with their bare hands.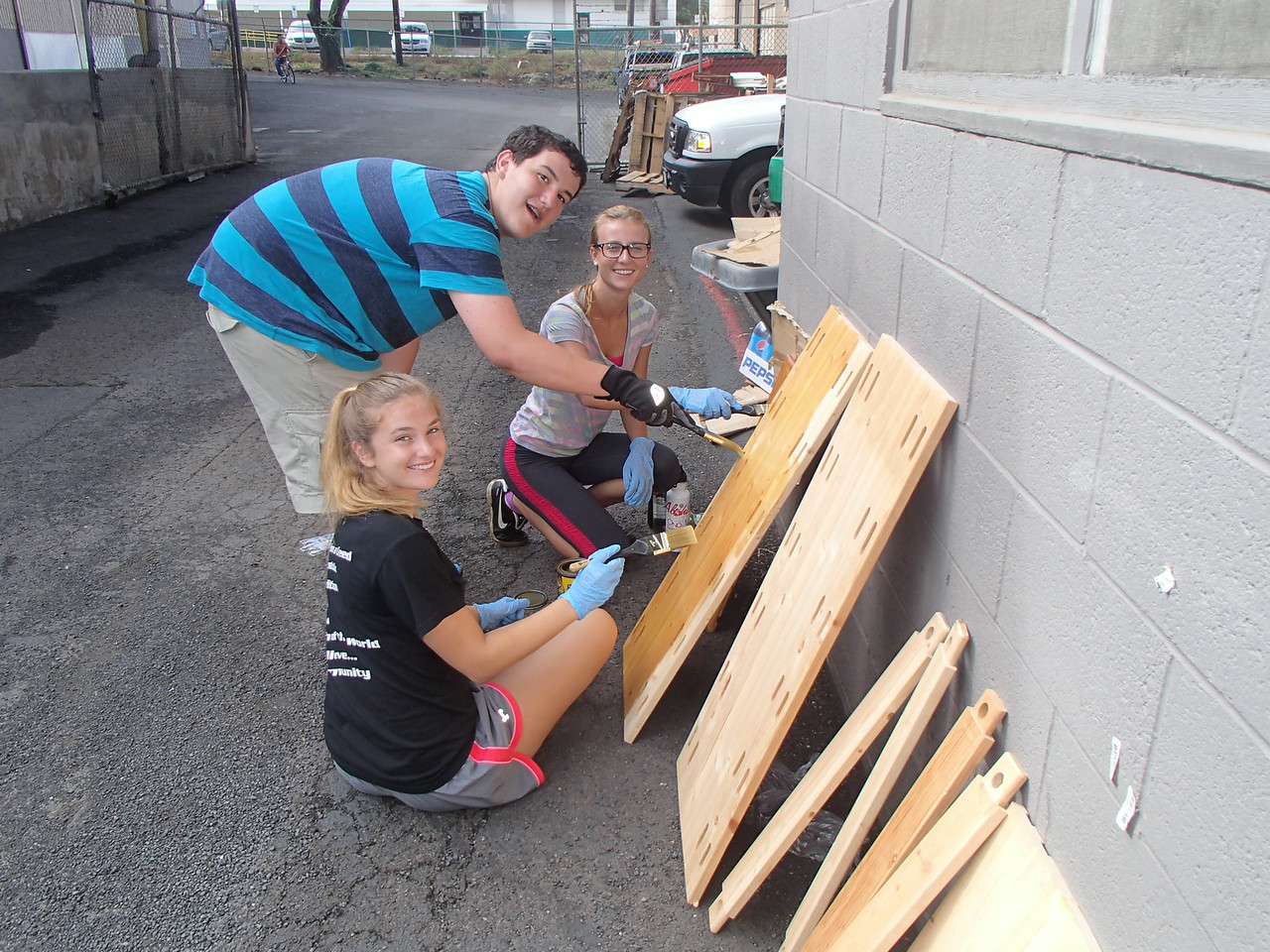 The last night in Oahu was spent at Dave and Busters, a restaurant that doubles as an arcade. It really allowed the group to bring out their inner child. Jonathan and Taylor J. could be found shooting hoops. Ally, Sophie, and Alex were busy slicing up virtual fruit in Fruit Ninja. Hannah and Jen looked for small children to whom they could give away any prizes they had won. Emily and Amelia used their hacking skills (perhaps just excellent eye-hand coordination) in order to repeatedly win "jackpots". Then it was off to the hotel in order to tackle the most difficult challenge the group had yet to face; the seemingly impossible task of packing for a flight.
We have bid farewell to Oahu, moving away from Honolulu's skyscrapers and bustling streets, to the calmer and more serene paradise that exists on Maui. Oahu, you treated us well and you will be missed.
The Westcoast Blogger