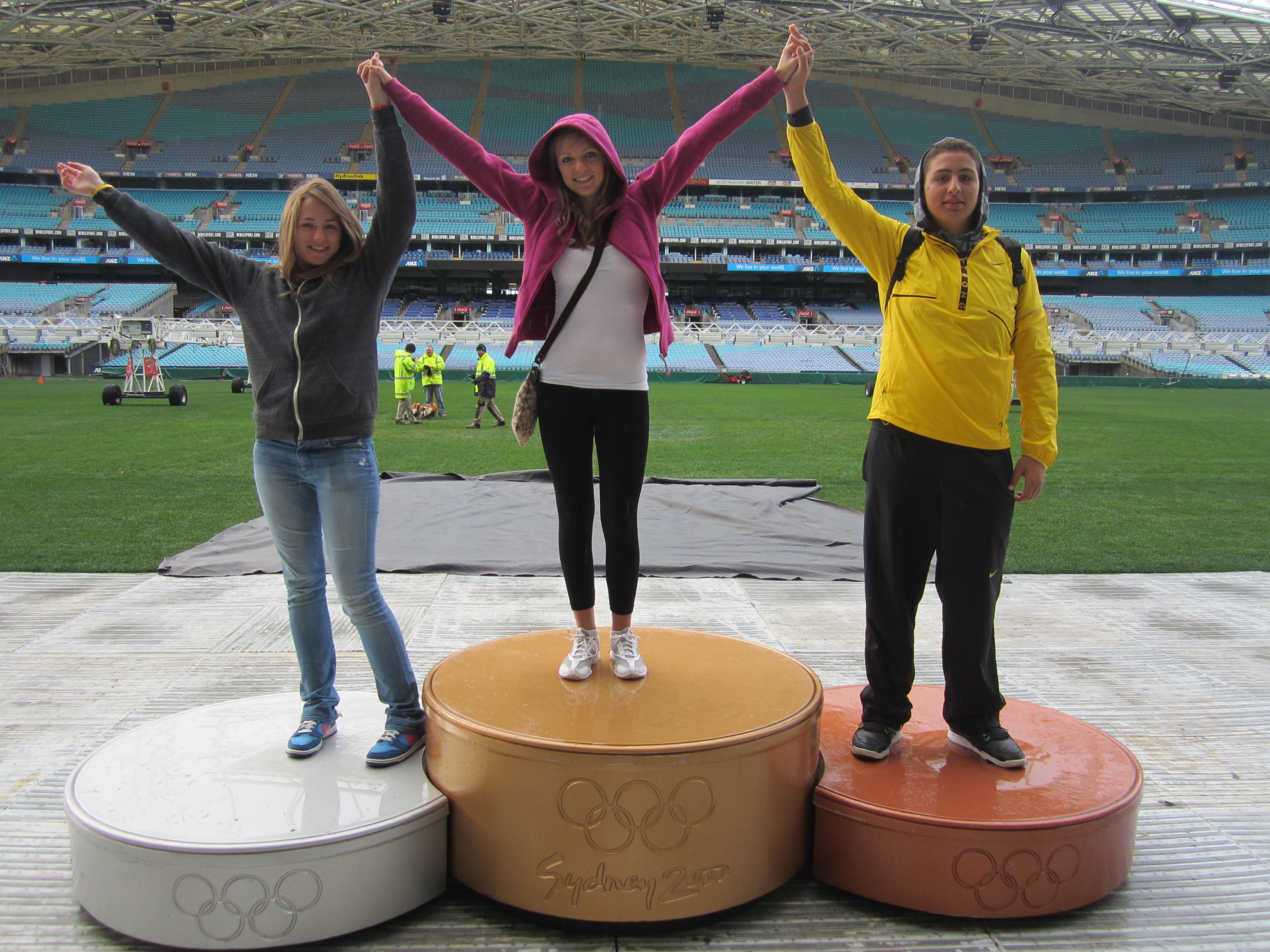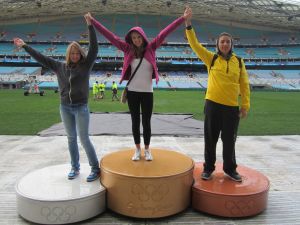 Hello from Sydney!
We began our Sydney adventures at one of the worlds heritage sights – the Sydney Opera House! After an informative tour of the interior and exterior of the Opera House, we learned about the architect, design, cost and the time it took to build! Initial plans called for a 3 year build costing approximately $3 million. The build actually took 16 years and went for a final cost of $111 million! Alex G. and Daniel A asked why the build took so long and we learned that it was due to lack of funds and people were quitting because there were no salaries being paid to anyone.
After snapping countless photos in and around the opera house, we went nearby to "The Rocks" for some lunch and jumped on board the ferry to Manly. We enjoyed some souvenir hunting and a great show put on by Peter, Sean, Jack, Brian, Cliff, Zack, Adam and Max. They suited up in Hawaiian shirts and orange winter hats and did a freeze in the middle of the plaza! We concluded our first day from 1,300 feet above the city where we got to see a 360 degree look at Sydney!  Sydney was also home to the 2000 Olympic games! We got an insider look at the stadium and how everything was set up from day one! The highlight for many of the tour members was jumping on the official Gold/Silver/Bronze platform to take some Olympic size pictures! Jenna, Gabby and Jordyn all went on with their matching Australia sweaters! Sam and Patrick  got an official rugby ball and a genuine rugby team winter hat.
Later that day, we went over to Bondi Beach – the real surfers paradise! The beach was amazing and the waves were what surfers wait for all day long! Upon our return to the marina, we divided the group for jet boating – one dry ride, and one wet ride! Josephine, Liza, Raquel  and Jenna were the only girls who embarked on the wet ride – and loved every minute of it! We powered through the harbour, enjoyed some 360 degree spins and splash waves.  Now as you may have noticed from the photos of the Opera house, there was a beautiful giant bridge in the background … well folks, we climbed it! 26 of our tripmembers got all geared up in their suits, radios, harnesses, and fleeces to conquer this two hour climb. The panoramic views were just breathtaking – seeing Sydney from the harbour in a complete unobstructed view was spectacular! Another "must do while in Australia" that we can cross off our list! While some of the tour members were nervous at first, the team work and collaborative efforts to support one another was unbelievable! Rachel, Lindy and Maegan are just a few who took the challenge head on and came back with that feeling of victory at the end of it all! Amazing job guys!
After a great workout that morning climbing the bridge, we headed for a quick lunch and then off to the aquarium!  From dugongs to all kinds of sharks, we saw some pretty amazing things! Raquel, Jordyn, Lauren and Maegan got to feed and pet a baby shark and starfish! Lindsey and Abigail spotted an octopus playing with a puzzle … and almost solved it! Devon, Joey, Cameron, Jonah, Aidan and Noah were amazed by all the different types of sharks, sea turtles and manta rays that were swimming above them while they got the perfect view from the "ocean floor".
Our last night in Sydney was quite special … not only because we were leaving Australia for Hawaii, but mainly because we had to say goodbye to tour members that had signed on exclusively for the 22 day Australia trip. Liza and Devon gave us a little speech for Josephine, while Cory, Sam and Patrick shared some words for Alex and finally Cliff shared some funny storied about Daniel! It was a great evening filled with many great stories about the trip and we are definitely sad to say goodbye to our friends and to Australia – but we are excited to greet you with a joyous Aloha in just a few days where the beaches will be warm, the sun will be blazing, and all the gear we packed for OZ can safely be tucked away!
I hope you enjoyed following us around the land down under! Stay tuned for one more scribe which will highlight all the Hawaii activities!
Until next time, the Australian Outback + Hawaii Team
The Westcoast Blogger
Are you prepared for an amazing experience? Check out our Australia and New Zealand tour for high school students and get ready to have a thrilling adventure.