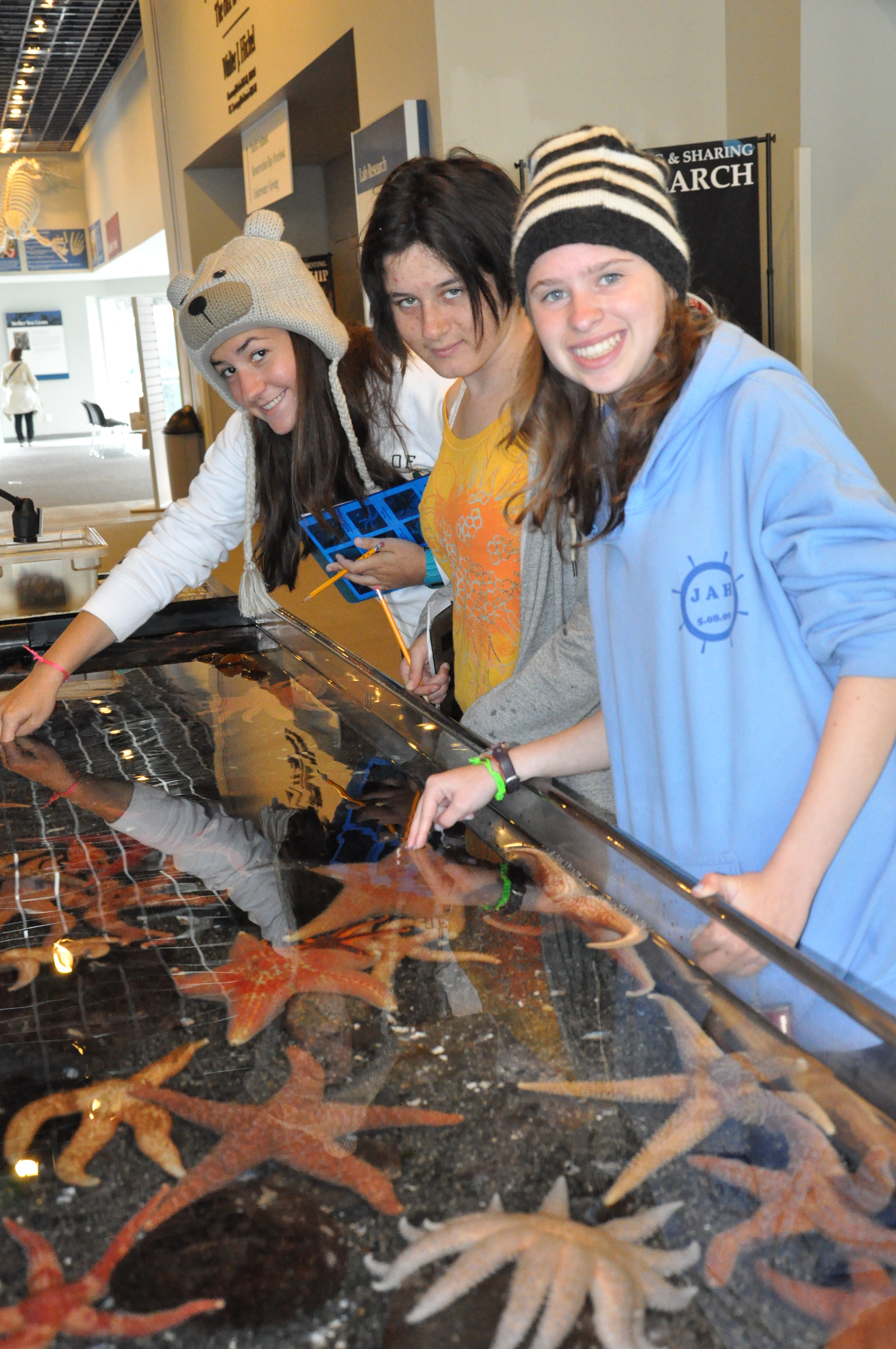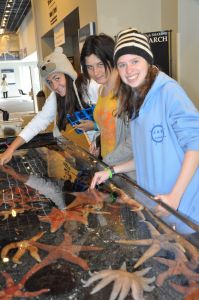 We are packing up our stuff at the Seaside Farm in Homer and getting ready to head out to the Field Station at Peterson Bay for the next few days.  The Farm is beautiful!  It overlooks Kachemak Bay and even has a view of Grewink glacier.  We have been very lucky with the weather, as each day has been sunny!
We spent our first day here doing work on the farm for Mossy (the very quirky owner).  We worked in the raspberry patch, weeded a field, and collected wood from the sawmill.  Renee and Ally even helped Mossy catch some chickens!  Mossy also took us to the homestead where she grew up, which is just a few miles down the road.  It was very interesting to see how she grew up.  She was homeschooled until she was 12 years old…and only went into town twice per year!  Rachel enjoyed dabbling on the piano in the old house.
The next couple of days were spent at the Wynn Nature Center.  Day 15, we did some work clearing trails, digging post holes and digging a big hole for a new outhouse which will be used by all who visit the Center.  Jamie was digging post holes the size of herself.  Zach especially enjoyed weed whacking the trails and did a fantastic job!  Although it was hard work, we still got to enjoy the trails and some beautiful views.  The girls made a delicious meal for dinner!  Jessi's brussel sprouts were a huge hit and Abby and Renee did a great job on the chicken.  That evening, Rebecca set an AK1 record…40 minutes of charades (she was the only one acting).
Yesterday, we went back to the Wynn Nature Center where we enjoyed a day of programming.  We went on a 5 mile hike in the morning, where our guide, Patrick, pointed out a variety of neat plants.  We even got to try some of them!  It was such a clear day that we could see Mount Douglas, an active volcano that you usually can't see.
We also celebrated Ally's birthday yesterday!  Everyone decorated the house and she was "surprised" when she woke up.  Phil, Dan, Eric, Andy and Zach were the chef's for the evening.  Kudos to Andy's creativity with appetizers and dessert!  Happy 15th birthday Ally!
Signing off for now,
Matt and Pam
The Westcoast Blogger