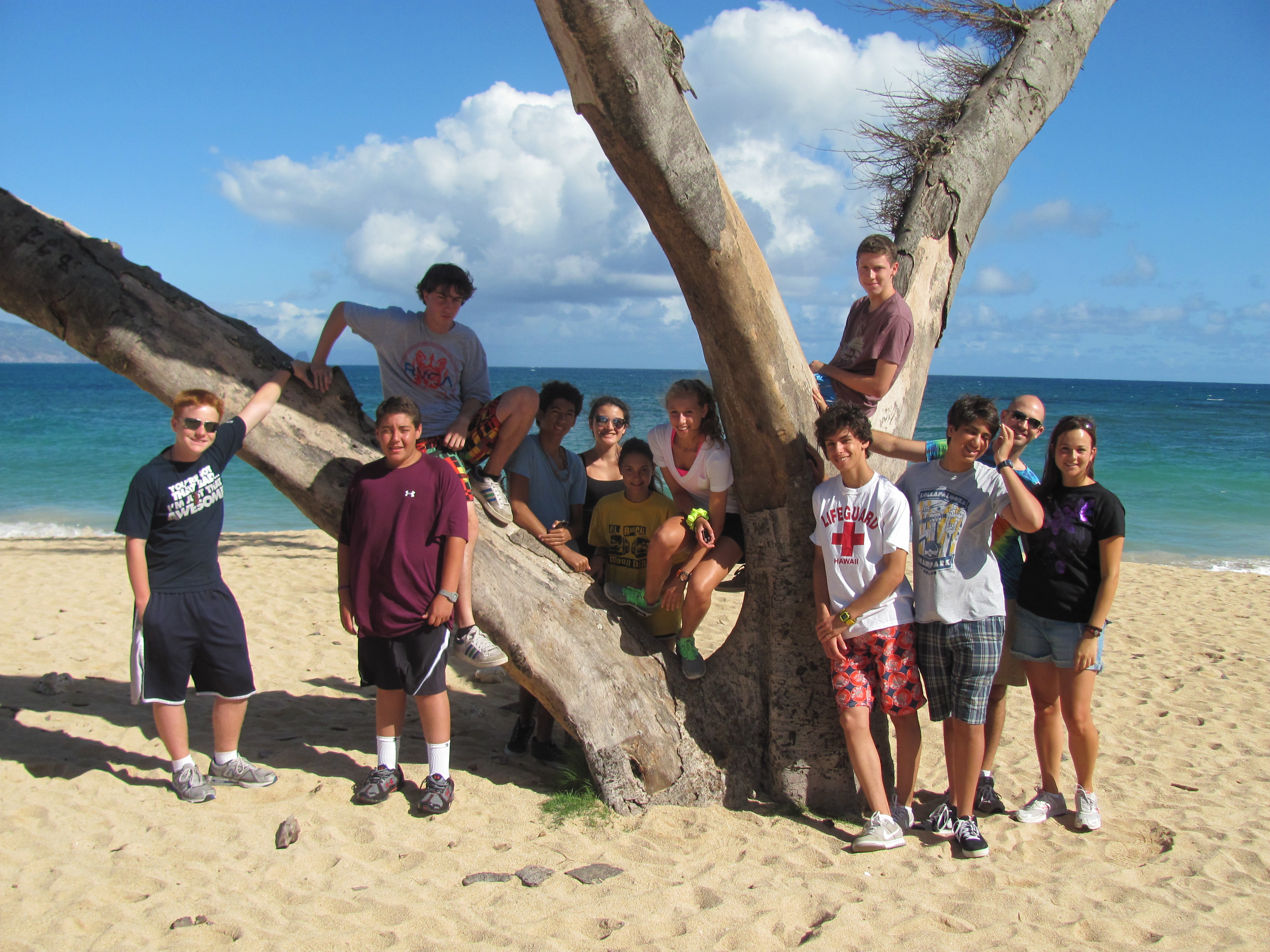 Three days into our Hawaii community service trip and our trip members have already touched their feet into the Pacific Ocean, rode upon a catamaran, and most importantly, positively impacted the Boys and Girls Club of Hawaii Nanakuli.  Our trip officially started Monday and began with a morning trip to the beach.  All the trip members were able to relax on the white sandy beaches and in the bright blue sea prior to our afternoon adventure.  While on the beach Veronica held the camera and helped herself, Tulani, Taya, Juliana, Emily, Tracy, Ashley, Aisling, Tara, Stephanie, Samantha, Amanda, and Ariel take the world's largest selfie, while still getting the beautiful Hawaiian scenery in the background.
After the beach the group started their boating adventure.  Upon the catamaran, Ariel was chosen as a first mate and helped in hoisting the boat's sail. Andrew S. enjoyed his time being a sailor and received a special sea salt spray prior to entering dry land.  While cruising, Mike and Andrew C. also chose to catch some rays and hang on the front of the catamaran while enjoying the view.
Tuesday began our first day of community service.  The Boys and Girls Club of Hawaii Nanakuli were excited to host us and greeted the group with open arms.  The trip members began the day by splitting into outside and inside groups and running their own games with the children from the club.  Outside, Holden and Andrew S. helped in playing a rousing game of "yeehaw" and "sheeps and wolves."  Next, Mike, Andrew C., and Chris started a game of football with some of the boys from the club.  The game was quite intense in which Amanda ended up scoring the winning touchdown for her team! Inside, Ashley, Emily, Juliana, Tracy, and Ariel broke it down on the dance floor with the children and showed them some "mainland" dance moves.  In the afternoon, trip members rotated between areas that included gardening, tutoring, and an arts and crafts room.  All in all our first few days in Hawaii have been a success and we are looking forward to the rest of our Hawaiian adventure!
The Westcoast Blogger