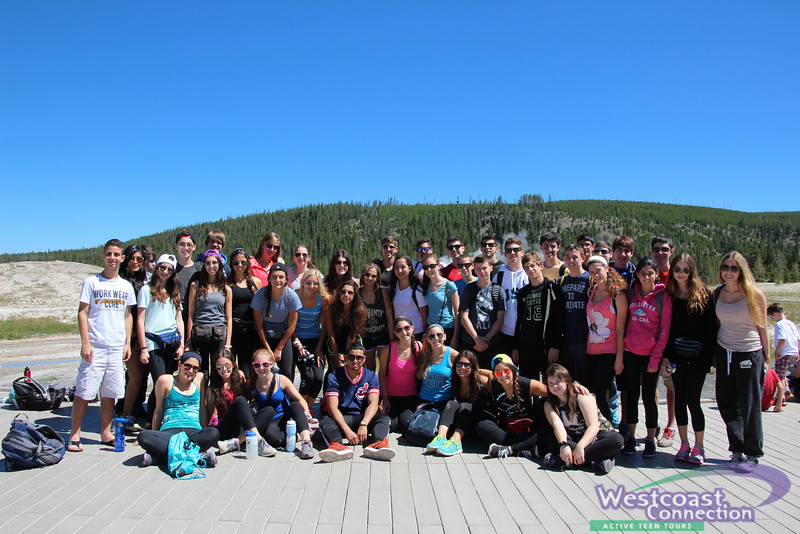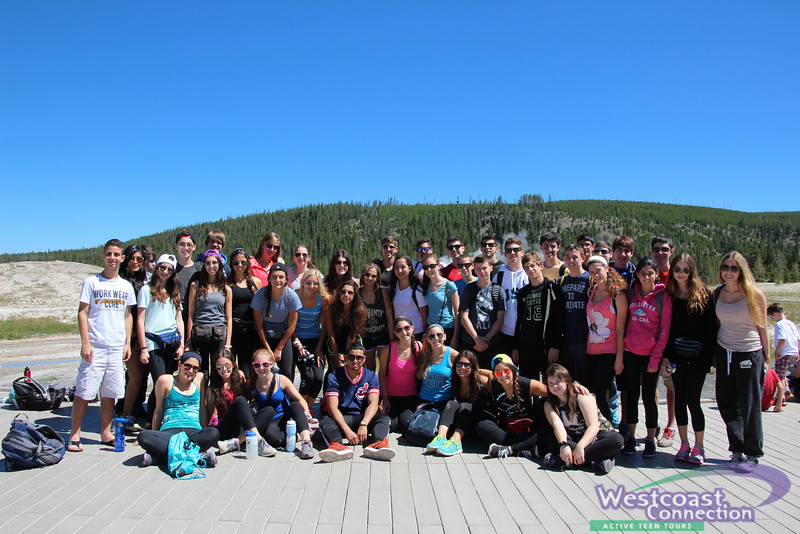 The Californian Extravaganza has been up to quite a lot over the past few days.  We left Boulder and headed north to Jackson Hole, Wyoming and our first camping stop. On the way, Ryan, Remi, Morgan, Jordan S. and Adam played "Heads Up!" which is like charades, but one of the players holds the clue on their forehead and guesses as the other acts the clue out.
Misha was amazed by the beautiful scenery.  He said he's never seen anything like it before.  Our first night camping began by pitching tents.  Olivia and Elezar had the honor of helping with our first campfire.  As night fell, Jason noticed how many more stars were visible in the Wyoming sky, than in the sky back home.  Abbie helped make chocolate fondue which received rave reviews as it was enjoyed by all.
On our first morning in Jackson, we drove north through Grand Teton National Park into Yellowstone. The drive was filled with scenic views and some healthy competition as the bus played Family Feud. The drive was educational as well, since Arianna, Maya, Amy and Annabel learned about the geothermal workings of Yellowstone. Old Faithful lived up to its name, and put on a show just after we posed for a group picture.
As everybody and their groups explored the town of Jackson, they were challenged to start with a pen, and trade with people around the town for the most interesting objects they could find.  After we had our BBQ dinner, the groups presented the objects they traded for. Unbelievably, Noah, James, Jenn, and Andrew Ca. were able to trade their pen up to a working mobile phone complete with a charger.  Daniel, Lauren W, and Michael came back with a block of fool's gold and an urn (an empty one of course!)
The Snake River was our playground the next morning. White water rafting was a blast! Alex, Leah, Lauren S, and Emily were all awesome paddlers, ensuring the rest of the paddlers in their respective rafts were all synchronized.  Our river guide told us we would pass a "bear" cave on the river.  It was a pretty funny joke.  As it turns out, it was really just a 'bare' cave.
Salt Lake City offered us some more camping splendor.  At the waterpark, Kyle, Jordan M., Jeremy, and Spencer M. went on the tube slide hundreds of times and started a trend where practically everyone went on it one after another. Jelena, Alex, Sandy, and Hugo tested their luck at the amusement park and won two giant life sized stuffed animals.
Our chefs in training,  Stephanie, Zoey, Sami Z, Annabel and Taylor helped make a delicious lunch and dinner –  because of their hard work they got to hit the piñata during our Mexican fiesta dinner.
As our first week comes to an end, we head towards California with new friends, and awesome memories.
Until next time,
Californian Extravaganza