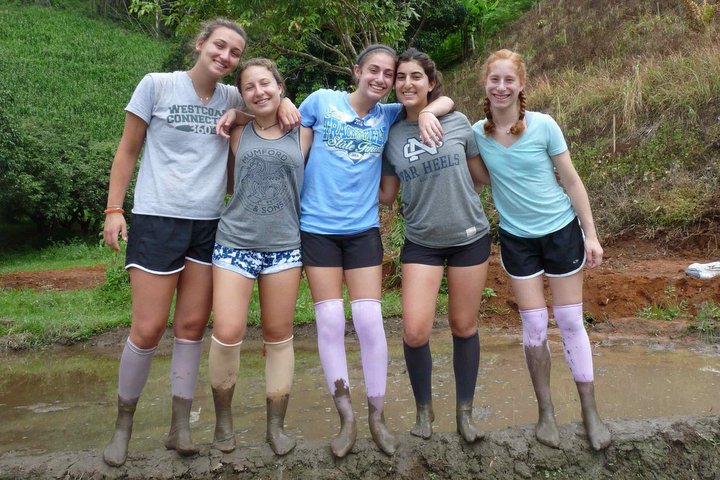 Hello Friends and Family!
After an amazing first day in Chiang Rai, we kicked off our second day with our first taste of service at the Chiang Rai Special Education School, a learning center for students with special needs. Upon arriving, we were warmly greeted by the students and immediately fell in love. After meeting our newest friends, we went on a walking tour of the school where we saw the classrooms and the dormitories, we immediately got to work. Half of the group painted a fence bordering the property while the rest of us beautified the playground. Both groups had the opportunity to get to know some of the students as they helped us with our painting projects.
After brightening up the school grounds, we met more students and played a variety of games. From duck duck goose to soccer, both trip members and students had an unforgettable time. Before saying goodbye, we also partook in a push up and arm wrestling contest with the students. While we put in our best effort, they were far stronger than they seemed!
Next, we returned to the hotel for some friendly competition with a game of Fear Factor. Trip members competed in multiple different categories including general knowledge, strength and spelling. The highlight of the game was without a doubt the eating portion when brave trip members put their stomachs to the test as they ate bugs including silk worms and crickets. It was an experience and a taste we won't forget! After challenging both our minds and our stomachs, we all enjoyed Thai massages. It was the perfect end to our first day of service.
On our final day in Chiang Rai, we began by visiting Wat Rong Khun, a beautiful white temple filled with quirky images throughout the interior. Intricate paintings of traditional Buddhist imagery mixed with western culture icons including Harry Potter, Spiderman and Superman filled the walls. After viewing the temple, we returned to the school and finished up the previous day's painting projects. In the afternoon, we put on a mini variety show for the students. Once we were done singing and dancing, we were incredibly surprised to see that they had prepared a performance for us as well. The day concluded with a giant dance party where we all showed off our finest moves. It was a memorable experience for both the students and trip members.
The next day, we set off for Mae Salak. On route, we stopped to dip our feet in a natural hot spring. After our moment of relaxation, we continued our journey by embarking on bamboo rafts down the Maekok River. Throughout the ride, we appreciated breathtaking views and even took a dip in the river. Once we arrived at the hotel, all trip members enjoyed some pool and relaxation time.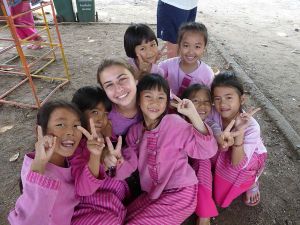 Over the next two days in Mae Salak, we visited the Lahu village, a nearby hill tribe, where we helped build a road. Since the steep road was previously made of dirt, they were not able to use it during the rainy season. Over the two days, we spent our time carrying rocks, sand and laying concrete. While it was not an easy job, it was incredibly rewarding to see the difference we made in the village. Once our work was complete, the Lahu people set up a bonfire where they sang and danced for us as a thank you. It was a wonderful end to the day.
On our final day in Mae Salak, we put ourselves in the shoes of the Lahu people and lived a day in their lives. To begin, we helped cook a meal in their homes where we prepared chicken and spring rolls over a small wooden fire. After filling our bellies, we got to work in the rice fields. While it was a muddy experience, it was a true eye opener to see just how hard the people in the village work on a daily basis. Our time in Mae Salak was at times challenging, but it was an experience we will never forget. As we are now at the halfway mark of our trip, we cannot wait to see what awaits us over the next two weeks.
Sending smiles from the land of smiles,
The Westcoast Blogger
Do you want to be part of this community service program? Check out our Thailand trips for students and get ready for the experience of a lifetime with Westcoast Connection.