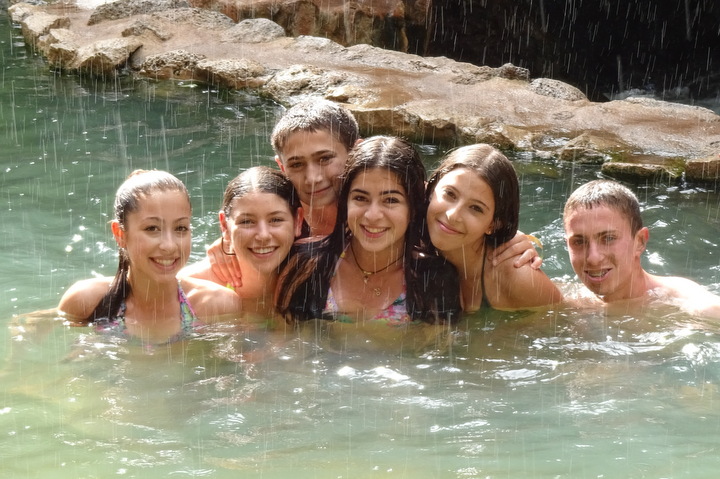 The road to Arenal wound its way through the beautiful mountainous terrain in the heart of the country. Along the way our driver stopped and pointed out a family of Taqirs, cute little guys, appearing as a cross between a raccoon and a red panda. Our driver, Rigo, also stopped to point out another natural wonder of the country: the beautiful Lake Arenal, which we saw from the top of a ridge, surrounded by green rolling hills and misty mountains.
At the end of the road we arrived in our new destination, Arenal, where we were treated to the hot springs from the volcano's geo-thermal heat. This was similar to the mud baths only on an epic scale with a dozen pools of varying temperatures, cascading waterfalls, a cave sauna and even waterslides! It was difficult to tell if this was a spa or a full-on water park.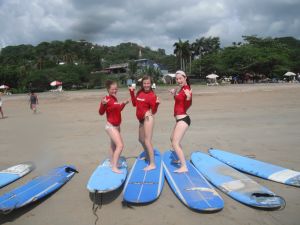 The following day we enjoyed some more of the adventure activities that Costa Rica is known for when we went canyoning. After an introductory lesson with our instructors we were led to the first station where we parallel rappelled down a 160 foot waterfall. It was by far the largest of all the stations, but that didn't make any of the others any less spectacular! Another rappel led us into a center of a ravine, where we experienced a controlled free-fall to a gentle landing at the bottom. Last but certainly not least was the most popular station. With a large jump off the edge we rappelled through the waterfall. The feeling of water coming down around you as you looked up at the enormous waterfall that was just conquered is truly an amazing feeling. This was not quickly forgotten as most of us were giddy for the rest of the day.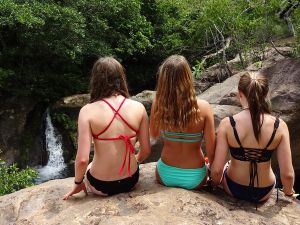 We've since returned to where it all began, the Central Valley. Though now we are closer to coming home than we were from leaving, our group continues to stay close and continue to enjoy these incredible experiences together. The last days of our trip will be filled with service, friendship (both new and old) and fun. It's hard to say what we are all feeling at this time, but with some reflection and experience behind us, we know it will be a special time together.
Until next time…
The Westcoast Blogger