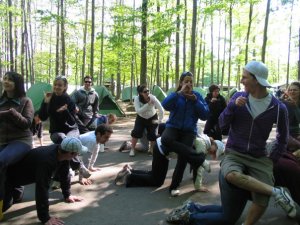 Every year all of our staff come together in Montreal for Pre-Camp. This is an opportunity to review policies and procedures, for the old and the new to mingle, and most importantly an opportunity … TO GET EXCITED ABOUT THE SUMMER!!!!!
Have you ever wondered what it would be like if you put 175 of the best summer camp staff in one place at the same time. Add in a little friendly competition and it becomes a high energy weekend that can best be summed up with one word – MAYHEM!
After only a few hours of rehearsals that looked like this:
and this:
The final showdown had both teams full of vigor.
Let's just say in addition to the traditional "camp counselor" qualifications, our staff are filled with hidden talents!
Just wait until you see the videos …
The Westcoast Blogger
P.S. – Follow us on Twitter! WCC360