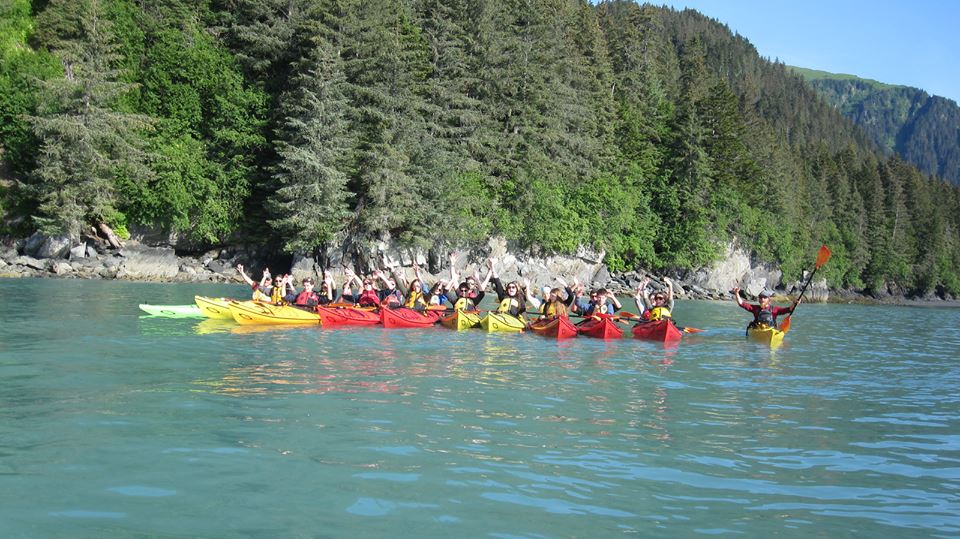 Happy Canada day to our two Canadian trip members, Cael and Noah, and two trip leaders, Dorothy and Jon! And what better way to spend the day back at the Boys and Girls Club in Anchorage, Alaska where we were greeted with hugs and smiles. It was great to reunite with the awesome kids our trip members had built such amazing relationships with the day before. Matt and Evy quickly made their way to the air hockey tables to witness a competitive game between Noah and Deandre, an enthusiastic 13 year old club member.
The main focus at the Boys and Girls Club that day was running a program in which our trip members would teach the kids about healthy living and the importance of physical activity in their lives. Maddie, Cael, and Evan did a terrific job at their station playing games that involved coordination, balance, and agility. Our entire group did great at being engaged and involved with the kids and keeping things dynamic and fun. After this program we headed back inside to conclude our day at the Boys and Girls Club. Jess, Dori, and Lourdes headed to the arts and crafts room where they worked on glitter art while Jordan, Evan, Eric, and Alex spent some time playing cards and talking with a group of older boys. At the end of the day, we all said our goodbyes to the kids and made our way onward to Seward, Alaska to settle into 'The Hutch' bed and breakfast.
The following day we headed over to Exit Glacier for a scenic hike amid beautiful mountains. At the base of the glacier we admired the incredible view and took the opportunity to work on our lip dub to Imagine Dragons' 'On Top of the World'. Special shout outs to Matt, Maddie, Cael, Alex, and Evan for practicing the lyrics so well on our van rides to and from our daily activities. After lunch, we headed to 'Seavey's Ididaride Sled Dog Tours' where one of our trip members courageously conquered her fear of dogs by holding one of the puppies in her arms. Congratulations Lourdes, we are all very proud of you! Matt, Eric, and Dori were also particularly fond of these puppies and showed a great deal of affection towards them.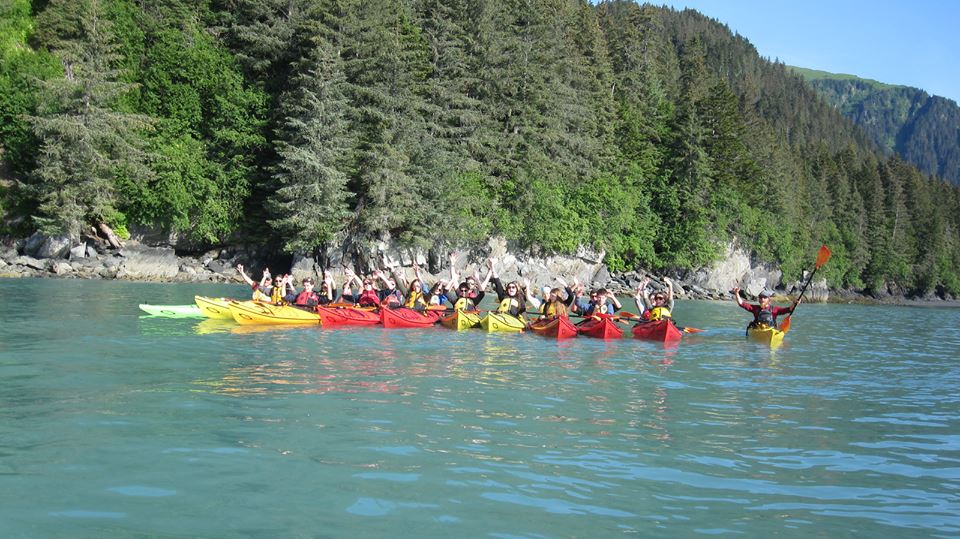 Thursday morning started off at Sunny Cove Kayaking. Our tour guides noted how lucky we were to have such beautiful weather. Indeed, the weather has been incredible since our arrival into Alaska! Our luck continued during our kayak trip upon seeing a wide variety of wild life. Porpoises, bald eagles, jelly fish and sea otters provided our entertainment for our three hour paddle. Ally, Dorothy, and myself were very impressed with the performance of all our trip members during this kayak trip. We know that some of our trip members went out of their comfort zones to achieve this paddle and commend them all for doing so. Our final destination for the day was the 'Seaward Sea Life Center' in downtown Seward where we got to see seals, various types of fish, play with sea cucumbers, starfish, and sea anemone in the touch tank, and dissect squid! To conclude our day, our group partook in a photo scavenger hunt in downtown Seward where we split up into three different groups and scurried around town looking to take pictures with people with different types of traits, quirks, clothing, and skills. Everyone was so accommodating and playful! We've been having such an amazing time, and the good times keep on getting better and better! We are growing closer as a group, conquering fears, leaving our comfort zones, learning new things, and having a blast every single day! Snohana!
The Westcoast Blogger