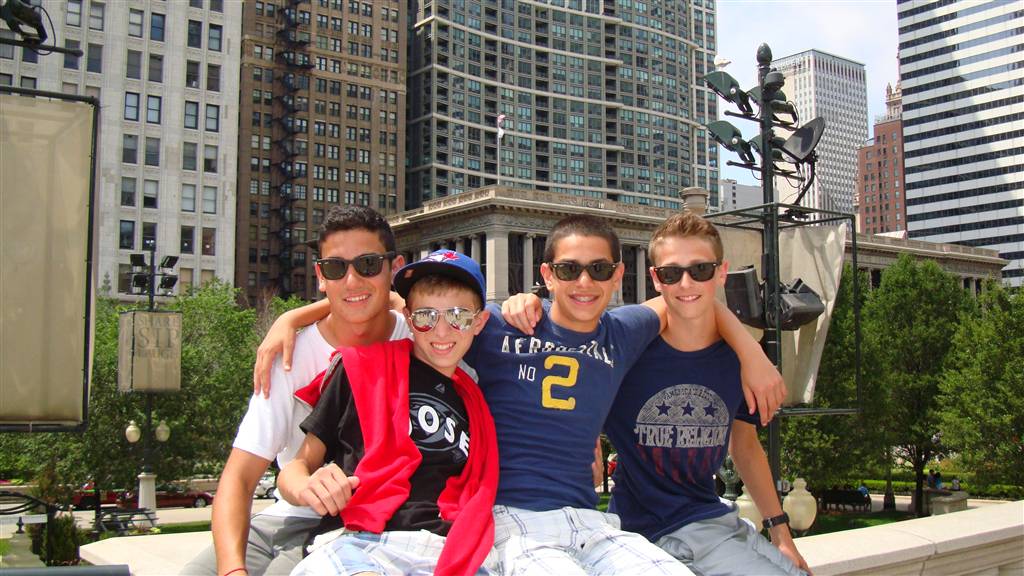 The U.S. Explorer checks in from Cleveland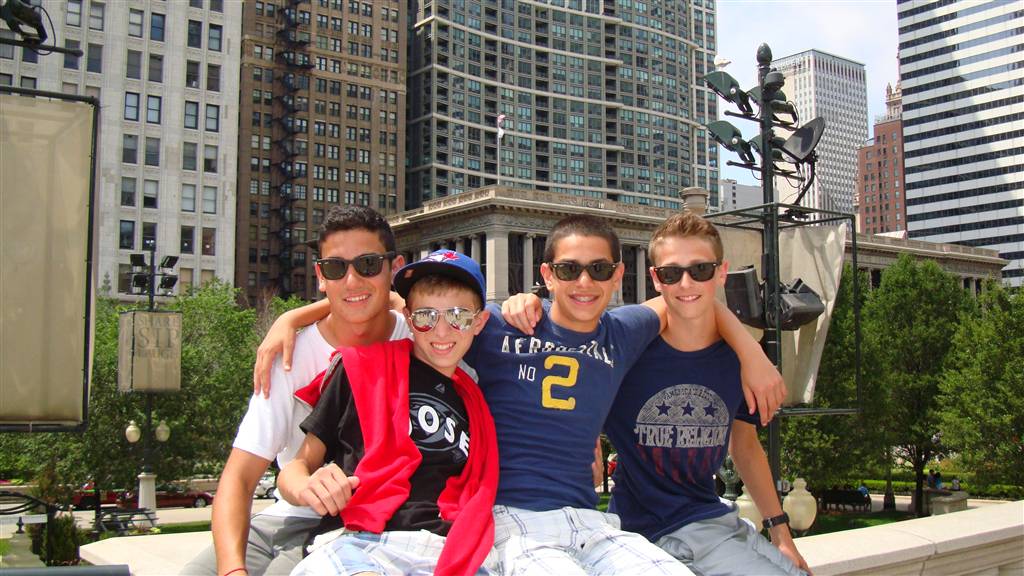 Dear Parents,
Our bus ride to Cleveland, started with Travel Channel clips about Cedar Point and…  on ride point of view videos from Millennium Force and Top Thrill Dragster. Hands in the air, our bus was turned into a roller coaster.
We had a great time at the Rock and Roll Hall of Fame. Tyler and Nikki had pencil races down the grass outside prior to entering while Delilah commented that she got her name from the Grateful Dead after seeing a sign about the museum's special exhibit. Lee, Evan, Noah, Zach G., Jonah and Matt watched a video on the start of rock and roll and commented that this was their highlight. Seryna and Lyndsay enjoyed the montage of Hall of Fame inductees and sang along with the famous artists. On our walk back to the bus, we snapped a few photos in front of the  Cleveland Browns stadium.
That evening, we played the Quest. Our group was split into two. Everyone had 3 minutes to grab  anything they could carry from their tents. We presented a series of challenges and either the first team to complete the task or the best presentation received a point. In one evening we saw a proposal, an imitation of a staff member, teams race to build a 6 person pyramid, the alphabet recited backwards, a giant game of ring-around-the-rosie and so much more.
It was a beautiful day at Cedar Point. Evan S. went on his first roller coaster. Rickey won a huge gorilla (it takes up two seats and extends into the aisle).  Not only does he keep us company, but he  lends us a comfortable, furry shoulder to lean on. He will likely be heading home with Steve, our driver, at the end of the summer as he is too big to carry on an airplane (or check!).  Although Top Thrill Dragster is only a 19 seconds, it travels 120 miles per hour up a 90-degree 420′ hill. Many of us including Zack R. said it was the "rose" of his day. Haley and Izzy enjoyed Cedar Point's newest attraction, WindSeeker. Several hundred feet in the air with 360-degree views of Lake Eerie were unreal. This was after they got off of Iron Dragon, the "scariest roller coaster EVER!"
We ended our wonderful day by freezing in the middle of the arcade. All of us frozen in weird and wacky poses for 90 seconds. This caught the attention of everyone in the crowd who couldn't understand why we were all stuck! Seryna pretended to put her backpack on, Sami and Jamie were hugging and Nikki dropped into a plank position.
Next stop… Ann Arbor, Michigan!
"Who wouldn't want to be me" (or us!)
The Westcoast Blogger