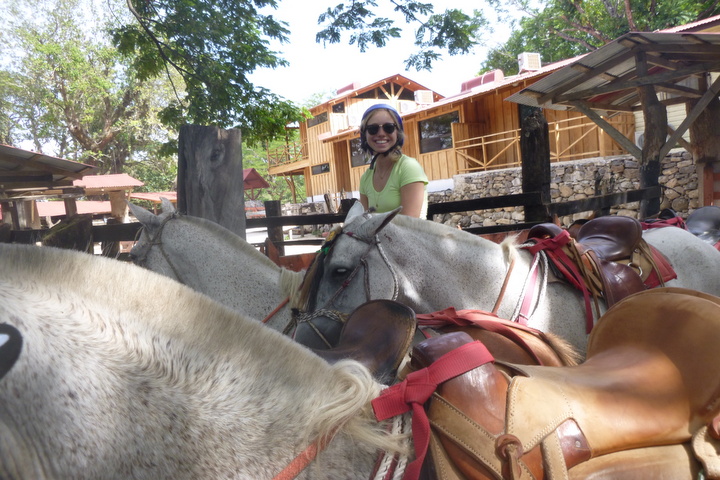 Hola again amigos!
These past few days have been insanely fun as we have been rewarded for the hard work and dedication of Habitat building in the two San Jose sites. Marcella, the human resource director for HFH of San Jose came to our hotel to present Habitat certificates in the most ceremonious way possible, with a heart wide open and an ear-to-ear smile. Every trip member including staff were awarded a certificate of appreciation with the quote, "And do not forget to do good and to share with others, for with such sacrifices God is pleased". In return, and as a thank you, Lauren offered a signed group "Thank You" card, which Marcella is currently hanging in her office as a reminder of her time with our group.
On day six our group began the five hour (song trivia) journey to our next hotel, Hacienda Guachipelin in the remote part of Rincon de la Vieja. As soon as we got off the bus, the horses (and one mule) were waiting for us to ride down to Las Chorreras (the waterfall) for a movie set backdrop photo session, which, of course, we took advantage of. After the horseback riding, we strapped on a new helmet, harness, and pulley rig for a gorgeous zip line trail over the cloudy forest canopy. Many from our group were new to ziplining but by the middle of the trail were safely "zipping" upside down with Go Pros securely attached!
Yesterday we made a trip to the scenic Rio Negro Hot Springs to apply exfoliating hot natural mud and bask in the 40 degree Celsius water. The setting was right out of a double agent movie as we walked over a wooden hanging bridge to four viewable, pristinely clear hot baths. Later that night after a much needed shower and pool time, we played night games that included Indian Chief, Zip Zap Zop and a new game Alexa introduced called Bunny Bunny. Everyone went to sleep that night exhausted from laugh out loud fun.
More to come as we venture to the next city, Flamingo!
The Westcoast Blogger