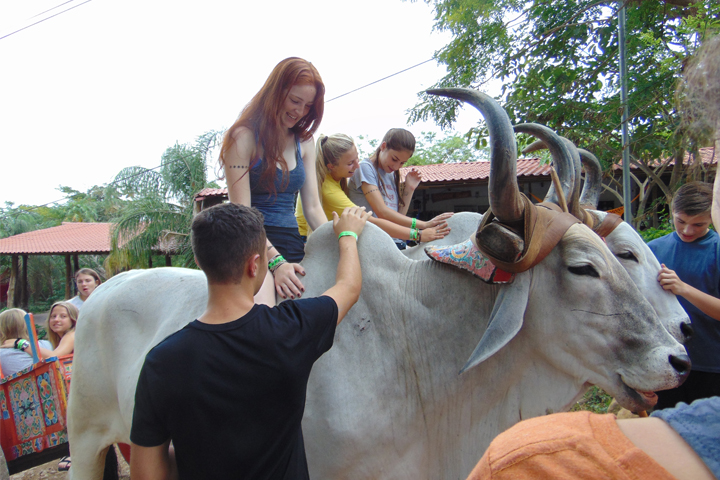 This summer, on June 30th I will be off to Costa Rica leading a 28-day Community Service / Adventure Program with Westcoast Connection / 360° Student Travel – I still can't stop pinching myself!
I have been counting down the days to summer for quite some time now. Anxiously flipping through the brochures, trying to guess what trip I would be leading and envisioning myself in each destination giving students the most incredible summer. To be leading a Costa Rica trip has me smiling from ear to ear and jumping up and down! Every trip that WCC/360° offers has the most intriguing itinerary and the Costa Rica Community Service adventure program does not disappoint!
I love how this trip has a strong focus on students giving back to the Costa Rican community. Through teaming up with the Costa Rica Humanitarian Foundation Day Camp and Building Project, Playa Flamingo Community Project, Habitat for Humanity and Monteverde Life Co-Op, students will be giving back to the community in a hands-on way to make impactful experiences that will be treasured forever.
I love how travel has the ability to bring people together to form strong relationships. In our daily encounters with people (even our best friends) we are stuck in routine. We do not typically try anything new, we get distracted with technology and become caught up in all the small things. When we travel, we forget about this and begin to remember what is important in life – collecting moments! The people who we are with when we travel get to see us in our most authentic form, which is so refreshing. This liberating feeling allows us to break out of our comfort zones where we can do, see and taste the uncommon to us and create the most unique experiences that we will always remember.
To this day, some of my best friends were made at summer camp. From being a camper to a camp counsellor, the memories I have made on countless canoe trips, building campfires, pitching tents, morning dips in the lake, hiking, kayaking, instructing windsurfing… I could go on and on. Through them, I learned more about myself, others, and the world around me than any classroom could have ever taught. One thing that these camp memories all have in common is that they were outdoor activities. These incredible experiences, now treasured memories of mine, were not made by being cooped up inside with eyes glued to a phone or computer. They were made by getting outside, being active and surrounding myself with new people.
My favorite part about this Costa Rica trip is how it allows students to truly engage with both nature and the Costa Rican culture in a non-touristy way. This authentic contact in Costa Rica will most definitely open the eyes of students and broaden their perspective.
Now, it's just a matter of time until departure (oh how the countdown is on!)
– Dayna C