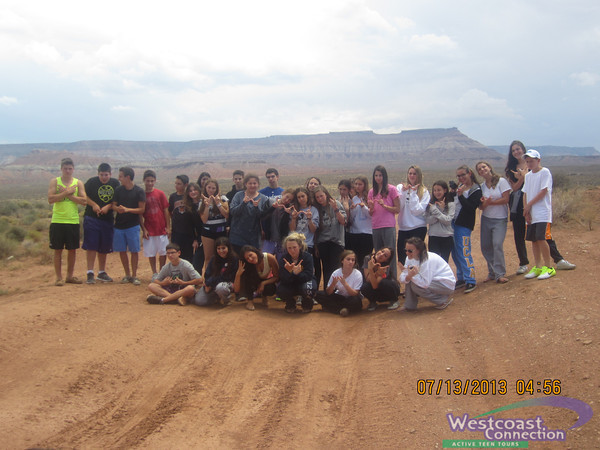 Greetings from Utah. We all celebrated Jeremy's "champagne" birthday (he turned 14 on the 14th) and had a pizza party for him and all gathered together to sing him happy birthday and enjoyed some cake! It was delicious. The best part of the festivities was when we brought out the piñata and all the trip members turned into small children as they all jumped at the opportunity to collect small toys and candies as Jeremy beat the donkey shaped piñata to a pulp! Jenna C. gave some of the ladies a glimpse into her dancing world as she showed us one of the dances she competed with this year! It was such a treat. It's no wonder why so many people enjoy vacationing in Scottsdale as it truly is beautiful. Some of our trip members had lots of fun at the Fashion Square ,and they enjoyed the cool eateries. Paige and Rachel enjoyed some coconut shrimp sushi as they both agreed, it was some of the best sushi they have ever had. Others who indulged in some fine dinning included Stevie, Sophie W. and Jessica. They liked the inside/outside set up and had some delicious meals at the Neiman's Cafe. Another great treat many of the trip members enjoyed was at a fro-yo shop called "yogurtology". Lizzie, Sam H. and Jenna S. had some delectable frozen yogurt that tickled their taste buds and satisfied their need for a cool refreshment.
As we jetted to Boulder, we had a fun dinner at the Sink. Romy really liked the setting and had fun getting to write her name on the walls and seeing all the other people who have written on the walls before her! It's a cool feature of the restaurant and it is actually very hard to find an open spot to write your name nowadays. Just imagine how many people have written on those walls before our trip arrived! We had an thrilling experience on day 22 of our trip as we went bike riding along the Boulder creek. Later that day we all had the chance to jump into the creek and take an adventure down the white water in tubes. Sammy was nervous at the beginning but he definitely won most improved tuber as he defeated those currents and paddled down that creek like a champ! Great job Sammy! He was even caught saying "this was so much fun, definitely a highlight of the trip", that definitely does not sound like someone who was nervous!
As we ventured to the great cowboy town of Jackson Hole, Wyoming, we had the privilege of driving through the oldest National Park. Yellowstone, which takes up approximately 1/5 of the state of Wyoming and was officially named a national park in 1872 by the US Congress, gave us a great opportunity to catch some awesome sights. Rushing waterfalls and huge valleys all lead up to the great moment when we saw the eruption of Old Faithful. Roger, our bus driver who has seen Old Faithful 3 times prior said that it wasn't even as high as he's seen it before! Woah, that thing sure gets high! Ask your kids to see their pics, some even took video! Our next day in the town of Jackson let us see what the city looks like without any snow. Some of us tried to imagine what it looked like covered in snow, myself included. As we rode the chairlift up to the alpine slide, if you closed your eyes and imagined, it was easy to picture folks swooshing down the slopes of Wyoming. However, since there was no snow, thankfully in the middle of July, we took a ride down the alpine slide snowless and with the warm sun beaming down on us. Rebecca really enjoyed it. She said "I've never seen anything like it". Colton really like the alpine slide as well and he said "it was exhilarating".
Let's not forget one of the most memorable events that took place on our journey. Jeremy, who we endearingly call our trip clown from time to time, decided that he would busk in the streets of Jackson Hole, not for others entertainment, but simply for his own. Jeremy, adorning a Chinese rice hat and some obscure nunchucks decided to do a form of tai chi dancing for the folks of Wyoming. With bucket in hand, Jeremy threw in a few coins to encourage the spectators, he set out onto the street corner and did his thing. Wonder how much an untrained tai chi nunchuck dancer can make in 30 minutes? About 36 dollars. His performance left us all laughing and definitely gave us memories to last a lifetime! Megan K. said "it was so funny and so much fun". We all agree Megan! Stay tuned as we sadly say our goodbyes tomorrow and recap the last few awesome days of our trip. Until then, have a great day, night, evening or morning… Depending on what time zone in which you find yourself.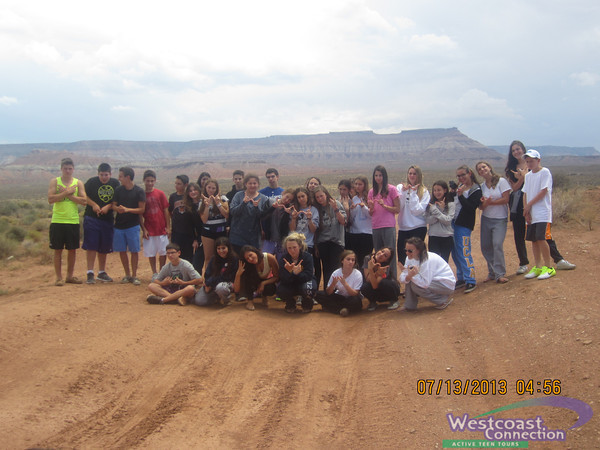 All the best,
Robyn and the Ultimate team
Got yourself interested? Join our 21-day ultimate west coast road trip and explore California and the canyon country with the leaders in student travel.