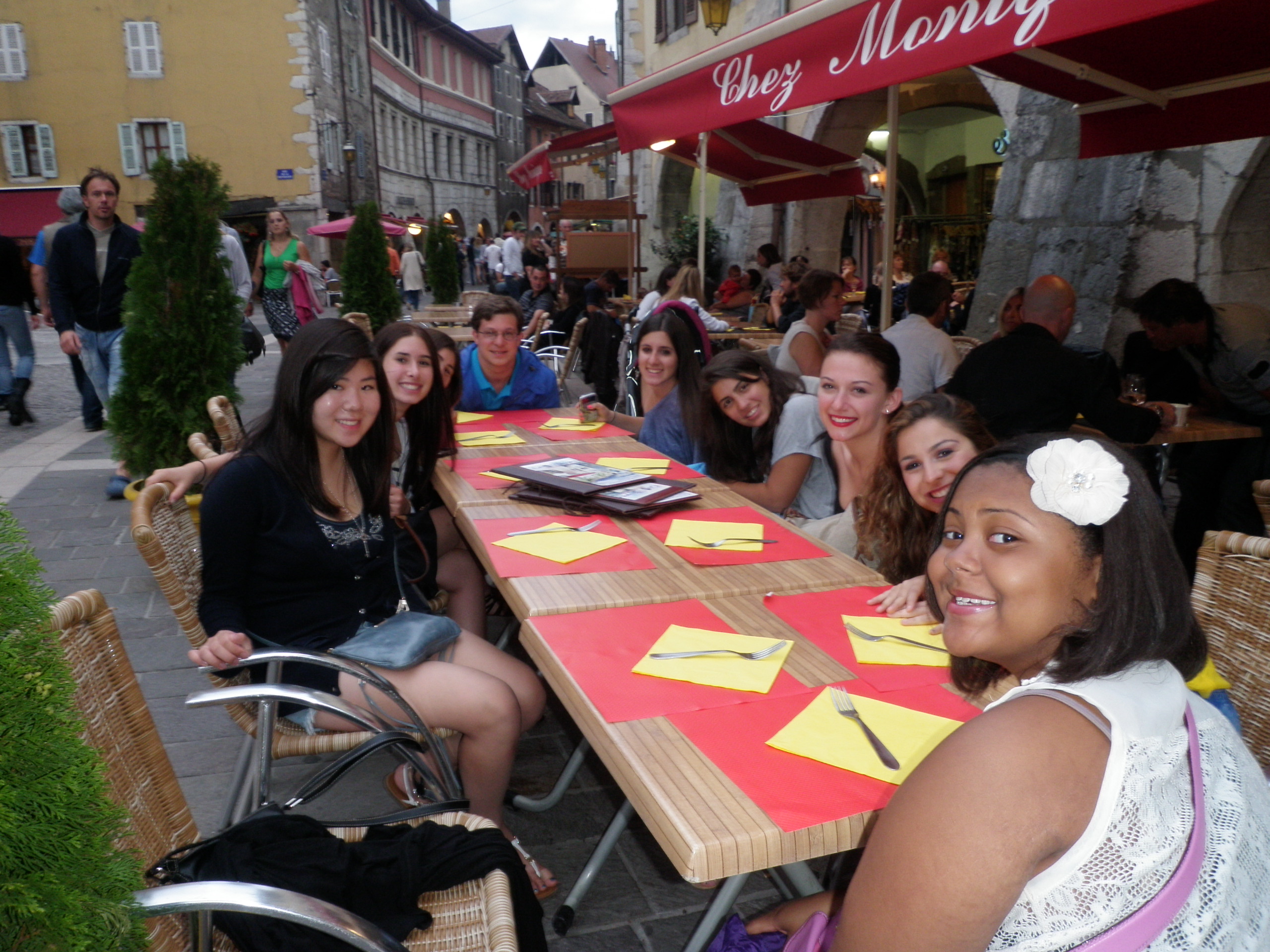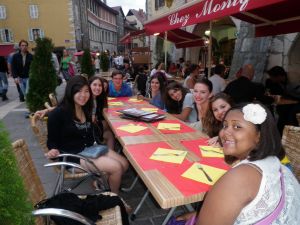 Our westcoast family left the beautiful city of Paris to head to Annecy. We stopped for a wine tasting at a 1,000 year old vineyard. Adam S, Justin, and Emily emerged as sophisticated wine tasters. Upon returning to the bus, a game of speed dating began in which trip members spent a minute with each member of the trip.  In addition, Ben F, Sarah S,  Brandon and Danielle got to know each other and formed lasting friendships.
The next day we traveled to Annecy, a small town with breathtaking views of the French Alps.  At dinner, trip members were given uncooked meat and hot plates over a flame in which to cook their meals. While Richie, Julian, and Bryan wasted no time throwing their meats on the flame, Rachel and Carly Z preferred to season their dishes and create a masterpiece.
The fun continued when our group joined the french in the celebrating of Bastille Day. Our trip historians, Eric and Zack F, enlightened us that Bastille Day marked the beginning of the French Revolution.  Steph P, Tyler, Kelly, and Alyssa bonded while being amazed by the spectacular fireworks.
After a good night's rest, the group had the choice between a relaxing paddle boat ride or a scenic bike around the lake. Ben R, Ben F, Ben H. and Mike were the Lance Armstrong's of our Tour de France who led the pack on the bikes. Bari, Sara M, and Madison M were thrilled to accomplish the over 10 mile bike ride.  Meanwhile, David chose to enjoy the peaceful paddle boat ride with Will, Amanda, and Madison Y.  At night, we broke up into smaller groups in order to experience the smaller restaurants of Annecy for
dinner.  Zach L indulged in spaghetti, and Jess enjoyed the gelato so much that she insisted on one before, during, and after dinner.
We awoke early the next morning to whitewater raft with the french countryside as a backdrop.  Matt, Jason E, Adam B, and Ty clearly emerged as the valedictorians of our rafting school.  Cassidy, Lori, Lisa impressed the rafting instructors with their bravery and fortitude.  Steph B and Shelby also showed off their skills by skillfully paddling their raft through rapids, rocks, and waterfalls.
Upon returning to the hotel, we celebrated the birthday of one of our own, Jason S.  Carly F showed the most enthusiasm during the surprise party that we threw before heading to dinner.  After another great meal, trip director Rob treated us to gelato.  Dean, Alex, and Jon wasted no time choosing among the 52 flavors.
Time flied, and our group headed to Switzerland. We celebrated the birthday of Madison M while looking forward to opening bank accounts and indulging in chocolate.
Written by our trip member and tour leader in training, Ben L.
The Westcoast Blogger
Do you want to start planning your next trip? Get ready for our France and Switzerland tour, including the Eiffel Tower, Swiss Alps & more.