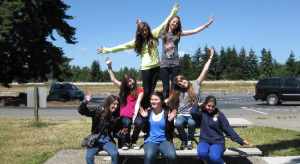 Here is an update from Ken and the Northwestern Odyssey.
The Westcoast Blogger
"And we're rolling," bellowed out of our bus speakers, Tina Turner inspiring our first excursion to the Mt. Hood campground. Before we departed the airport, each camper received a playing card and matched the color as well as the number with another camper. These pairs allowed us to sit with our new friends on the bus and watch the city environment transform into skyscraping trees and rolling cliffs as the main window centered on the snow-covered Mt. Hood.
After unpacking the bus, we met our campsite manager Josh who taught us the art of tent building. Gathering our tent bags and poles, we accomplished our 1st task as Trip #32, erecting six tents. After our awesome tour director Ken detailed the following days' itinerary, we grabbed our duffels and rushed to fill the tents, our excitement erupting in each tent as we met our roommates.
After washing up, our cooking crew, led by our illustrious food director Joelle, prepared dinner.
That night, we played several name games; "I remember the bang bang game," Spencer recounts, smirking as he repeats the motion. We created a circle and Dahlia, our artistic photographer, would call out a name; this person would duck in response and the campers on each side would have to scream "Bang" first and quick draw.
The next morning was filled with outdoor adventure as the group split. One group engaged in an exhilarating yet scenic mountain biking trail. "It was really rocky, yet I still went fast," Noah explained, a smile stretching across his face. The other group went skiing, rising early to climb Mt. Hood. "The slopes were smooth, it was a great start," Becca recalls.
We combined groups after lunch at the alpine slide; we each rode a plastic cart down a curvy path, winding through turns yet still enamored by the luscious forests around us. Molly chuckled, adding "it was the funnest part of my life;" Rachel also remarked, "I even beat the counselor in the race."
After a scrumptious chicken, steak and salmon dinner our creative programmer Jessi facilitated several more icebreakers and name games. For example, one game centered around a host throwing a party, yet his 5 guests each had a peculiar characteristic that he had to discover. We each offered suggestions for the guests and watched as our hosts deciphered their unique attributes. We woke up to a chilly June 30th, started packing our bags and cleaning the campground and tents. After breakfast, we piled onto the bus for our first journey north to Seattle. We stopped for our famous Julius Caesar wraps at a verdant rest stop; Andrew commented, "I'm so full after every meal, the food is wonderful."
That afternoon we rolled into the magnificent city of Seattle, transitioning from the rugged wilderness to brick-layered buildings and gleaming windows. We checked into the hotel, freed ourselves from our camping attire and headed for our night activity, whirlyball. As we drove to whirlyball, our bus driver Frank pointed out the gorgeous layout of Seattle harbor; it was teeming with pearly white sailboats and private fishing boats skimming across the sparkling blue waves.
Whirlyball was a blast; the group was split into 6 teams and a bracket was prepared as teams faced off to claim trip #32's whirleyball trophy. It was five versus five; each camper sat in a bumper car and given a basket to launch a large whiffleball into a flat net, a combination of lacrosse and basketball. Shrieks of laughter reverberated amongst the two adjacent courts; Leah, after exhiting the right court, announced to her team through her grin, "Whirlyball is da bomb!" Even the counselors tried their expertise, yet were defeated by a boys and a girl's team. We continue to roll on through Seattle and will keep you posted!